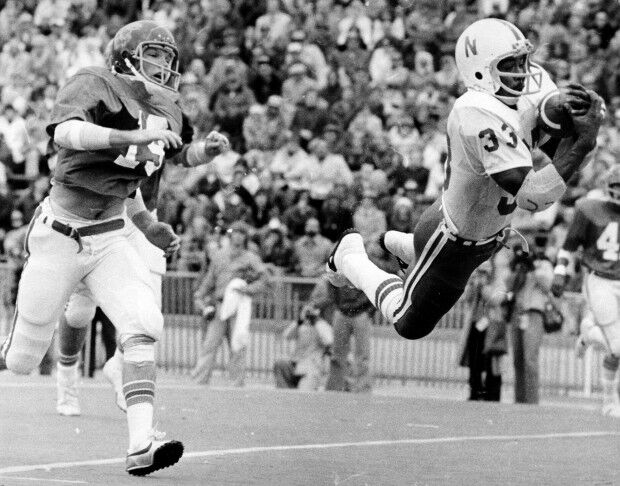 The outcome: Huskers 31, Alabama 24
Most Husker fans were ducking for cover as the Bear wandered into Lincoln that year.
There was more than good reason. The week before, No. 15 Nebraska had been upset at home by unranked Washington State.
The season-opening loss knocked Nebraska out of the polls, with Bear Bryant's fourth-ranked Alabama team coming to town.
Despite all that, Husker quarterback Tom Sorley boldly declared that the Bear and his team were going down.
"Hey, I don't see any way we can be beat," Sorley told The Lincoln Star. "We're getting Alabama in our pit with our fans. Shoot, we're going to win."
Those laughing when they read that Saturday morning were no longer doing so by the third quarter.
A wildly entertaining game was tied and the Huskers were driving down the field.
Things were about to get wilder. With the ball at the Alabama 17-yard line, the call came for a reverse to wingback Curtis Craig, the older brother of Roger Craig.
Craig scooted around the right side. There was congestion as he headed inside the 10. One of his linemen was in his way.
No problem. Craig jumped over him, bouncing off an Alabama defensive back, and just inside the pylon into the end zone.
The stadium was just beginning to rock. Alabama pulled even with a touchdown in the fourth quarter, but Nebraska had answers.
The Huskers drove 79 yards but needed 80, facing a fourth-and-goal just outside the 1. Tom Osborne went for it.
He got his reward when Rick Berns dove over the pile, giving Nebraska a 31-24 lead midway through the fourth quarter.
The Bear was desperate. Bama ran a flea-flicker in the final minutes, but Nebraska's Jim Pillen stepped in front of the pass for the fifth interception by the Husker defense.
Among other things, the game proved to be vindication for quarterback Randy Garcia, who had lost his starting job after the opening-week loss. But after an injury to Sorley early in the first quarter against Alabama, Garcia came to the rescue.
"A lot of people seemingly gave up on Randy last week," Osborne told reporters after the game. "I think it was inexcusable the way they booed him."
Bryant puffed on a cigarette for a few moments after the game before coming to the conclusion he hadn't played enough of his players, causing his team to wear down.
"That's why Nebraska dominated the fourth quarter," he said.
Bryant was friendly to Husker fans as he left the stadium, stopping a few times to have his picture taken and to sign autographs.
He'd get his revenge on the field a year later when the Huskers found the going rough in Tuscaloosa, losing 20-3 to the eventual national champions.
But on this Saturday, the party would go long into the night in Lincoln.
"To beat a team coached by Bear Bryant is a great feeling," Osborne said. "Out of respect for him, not animosity."