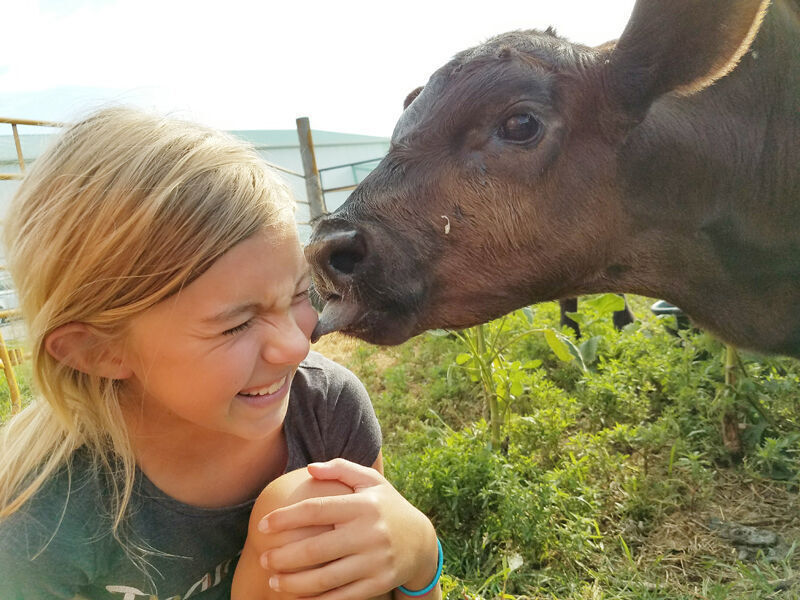 RAVENNA — Elvis and Primrose are special.
They get most of their early-in-life meals from large bottles of milk replacer served by Hervert family members at a farm near Ravenna.
They are part of a string of bucket calves that are loved as pets, even special friends, throughout the years by 13-year-old Lainey and 11-year-old Aubree Hervert.
"They're good friends," Aubree said about why bucket calves are their pets. "If you get them friendly, they like to hang around with you."
Lainey said they also are cute, fuzzy and have other fun qualities found in most baby animals.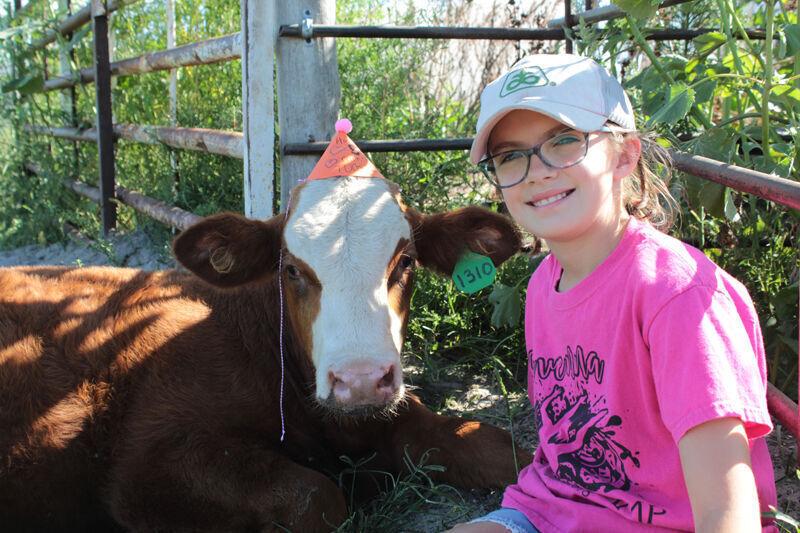 Their dad, Dave, said the farm's cattle herd has mostly spring calving with babies born in March and April, but there are a few fall-born calves.
Aubree said the only other animals on the farm are a few cats.
"We've tried a little of everything," Dave said. "We've had sheep and a few goats."
No dogs, said Carrie, the mom.
To which Aubree quickly added, "We need a dog."
Lainey described bucket calves as orphans that must be fed by hand. "Either the mother doesn't want them or they are twins," she said.
Aubree said the other issues can be a mother that died or that doesn't make enough milk for her calf.
In the case of Primrose, the heifer calf, the mother died.
Elvis was the second calf of twins. Carrie said it was clear the cow couldn't produce enough milk for two calves.
"Everything is named up here," she said about bucket calves kept in a barn separate from the other cows and calves. It's one reason they become pets.
When asked how the names are selected, Lainey said, "It's whatever feels right."
Sometimes a name comes from how a calf acts. Carrie said a calf named Brutus got his name after he kicked Aubree the first time they met.
Dave said that when bucket calves reach 250 pounds, they are weaned off milk and switched to dry feed and hay. "The others, we leave on their mothers through the summer and wean at 500-550 pounds," he said.
At about 600 pounds, bucket calves join the rest of the calf herd. Dave said those calves are backgrounded — fed — to 800 pounds and then taken to Kearney sales where they are purchased by feedlot buyers.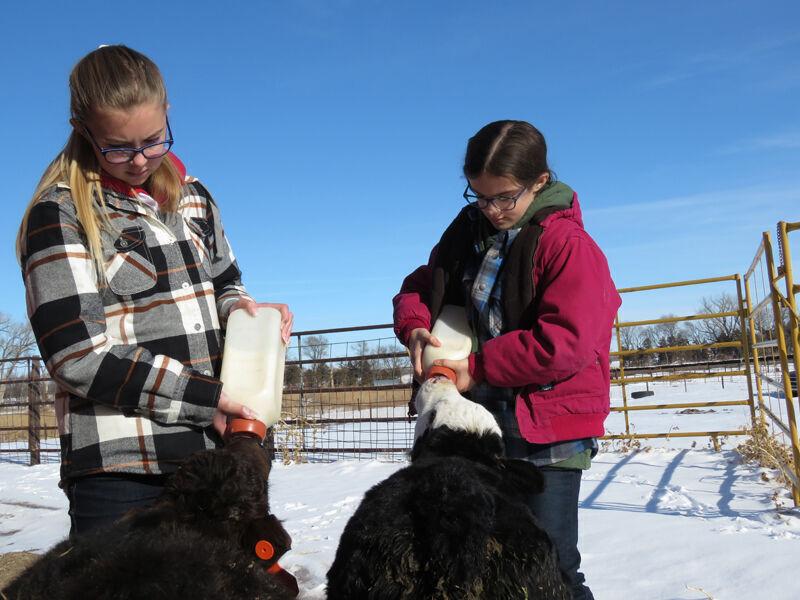 Some female bucket calves remain at the Hervert farm. "If they make the grade, we save them as cows to go back into the herd," Dave said.
There is a limit to how many bucket calves the Herverts can care for at one time. Carrie recalled one group of nine they called "the fab five and fantastic four."
The Herverts have sold some bucket calves when the numbers got too high, but also have been given some by neighbors who know of Lainey's and Aubree's reputations for loving bucket calves.
Aubree even bought one from a neighbor last spring.
She said each calf gets a full bottle of milk replacer in the morning and at night. Carrie usually does the morning feedings on school days.
Even at a month old in early January, Elvis and Primrose were being introduced to a little sweet feed, which is a mix of oats, corn and molasses, to begin the process of weaning them to solid food.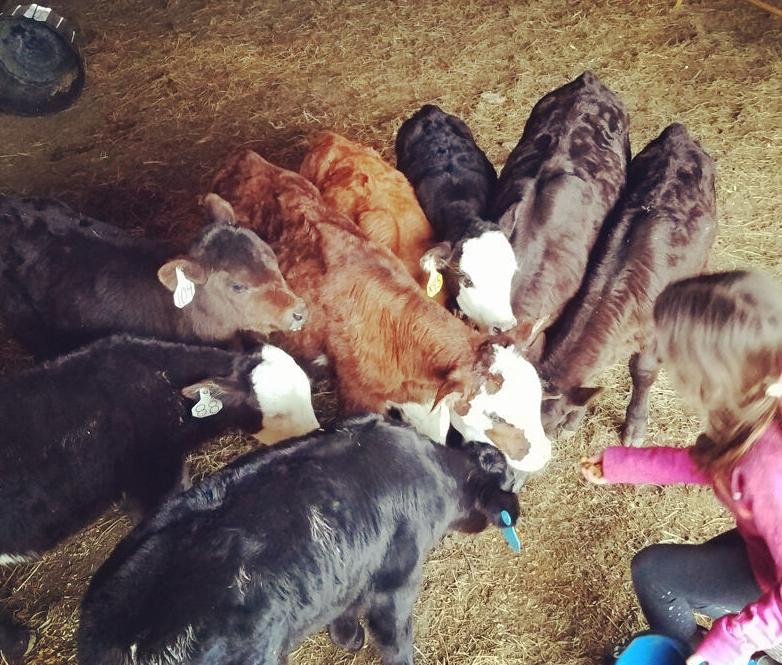 The girls usually share bucket calf responsibilities.
This winter, Lainey always fed Elvis and Aubree fed Primrose because the calves needed different nipples with different milk flows. The sisters also monitor their calves' general health.
They are old enough and experienced enough to know that most pet bucket calves will be sold. It's hard to see them go, Aubree said, "especially the ones we like the most and the friendliest ones."
One of those was Tucker. They put a handmade orange paper party hat on his head and served him apples and crackers to celebrate his 5-month birthday.
The girls' attachments to their bucket calves have the added benefits of making money and learning life skills. Dave said that if the family takes a vacation, Lainey and Aubree must arrange for someone to care for the calves.
"I think it gives them a sense of responsibility," Carrie added. "On their (school) breaks and on weekends, they still have to get up and take care of the calves."