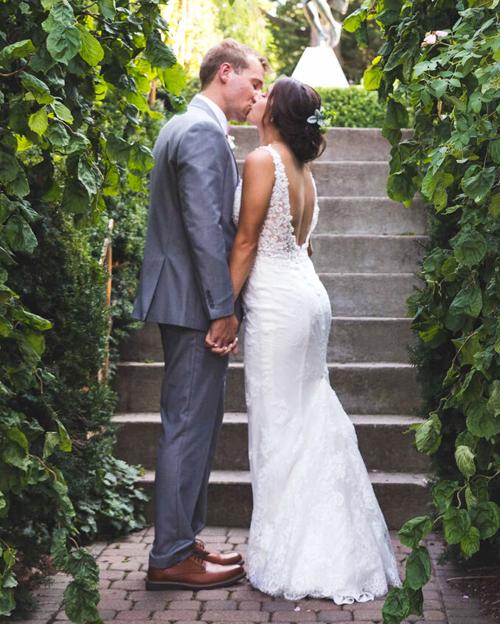 Tristen and Brock Colclasure
Tristen Sadd, daughter of Joyce Sadd of Hastings and Kevin Sadd of Lincoln, and Brock Colclasure, son of Mark and Sherri Sanchez of Central City and Chuck Colclasure of Grand Island, were married Aug. 22, 2020, in Lincoln.
Grandparent of the bride is Dee Sadd of Hastings. Grandparents of the groom are Doug and Betty Bryant, Janice Simmons and Kris Colclasure, all of Grand Island, and JC and Joyce Colclasure of Illinois.
Attendants were maid of honor, Sajen Sadd, sister of the bride; matron of honor, Tara Helbmaier, cousin of the bride; bridesmaids were Sarah Hughes-Berheim, Hannah Schafers, Claire Bredthauer, Bayle Scow, Justine Steiner and Darian Ellenwood, all friends of the bride. Personal attendants were Beckie Albee and Kayla Sadd, sisters of the bride, and Bridget Suminski, friend of the bride.
Best man was Eric Knight, friend of the groom. Groomsmen were Brandon Colclasure and Thomas Geiger, brothers of the groom; Daulten Sadd, brother of the bride; and Trevor Bresson, Garret Kasperbauer, Steve Llewellyn and James Ferguson, all friends of the groom. Ushering guests were Nathan Bankson, friend of the groom, and D.J. Marr, friend of the bride.
Flower girl was Penelope Colclasure, niece of the groom. Ring bearer was Alek Colclasure, nephew of the groom. Candle lighters were Karstyn Colclasure, niece of the groom, Kaisley Hansen, niece of the bride, and singer was Colbi Larkins, friend of the bride.
The ceremony was held at Messiah Lutheran Church, with Pastor James Irwin officiating. Their reception was at the Havelock Social Hall, hosted by Fred Catlett and Brenda Breckner, Brian and Shelly Sadd and Louise and Glen Schindler, all uncles and aunts of the bride; and Keith and Sue Lulow, uncle and aunt of the groom.
Tristen graduated from the University of Nebraska-Lincoln and is employed by Lincoln Public Schools. Brock graduated from Concordia University (Seward) and is employed by HUDL. After honeymooning in Costa Rica, the couple resides in Lincoln with their dog, Max.