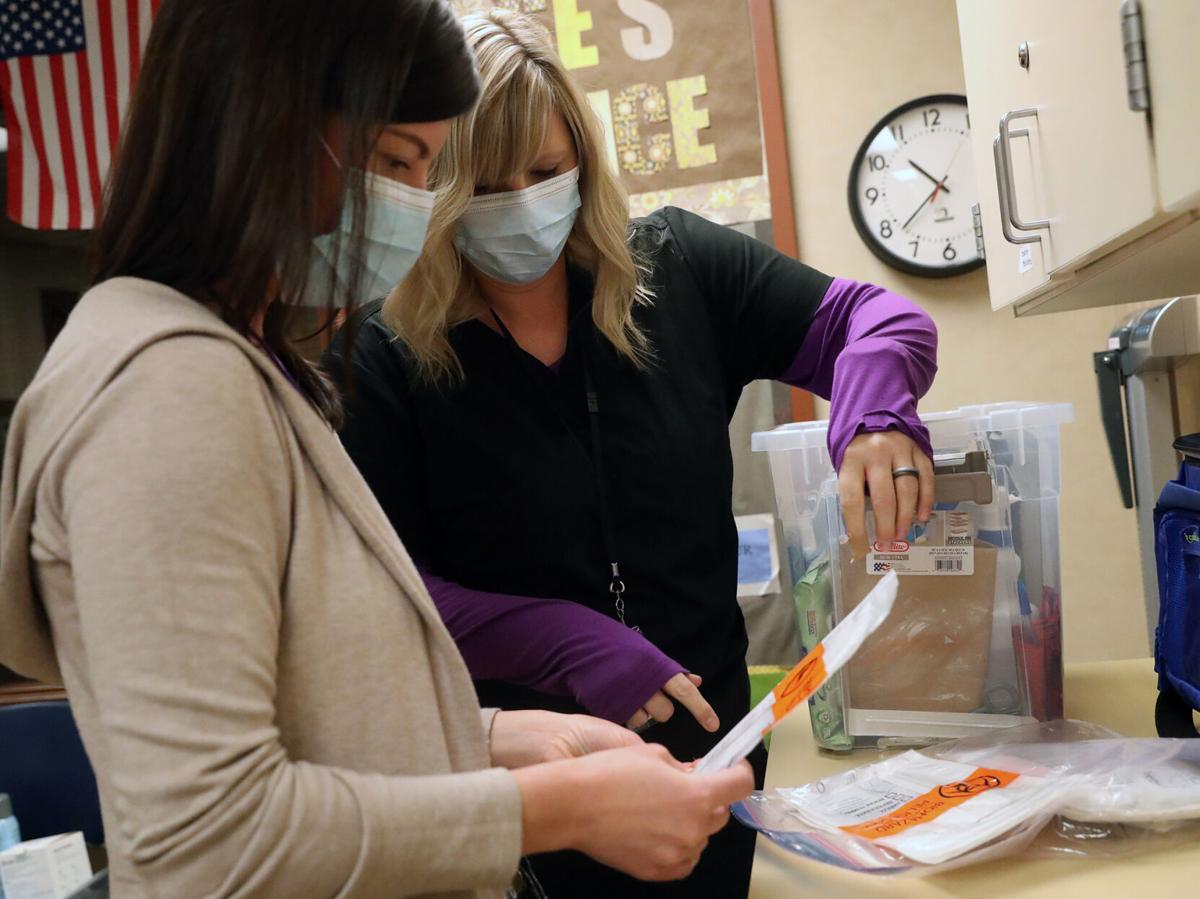 Chris Vrooman has been working with children, in one form or another, for her entire career.
After graduating from her nursing program at Creighton University - Mary Lanning, Vrooman spent the first 5 1/2 years of her nursing career working at Mary Lanning Healthcare in the labor and delivery ward.
"I was very blessed to work with families at such a special time in their lives, when they welcomed new babies into the world," Vrooman said.
However, the work required working nights, which became difficult to balance with her family's needs. So when a nursing position with Grand Island Public Schools opened up in 2011, Vrooman was interested.
"It was something totally different (to what I was doing)," she said. "The hours are great, but I also get to work with younger students, and pediatrics was something that was always interesting to me."
Now, as lead nurse for Grand Island Public Schools, Vrooman oversees the LPN nursing staff at the district's elementary schools and the Early Learning Center.
"In a typical year, I would go out and visit them multiple times a year and help with any issues they may have," Vrooman said.
She's also the person to whom families turn when they need medical advice, which they may not have access to outside the school system.
"Our students with health needs — they work closely with our nurses, daily, so we get to be very close with those families," she said. "They don't always have a medical home outside of the school, and so we can help direct them and make that connection with them."
Her work also includes being part of the GIPS COVID-19 Response Team, which was formed in response to the pandemic this time last year, when schools closed down and sent students home to learn remotely.
"Going remote, and figuring out how to be a nurse remotely, was difficult," Vrooman said. "At the beginning, I felt a lot of guilt about being a nurse and not working in a hospital setting and helping care for the patients there, but I think being at home and figuring out how to get kids back to school was the big goal."
That process, Vrooman said, involved a lot of Zoom meetings. Daily Zoom meetings, in fact, just scaled back to three times a week in the past few months.
A lot of research, following the news and coordinating with Central District Health Department went into creating school policy and arranging quarantines when necessary..
"CDHD does a majority of the contact-tracing, but we work with them and provide insight to the school piece of it," Vrooman said, which usually involves double- and triple-checking when students may have been exposed and which students were most likely to have been affected. "And then (we) relay that information to CDHD."
Vrooman is the only medical professional on the GIPS COVID-19 team, which allows her to see the educational side of things, and counter with the medical viewpoint.
"It's interesting to work as a medical professional in an educational environment, but the kids are definitely the priority regardless, and we wanted to have them in school," Vrooman said. "That was the focus of the school year — the health aspect of it and making sure we kept students safe in school."