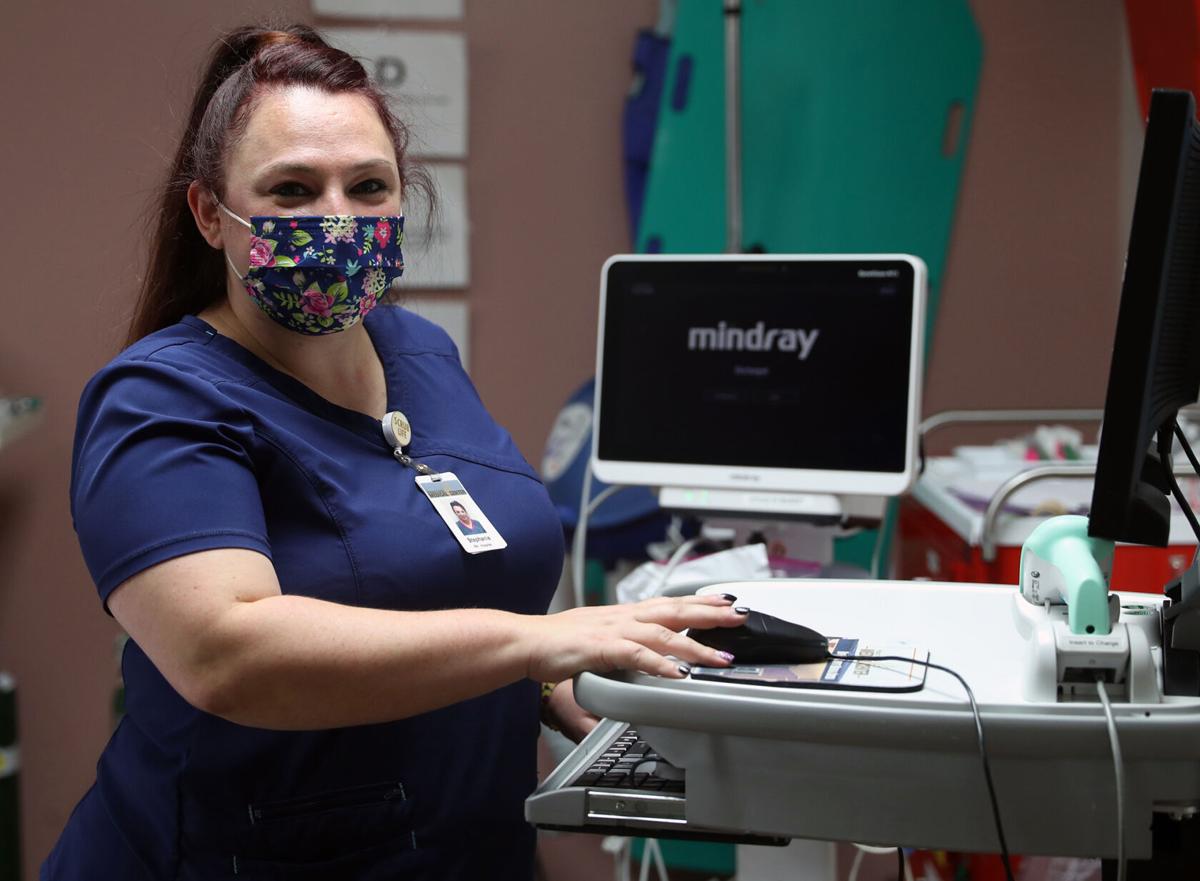 Traveling nurse Stephanie Musil joined the staff of Howard County Medical Center in March 2020, just before the pandemic broke out.
There are some challenges with joining a new hospital — largely figuring out where necessary items are stored and also the computer system — but the work of an emergency room nurse largely remains the same: be alert and ready to respond to whatever might walk through the doors.
"You're going to take care of a patient that comes in with a heart attack the same (way) no matter what hospital you're in," Musil said.
Putting on her walking shoes
Musil credits her parents with the inspiration for sending her down the path of nursing.
"My dad encouraged me and always told me I could do it," she said. "And my mom has always been a hardworking mother providing the best for her kids. Seeing her drive, and then my dad's health declining, I knew it was something I wanted to do, that I had the passion for."
A mother herself, Musil also wanted to go into a career of which she could be proud and one that her children could be proud of their mother for choosing.
With a traveling nurse's schedule, Musil actually ends up being able to spend more time with her children now than before. Being able to take three or five days between her six-day "work weeks" allows her time to travel back and spend the entire time attending sporting and school events, rather than catching a few hours here and an hour there.
"They're a little older, so they don't need mom all the time," she said, but it's really nice "especially in the summer."
"I absolutely love my interactions with my patients," Musil said. "I enjoy training new nurses and teaching them things so they can see the correct way to interact with patients because I see people at their worst in the ER."
Musil's first years as a nurse were spent on the med-surgery floor, but when her hospital told her they'd like her to move to the emergency room, she said yes.
"I'm from a critical access hospital, so it's what I know," she explained.
She also spent two years in surgery, but fell in love with the emergency room routine ... or lack thereof. "The not-knowing of what comes in, the excitement, the adrenaline ... I just kind of fell into it, but I love it," she said.
After 10 years in one place, Musil decided to take the plunge and accept a traveling nurse position, which takes her on 13-week stints to hospitals needing an extra pair of hands for the duration of her stay. Her most recent stay turned out to be much longer than planned, as the pandemic surged around the world and Howard County's facility filled up.
"I didn't travel far," Musil admitted. "This is my second assignment, at Howard County, and I've been here over a year."
Much of that is due to the pandemic — COVID-19 created some leeway in extending the contracts of traveling nurses around the country — but Howard County also offered Musil a new 13-week contract as her previous one came due.
"The contracts out there were going insane for traveling nurses, money-wise, but I felt Howard County needed help, that they needed me here, so I just stayed with them the whole time," Musil said. "I knew that I could go at any time, but they wanted to keep me, and they needed help."
Musil described the last year as "interesting, especially working ER, having to be extra cautious."
The not-knowing aspect of working the ER, which is something that initially drew her to the position, was an aspect that Musil and her coworkers had to keep in mind even as information changed — sometimes daily — about the proper precautions to take.
That meant making sure that the medical personnel kept themselves healthy and able to take care of their charges.
Howard County Medical Center's COVID-19 response included separating out an entire wing for COVID patients, and blocking off staff schedules to reduce overlap and any potential cross-contamination.
"I feel like this hospital had a really good policy in place for COVID," Musil said. "They were on top of it."
It was hard, Musil said. There were multiple COVID-19 cases in St. Paul, and also from the surrounding communities Howard County Medical Center serves, but much of the stress Musil felt in the ER was making sure she could remain healthy to take care of her patients now and also whomever might walk through that door next.
Her current contract, which ends June 1, will be her last with Howard County. "Unfortunately, this time I will have to leave," she said.