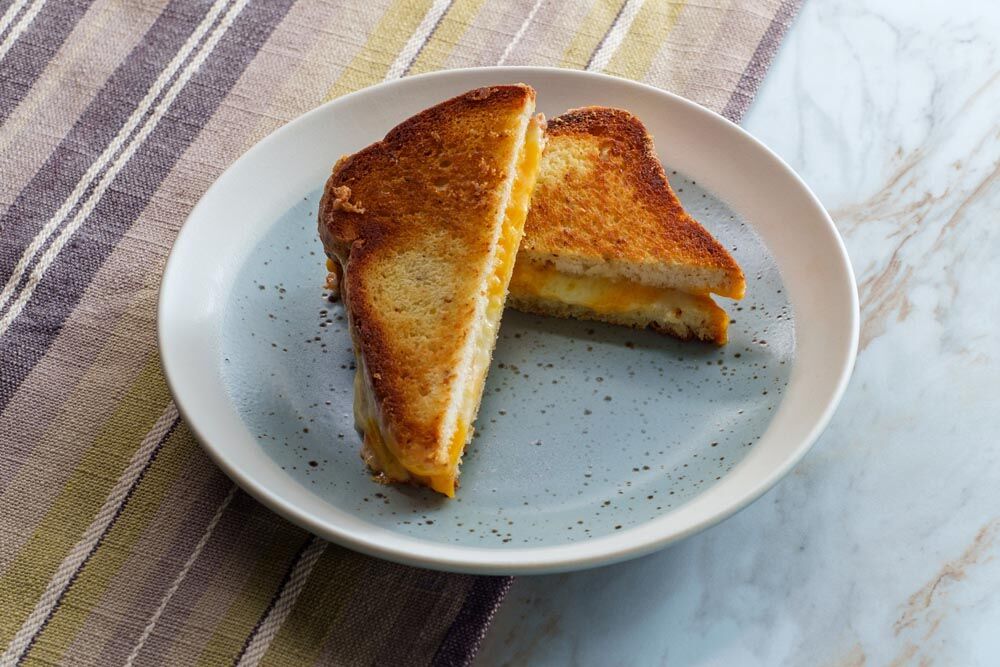 A surefire signal that I'm out of town is the big square burn mark in my best stainless skillet. That's the telltale sign my husband has attempted to prepare the one and only item on his repertoire of home cooked meals: a grilled cheese sandwich.
The man doesn't know how to cook.
His grilled cheese sandwiches are burned on the outside, solid on the inside. Poor guy. When it comes to this basic all-American favorite, Harold does just about everything wrong.
He starts with a blazing-hot skillet and uses cold butter and unevenly sliced cheese, with the thickest parts of the cheese piled up in the middle of the sandwich. This man really needs his wife.
There's an art to preparing a perfect grilled cheese sandwich that is crispy, golden-brown on the outside and soft on the inside, with cheese that is evenly melted.
Equipment. The best tool for this job is a well-seasoned cast-iron skillet because of the way it heats evenly to create a lacy-crisp exterior on the sandwich.
Ingredients for one sandwich: 2 slices good white bread; 1 to 2 ounces cheddar, Monterey Jack or American cheese; and 1 tablespoon butter.
Technique: Preheat the skillet over medium heat for about five minutes. While it is heating, grate the cheese and sprinkle evenly between the two slices of bread. Grating the cheese ensures that it will melt evenly. Put the slices together, and press gently to set.
Melt the butter, and brush it generously on one side of the bread, making sure no spot is left unbuttered. Gently place the sandwich in the heated skillet, buttered side down. Turn heat to low.
The longer you can leave it without turning, the better the result. This allows the butter to brown slowly and evenly. In the meantime, butter the top with melted butter. Once crisp and deep golden-brown, brush melted butter on the top side. Gently turn and repeat (5 to 8 minutes per side). Remove, and cut as desired with a sharp serrated knife.
Grilled cheese sandwich variations
Grilled Cheese with Bacon: Fry 3 slices of bacon until cooked but not crisp. Pat on paper towel to remove excess fat; add on top of the cheese, and grill as directed.
Grilled Cheese with Ham: Put 2 thin slices of ham between the cheese, and grill as directed.
Onion-Cheese Sandwich: Follow the recipe for Grilled Cheese Sandwich, but lightly coat the inside of one slice of bread with Dijon mustard. Saute 3 to 4 slices of onion in butter, and put on top of the cheese. Cover with the remaining slice of bread, and grill.
Tomato-Cheese Sandwich: Follow the recipe for Grilled Cheese Sandwich, but add two thin slices of tomato to the sandwich before grilling.
Grilled Mozzarella Sandwich: Use two slices of European-style country bread, one ounce of Mozzarella cheese, sliced or grated, tomato slices or several strips of roasted red peppers, and olive oil. Follow the basic directions for the Grilled Cheese Sandwich above. Sandwich the tomato slices (or pepper strips) between the cheese. Brush the bread with olive oil in place of the butter.
Greek Grilled Cheese Sandwich: Use crusty bread (like sheepherder), one ounce of feta cheese, crumbled, sliced tomato, basil or oregano leaves, ground black pepper and olive oil. Follow instructions for Grilled Mozzarella Sandwich.
Do you have a unique way you prepare grilled cheese sandwiches? I'd love to hear about that!
Mary Hunt writes this column for Creators Syndicate. She is the founder of www.EverydayCheapskate.com, a lifestyle blog, and the author of "Debt-Proof Living. Submit comments or tips or address questions on her website. She will answer questions of general interest via this column, but letters cannot be answered individually.
Be the first to know
Get local news delivered to your inbox!