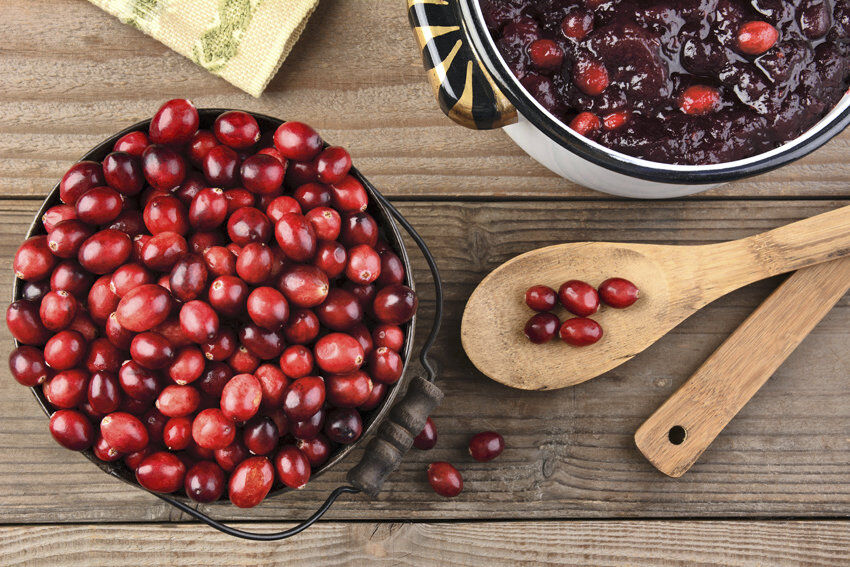 No, you're not looking at the wrong page on the calendar! It is still October.
While we often think of cranberries for a sauce to serve with the Thanksgiving turkey, but there are many other ways to use cranberries. They can be added to many dishes including quick and yeast breads, salads, relishes, salsas and chutneys, soups, grain-based entrées, and desserts.
The name cranberry originates from North America's German and Dutch pioneers who anointed them "crane berry" because they watched cranes feasting on the berries. These early settlers also noticed the cranberry flower resembled a crane's head. Soon it was changed to cranberry, as we know it today. Cranberries are one of the few fruits native to North America (concord grapes and blueberries are two others).
Contrary to popular belief, cranberries do not grow in water. A perennial plant, cranberries grow on low running vines in sandy bogs and marshes. In many areas, cranberry marshes are flooded with water to aid in harvesting.
Cranberries contain significant amounts of antioxidants and other phytonutrients that may help protect against heart disease, cancer and other diseases. Cranberries are also rich in vitamin C and fiber.
Choose cranberries that are firm, plump and shiny, and range in color from bright light red to dark red. Avoid cranberries that are soft, shriveled, or have brown spots. Different varieties of cranberries may look somewhat different, but all should be red. Fresh cranberries are usually sold in 12-ounce bags (three cups of whole berries)
Store cranberries in a resealable plastic bag in the refrigerator for up to two months. Be sure to check and remove any cranberries that have gone bad, as they will start to decay the others. To freeze, place rinsed cranberries on a paper towel-lined baking sheet in a single layer and freeze for one hour. Place in a resealable plastic bag and freeze for up to one year.
The bright, tangy berry adds zing to any recipe. Most people agree that you can't pick cranberries from the bush and eat as is. Cranberries are tart and even bitter at times. They need to be sweetened or incorporated into baked goods such as muffins, quick breads and cakes. Cooking cranberries with other fruits like pears or apples can produce a sweeter finished product without having to use as much sugar.
1/2 cup old fashioned rolled oats
1 tablespoon brown sugar
2 tablespoons flour
1/4 teaspoon cinnamon
2 tablespoons applesauce
4 cups pears, gently rubbed under cool running water, cubed (about 3 pears)
1 cup cranberries, fresh or frozen, gently rubbed under cool running water
1 tablespoon cornstarch
Wash hands with soap and water.
In a medium bowl, combine oats, brown sugar, flour, cinnamon and applesauce.
Combine pears, cranberries and cornstarch in an 8-inch square baking dish. Sprinkle with oat mixture.
Bake uncovered at 400 degrees F until juices are bubbling and topping is browned, about 20 minutes.
Refrigerate leftovers within 2 hours.
Makes 8 (1/2 cup) servings.
Nutrition information per serving: 90 calories, 0.5 g fat, 20 g carbohydrate, 3 g fiber
Recipe from: Oregon State Extension
Cami Wells is an Extension Educator for Nebraska Extension in Hall County. Contact her at 308-385-5088 or at cwells2@unl.edu. Visit the Hall County website at www.hall.unl.edu
Be the first to know
Get local news delivered to your inbox!