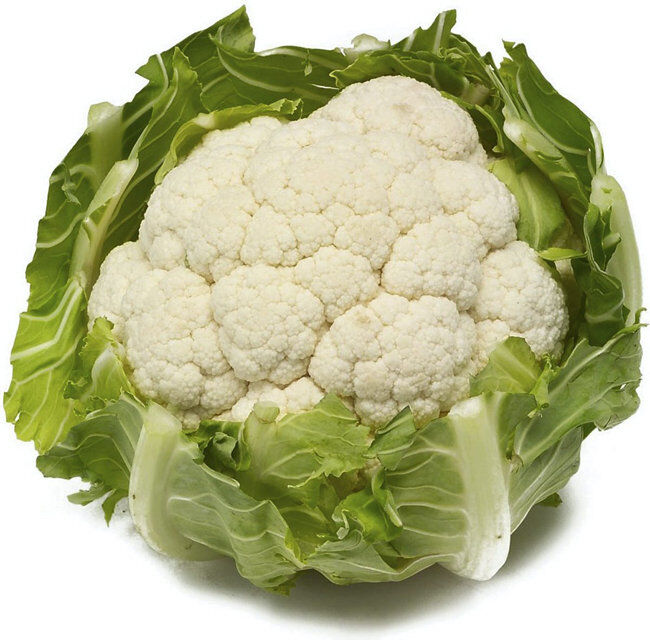 Cauliflower became the "it" vegetable back in 2016. Most vegetable trends tend to fade out after time. However, because of its mild flavor and versatility, we still see cauliflower in a variety of products such as cauliflower rice, cauliflower pizza crust, etc.
Cauliflower has a fresh taste and unique texture. It can be purchased fresh, frozen, or pre-cut, and tastes great raw or cooked.
Cauliflower is available year round in the grocery store. It is traditionally white in color, but purple, green, and orange varieties are available. Cauliflower is very high in vitamin C and is a good source of foliate and fiber. Orange cauliflower has 25 times the vitamin A as white. Cauliflower is low in calories, with only 25 calories per half cup serving.
Look for cauliflower that is compact, without browning, and has bright green leaves. Avoid heads that have brown spots or spaces between the florets.
When ready to use cauliflower, wash under cold running water. Pull or cut all the leaves from the florets. Use a sharp paring knife, carefully cut off each floret from the main stem or break with your hands. Discard the stem. Cut each floret into smaller spears if desired, or keep them intact.
Cauliflower can be stored in a plastic bag for up to a week in the vegetable crisper drawer of the refrigerator. The sooner you eat it, the sweeter it will be. Cauliflower can be eaten in a variety of ways:
Steam: Place cauliflower in a steaming basket over boiling water. Cover and steam for 3 to 5 minutes or until barely fork tender.
Microwave: Place a bit of water in a microwave-safe bowl, add cauliflower, put a lid on the bowl, and microwave on high for about 3 minutes. Cauliflower should be fork tender but not soggy and falling apart.
Roast: Coat cauliflower with olive oil and sprinkle with salt and pepper. Place on a baking sheet and roast in a 450 degree F oven for about 10 minutes, flip over and roast for 5 more minutes or until crisp tender.
Broccoli and Cauliflower Salad
3 cups chopped broccoli, gently rubbed under cold, running water
3 cups chopped cauliflower, gently rubbed under cold, running water
1/2 cup dried cranberries or raisins
1/2 cup chopped purple grapes, gently rubbed under cold running water
1/4 cup chopped red onion, scrubbed with clean vegetable brush under running water
2 tablespoons vinegar or lemon juice
3/4 cup plain nonfat Greek yogurt or low-fat mayonnaise
2 teaspoons sugar
2 tablespoons sunflower seeds
3 slices bacon, cooked and crumbled (optional)
Wash hands with soap and water.
In a large bowl, combine broccoli, cauliflower, dried cranberries, grapes and red onion.
In separate small bowl, stir together vinegar, Greek yogurt, and sugar.Pour yogurt mixture over broccoli mixture and stir gently. Add sunflower seeds and crumbled bacon, if desired. Stir gently.
Store leftovers in a sealed container in the refrigerator.
Nutrition information per serving: 97 calories, 3 g fat, 69 mg sodium, 14 g carbohydrate, 2 g fiber, 6 g protein.
Cami Wells is an Extension Educator for Nebraska Extension in Hall County. Contact her at 308-385-5088 or at cwells2@unl.edu. Visit the Hall County website at www.hall.unl.edu
Be the first to know
Get local news delivered to your inbox!