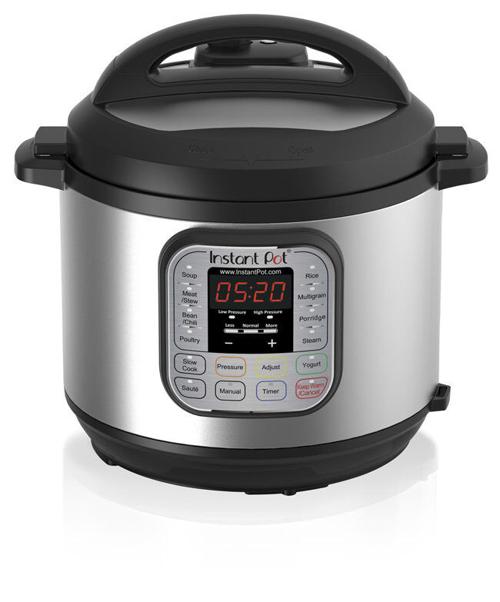 Have you jumped on the electric multi-cooker (such as an Instant Pot) bandwagon?
I purchased one a couple of years ago and still feel like I have so much to learn. These appliances can be used for slow-
cooking, searing, sautéing, simmering, steaming, yogurt making, etc. Probably the most talked-about use for the electric multi-cookers, is the pressure-cooking feature.
Stovetop pressure cookers have been around a long time. They have proved valuable for decreasing cooking time, reducing energy consumption, and retaining nutrient quality equal to or higher than that of foods cooked by other methods. Today, we have a wide variety of pressure cookers available ranging from the conventional stovetop pot to the newer electric models.
A pressure cooker is not a pressure canner and should never be used for canning. The University of Georgia's National Center for Food Preservation does not support the use electric, multi-cooker appliances to make USDA-approved pressure canning recipes, even if the device features canning or steam-canning buttons or manufacturers' directions for pressure canning. The USDA cannot recommend pressure canning with electric multi-cookers because not enough research has been done on key parts of the food preservation process in those appliances to prove their ability to safely preserve food.
When looking online for electric pressure-cooking recipes, there seems to be a huge variation in the cooking times listed for foods such as meat, poultry, and fish. How do you decide? The cooking time needed is going to vary with the size and model of your multi-cooker, size/cut of meat, amount of liquid, quick release/natural release, etc. However, the most important step is usually left out of most recipes – using a food thermometer to make sure the food has reached a safe internal temperature before eating.
Using a food thermometer is the only reliable way to ensure safety of meat, poultry, and egg products. Place the food thermometer in the thickest part of the food.
Hamburger, sausage and other ground meats should reach 160 degrees F.
All poultry should reach a minimum temperature of 165 degrees F.
Whole cuts of pork, lamb, veal, and of beef should be cooked to 145 degrees F as measured by a food thermometer placed in the thickest part of the meat.
Fish should be cooked to 145 degrees F.
If your food has not reached the proper temperature after pressure cooking, continue the heating process. Whether it is going back to pressure cooking, using a sauté feature on your multi-cooker, or switching to using the stovetop or oven, make sure a safe temperature is reached.
Super Quick Multi-Cooker Brown Rice Pilaf
2 cups uncooked brown rice
2-1/2 cups low-sodium chicken broth
2 tablespoons minced onion
2 teaspoons dried parsley
1 teaspoon garlic powder
Salt and pepper to taste
Wash hands with soap and water.
Add brown rice, chicken broth and minced onion to multi-cooker. Set device to 22 minutes of pressure-cooking time.
When time is up, open the multi-cooker after a 10-minute natural pressure release. Add spices; salt and pepper to taste.
Stir to combine and serve.
Nutrition information per half-cup serving: 123 calories, 0.8g fat, 174mg sodium, 24g carbohydrates, 2g fiber.
Cami Wells is an Extension Educator for Nebraska Extension in Hall County. Contact her at 308-385-5088 or at cwells2@unl.edu. Visit the Hall County website at www.hall.unl.edu