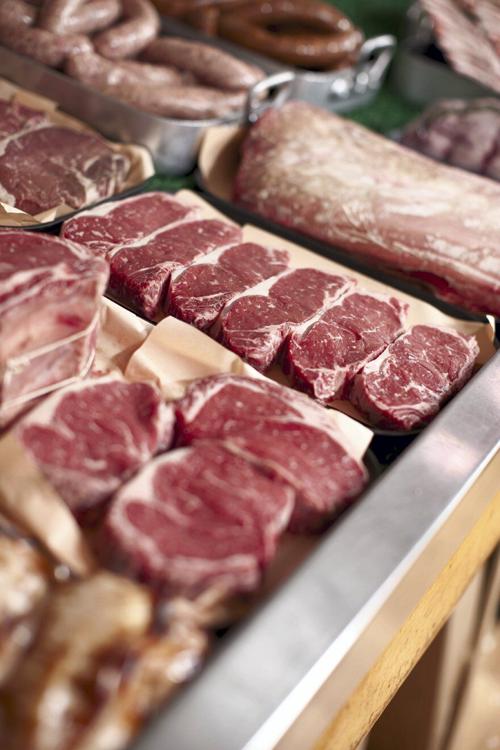 Color is important when meat and poultry are purchased, stored and cooked. Often an attractive, bright color is why we select the item to purchase.
So, why are there differences in the color and what do they mean? Listed below are some questions and answers to clarify the color differences.
Does a change in color of meat mean it's spoiled? Just because there is a change in color does not mean the meat is spoiled. Color changes are normal for fresh product. With spoilage there can be a change in color — often a fading or darkening.
In addition to the color change, the meat or poultry will have an off odor, be sticky or tacky to the touch, or it may be slimy. If meat has developed these characteristics, it should not be used.
If the color of meat and poultry changes while frozen, is it safe? The color of meat and poultry changes when frozen. Fading and darkening, for example, do not affect their safety. These changes are minimized by using freezer-type wrapping and by expelling as much air as possible from the package.
Why is pre-packaged ground beef red on the outside and sometimes grayish-brown on the inside? These color differences do not indicate the meat is spoiled or old. Fresh cut meat is purplish in color. Oxygen from the air reacts with meat pigments to form a bright red color which is usually seen on the surface of ground beef purchased in the supermarket. The interior of the meat may be grayish-brown due to the lack of oxygen below the surface.
What color is safely cooked poultry? Safely cooked poultry can vary in color from white to pink to tan. For safety when cooking poultry, use a food thermometer to check the internal temperature.
For a whole chicken or turkey, check the internal temperature in the innermost part of the thigh and wing and the thickest part of the breast. All the meat — including any that remains pink — is safe to eat as soon as all parts reach at least 165 degrees F as measured with a food thermometer.
Is pork that is still pink safe to eat? Any cooked, uncured red meats — including pork — can be pink, even when the meat has reached a safe internal temperature. Pork chops and roasts need to be cooked 145 °F when measured with a food thermometer. Ground pork needs to be cooked to 160 degrees F.
Orange and Sweet Potato Pork Chops
2 pork loin chops
1 sweet potato, scrubbed with a clean vegetable brush under cold running water, sliced
1/2 orange, scrubbed with a clean vegetable brush under cold running water, sliced
1 dash cinnamon
1 dash salt (optional)
1 dash black pepper (optional)
Wash hands with soap and water. Preheat oven to 350 degrees.
Place meat and sweet potato slices in a baking dish coated with cooking spray. Top with orange slice and sprinkle with seasonings.
Cover and bake for 1 hour until meat is tender. Pork is safely cooked when it has been heated to 145 degrees F.
Nutrition information per serving: Calories 270 total fat 11g saturated fat 4g cholesterol 65mg sodium 85mg total carbohydrates 17g fiber 3g total sugars 6g protein 25g.
Recipe adapted from: "Simply Seniors Cookbook," Utah Family Nutrition Program/Utah State University Extension
Cami Wells is an Extension Educator for Nebraska Extension in Hall County. Contact her at 308-385-5088 or at cwells2@unl.edu. Visit the Hall County website at www.hall.unl.edu