A llama owned by a Grand Island couple is about to become famous.
Beginning Saturday night, the animal will appear on a show on the National Geographic Wild channel. The show, called "Heartland Docs, DVM," focuses on a pair of Hartington veterinarians, Ben and Erin Schroeder.
The llama, named Temptress, is owned by Lori and Monte Moss of Grand Island. They keep the animal on a farm near Bloomfield, which is Lori Moss' hometown.
In addition to Temptress, a 3-year-old female, the Mosses also own Temptress' son, born Oct. 6.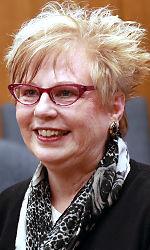 The Mosses bought Temptress in 2018, about a month after the Nebraska State Fair. They went together in the effort with their good friends, Brenda and Brian Davis, who own the farm in Bloomfield.
The Davises have bought quite a few animals, including two llamas.
Lori Moss says "we don't know what we're doing, but we're going to have some fun with this."
The Mosses also like working with the TV show. "We're having just a lot of fun with it," she said. They're "tickled" that their llamas were chosen for the show.
She's happy for the Schroeders, who are "super neat" and caring people, she said. She's also happy that Nebraska is receiving exposure. It's been "a pure delight, working with those folks from National Geographic" and learning how a TV series is made.
"Heartland Docs, DVM," a six-part series, is making its debut Saturday at 9 p.m. CST. But work has already begun on the second season. Footage of the young llama has already been shot for the second season.
So maybe they'll have a couple of regulars on the show.
"Yeah, we're hoping that they'll be little reality stars," said Moss, who works as a court reporter for Hall County District Court Judge Mark Young.
Because they have no prior experience with llamas, the Mosses can often be found at their kitchen table, watching YouTube videos about their care and handling.
"They're just really interesting animals. They're somewhat aloof," she said. "Sometimes they want the attention, and sometimes they could care less."
Lori has owned a cat in the past. Which animal does she prefer?
"Well, obviously, a cat's nice because they like to sit in your lap. You're not going to get a llama in your lap," but the animals are fun because they're so unusual, she said.
Llamas are also popular right now. Her co-workers at the courthouse buy her calendars and other llama items.
Attending football and basketball games over the years, Monte would ask, "What can I bring you back?" from the concession stand.
Lori would say, "Bring me back an alpaca and a funnel cake." Her husband never did fill her order, but that request was a sign of her interest. An alpaca is similar to a llama.
At the 2018 State Fair, the Mosses decided to buy a llama. They had been looking at the animals and decided, "Let's look into this a little bit further," she said.
The Davises were buying llamas too, so the couples made a joint decision. The Davises purchased two males, and the Mosses bought the female.
They got the llama from a man in Garland, who flies to Argentina and Chile and has the animals shipped back to Nebraska.
On a visit to Garland, the man had about 175 llamas from which to choose. "I just was smitten with her because I love the name Temptress," Lori said.
Later, they had Temptress bred to a llama that had come to Garland from Argentina.
The Davises decided to move to Bloomfield, which is Brenda's hometown, after retiring from the Navy. They now have "kind of like a 'Charlotte's Web' thing happening," Lori said.
The Davis' collection consists of four llamas, two horses, four goats, a cat and some chickens, all of which live in the barn together.
They seem to communicate with each other. "If the chickens are doing something, the llamas will follow the chickens," Lori said.
This past Christmas, each of the Mosses' four grandchildren received llama pajamas and stuffed llamas.
Originally, HGTV wanted to do a series about the Schroeders, because they renovate old buildings. But the Schroeders said no, because they are mainly veterinarians. When Nat Geo Wild pitched a six-week series, they said yes.
Moss is glad that viewers will get to know the two veterinarians. "They're just amazing individuals and care a lot about animals," she said.
The show will also give viewers a look at a picturesque part of the state "up there in northeast Nebraska," she said.
Temptress might not appear on the show until the third or fourth episode. The fourth show, titled "Whole Llama Love," premieres Feb. 15.
When she was filmed, the llama was pregnant and the Schroeders knew the animal needed an ultrasound. It was the first time the vets had worked with Temptress, and the first time they'd ultrasounded a llama.
The baby llama was filmed by the TV crew when he was six days old.
The animal's registered name with the National Llama Association is Hollywood Jazz Shoes. "We call him Jazz for short," Lori said.
The Grand Islanders visit their llama about once a month. Buying Temptress was "kind of a like a mid-life crisis," she said. Instead of splurging on something else, "we went out and bought a llama."
When they visit Bloomfield, the Mosses have fun saying hello to the llamas.
"They like to have interaction with humans by pushing their nose against your nose," Lori said. "So when we go out to see them, we lean forward, put our nose out there and they will reach out and put their nose against our respective noses."