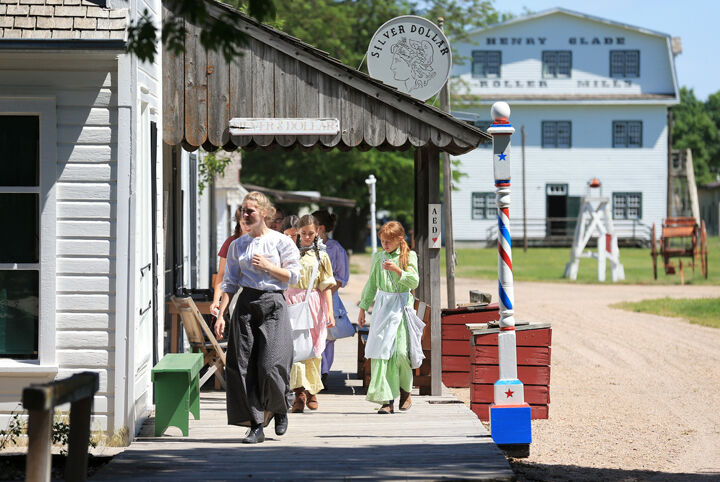 Stuhr Museum starts its summer season Saturday with a plethora of activities.
The day begins with the Stuhr Museum foundation's Lumberjack Breakfast and Celebration from 7 to 11 a.m. outside the historic log cabin Road Ranche.
Pancakes, sausages, eggs and coffee cooked over an open fire will be served, with freewill donations to benefit the foundation's Cash for Cabins campaign as part of Go Big Give.
During the breakfast, Humanities Nebraska speaker Darrel Draper will present "Daniel Freeman: America's First Homesteader" from 10 to 11 a.m.
Hear Freeman's story as Draper portrays "Old Number One" in full costume. It is a Chautauqua-style, humorous and historically factual account of America's first homesteader and the impact of the Homestead Act in settling the West. The program is recommended for ages 10 to adults.
This presentation is made possible by Humanities Nebraska, and the Nebraska Cultural Endowment as part of the HN Speakers Bureau.
May 1 traditionally marks the opening of Railroad Town, which will be open through Labor Day. Railroad Town is an historic town that depicts life in the 1890s.
Costumed interpreters practice their trades, work in the homes and are happy to share with visitors what life was like in the time of our pioneer ancestors.
Weekend visitors to the museum will also have a chance to take a look at the Hall County Student Art Show. Back after a year off, the show in the Stuhr Building features works from middle school and high school students at Grand Island Senior High, Northwest, Grand Island Central Catholic, Doniphan-Trumbull, Trinity Lutheran, Heartland Lutheran and Centura Public Schools.
From collage to photography, from digital work to paintings and from sculpture to large-scale pieces, this show features an array of art created by Hall County's young creative minds. The show features hundreds of pieces and gives young artists a chance to be exhibited in a professional space.
The exhibit remains on display through May 7.
Through the summer season, the Stuhr Building, Fonner Rotunda, Railroad Town and the Farm Machinery Building/STEAM Learning Center will be open from 9 a.m. to 5 p.m.
General admission is $10 for adults, $9 for seniors and $8 for children age 6-12; children 5 and younger are admitted free. Veterans and AAA members get a $1 discount. Group rates are available. Admission for special events may vary.
Annual memberships are available starting at $55 for one person with many other packages available. Members get in free to the museum and special events; many other benefits are included with membership.