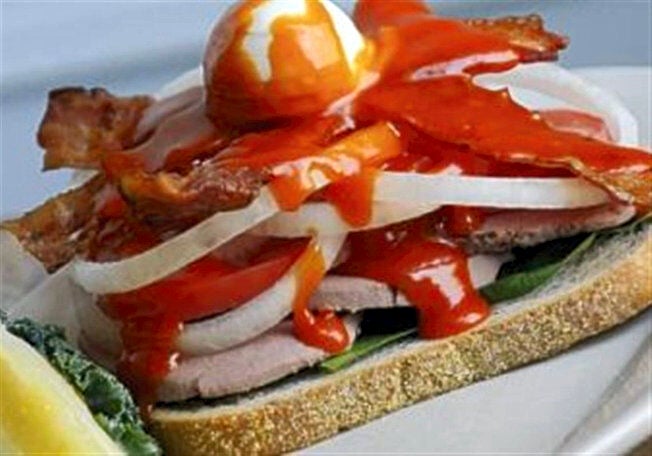 Braunschweiger is a polarizing food. Hauté cuisine, it's not. Advocates love it, critics diss it, and many uninitiated young souls haven't a clue what it is.
It's a type of German pork-liver sausage, sometimes called liverwurst. Found in the deli, it's soft, spreadable and nearly always smoked. Where do you stand on the subject of braunschweiger?
Here's my take. I contend that the classic braunschweiger lunch meat is way more than that. It is a gateway sausage, a precursor of today's fashionable artisan-made pates, salumi and charcuterie.
Grandma might have some braunschweiger in the fridge, especially if she's German. To her and many older folks, it's comfort food. One of the earliest sightings of braunschweiger — named for the German town of Braunschweig — was in 1934, and it gained popularity during pre- and post-World War II years. It became, and remains, an iconic lunch-box staple.
By 1840, Pittsburgh's population was made up mainly of Germans, Scotch-Irish and English immigrants, according to a researcher at the Heinz History Center. Around that time, half the population in both Pittsburgh and the city of Allegheny (now the North Side neighborhood of Pittsburgh) was German. Part of the North Side, then home to many breweries, still is called "Deutschtown."
Besides their language and customs, the Germans brought along their foods including their beloved sausages, or wursts: Bratwurst, weisswurst, blutwurst, bockwurst and leberwurst, the last of which, when smoked, becomes braunschweiger.
Some people still like their lunchtime braunschweiger spread on soft white bread and smeared with mayonnaise or butter, but others will hold the mayo and top it with ketchup instead. For a hot version, slice and fry in a pan and serve on toast, sometimes with a little ketchup. No wonder the stuff gets a bad rap.
So, what is the best way to each braunschweiger? Try this open-face Bavarian Club sandwich. Thick slices of rye bread are stacked high with braunschweiger, strips of grilled bacon, slices of hardboiled egg and sweet onion, tomato and spinach. The "sammitch" is topped with a secret sauce that looks a whole lot like 1000 Island dressing. Drinking anything but a beer with it would be an insult to Germany
Or take two slices of rye bread and spread them with a thin coat of mayonnaise. Pile on several quarter-inch slices of braunschweiger, top with a generous slice of Bermuda (sweet) onion and lightly sprinkle with coarse salt. Add the top slice of bread, cut on the diagonal, and lift a bottle of full-flavored beer. That's heaven, people. Heaven.
8 ounces Braunschweiger
8 ounces cream cheese
1/2 cup mayonnaise
1 small onion, finely chopped
Mix all together and spread on crackers.
Be the first to know
Get local news delivered to your inbox!