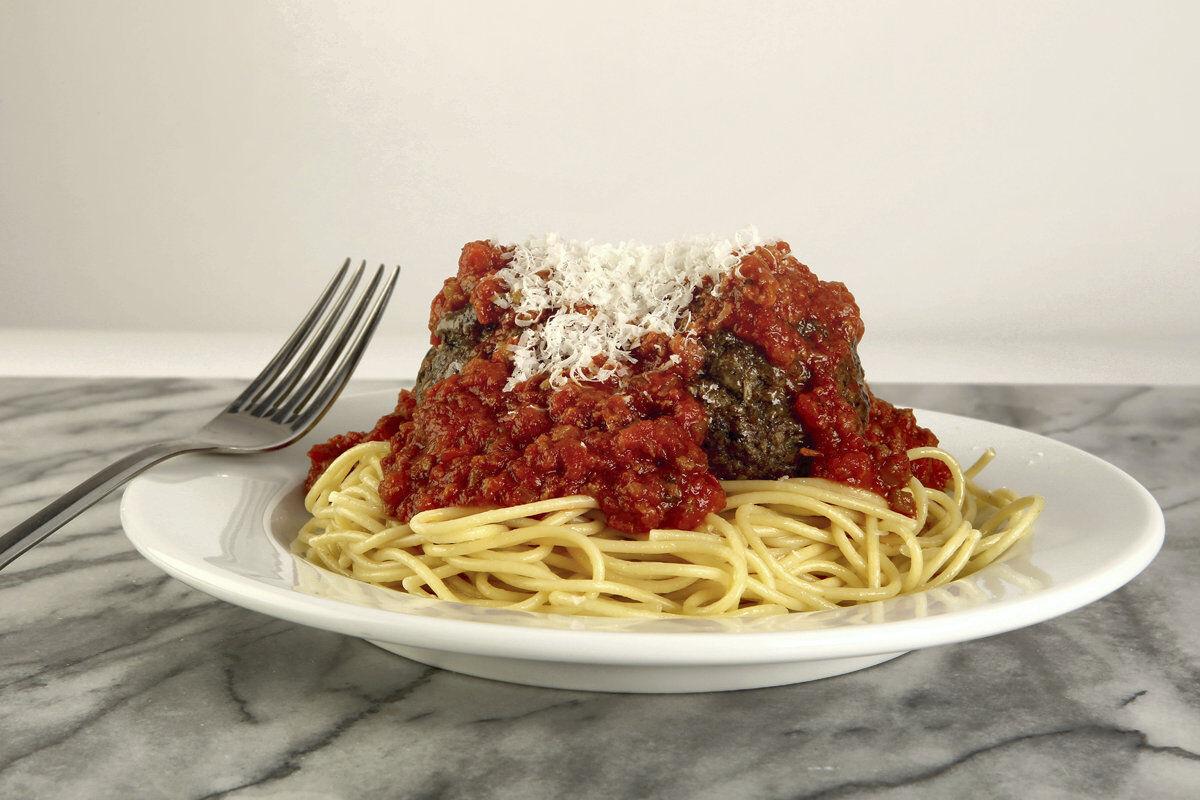 LOS ANGELES — There were many reasons to love Dominick's, the legendary restaurant in West Hollywood that specialized in Italian American classics for close to 70 years before closing a few years ago.
There was the history: Dominick's was a favorite of Hollywood royalty for decades, serving everyone from Marilyn Monroe to the Rat Pack; more recently, it was the sort of place where you could find yourself seated next to Brad Pitt or Britney Spears.
The restaurant went through a number of owners over the years, but it was most recently run by Warner Ebbink and Brandon Boudet, who also served as chef. Boudet could turn out a comforting bowl of spaghetti and meatballs like nobody's business, the massive meatballs a rich mixture of beef and pork, with a little extra umami coming from sautéed mushrooms and porcini mushroom powder. The red sauce was thick and rich, with a flavor that came only from a long simmer.
Dominick's may be gone, but you can still enjoy Boudet's cooking — including this version of spaghetti and meatballs — at Little Dom's in Los Feliz. Or you can make this little taste of history at home.
Dominick's Spaghetti and Meatballs
Start to finish: About 4 hours, plus cooling time
2 tablespoons olive oil
2 cups diced button mushrooms, from about 12 ounces of mushrooms
1/2 cup finely diced onion
1/2 cup finely diced celery
2 cloves garlic, chopped
1 tablespoon chopped Italian parsley
1-1/4 pounds ground pork
1-1/4 pounds ground beef
1-1/2 teaspoons fennel seeds, ground
1/2 teaspoon red pepper flakes
1-1/2 teaspoons porcini mushroom powder
2 cups bread crumbs
1 egg
1-1/2 teaspoons salt
2 tablespoons olive oil
1 cup diced onion
1 cup diced celery
4 cloves garlic, chopped
2 tablespoons chopped Italian parsley
2 cups meatball mixture, crumbled
1-1/2 teaspoons salt, more to taste
1/2 teaspoon sugar
1/2 teaspoon red pepper flakes
1-1/2 teaspoons tomato paste
3 (28-ounce) cans chopped tomatoes
3 to 4 sprigs fresh basil
3 to 4 sprigs fresh oregano
Prepared meatballs
1 pound cooked spaghetti, tossed with butter
Grated Parmesan, for serving
For the meatballs: In a nonstick skillet, heat the olive oil over medium-high heat until hot. Add the mushrooms and sauté, stirring constantly, until they have given up their liquid and it evaporates, and the mushrooms have begun to caramelize, about 5 minutes. Stir in the onion, celery, garlic and parsley, reduce the heat and continue to cook until the vegetables have softened slightly, 5 to 7 minutes. Remove from heat and set aside to cool. Meanwhile, heat the oven to 375 degrees.
In a large bowl, combine the ground pork and beef with the cooled vegetable mixture, fennel, red pepper, mushroom powder, bread crumbs, egg and salt, mixing until thoroughly combined. Set aside 2 cups of the meat mixture to use in the tomato sauce.
Form the remaining mixture into 12 meatballs, each roughly 2 1/2 inches in diameter. Place the meatballs on a parchment-lined baking sheet and bake until the meatballs are browned and cooked through, 15 to 20 minutes.
For the sauce: Heat a heavy oven-proof pot or Dutch oven over medium-high heat until hot. Add the olive oil, then the onion, celery, garlic and parsley and stir for 3 minutes to marry the flavors. Add the meatball mixture and stir until lightly browned, about 3 minutes. Stir in the salt, sugar, pepper flakes and tomato paste and continue to cook for 2 minutes.
Stir in the canned tomatoes and bring the mixture to a simmer. Fit the lid over the pot and place the pot in the oven. Cook the sauce for 3 hours, stirring every hour or so. Remove from heat and stir in the fresh basil and oregano. Set aside until completely cooled. This makes about 2-1/2 quarts sauce, which will keep, covered and refrigerated, up to 1 week.
For serving: Before serving, gently reheat the sauce in the pot (this can be done on the stove top or reheated with the meatballs in a 300-degree oven for 20 minutes or so). Taste and adjust the seasoning if desired. Serve the sauce and meatballs over the spaghetti and garnish with grated Parmesan.
Nutrition information per serving: 1,130 calories; 58 g protein; 119 g carbohydrates; 13 g fiber; 49 g fat (15 g saturated); 163 mg cholesterol; 25 g sugar; 2,322 mg sodium
Recipe adapted from: A recipe provided by chef Brandon Boudet of Little Dom's in Los Feliz and formerly of Dominick's in West Hollywood
Noelle Carter is the former Test Kitchen director for the Los Angeles Times. Currently she is a culinary consultant and recipe developer for a variety of clients. Follow her on Twitter at @noellecarter or check out her website at www.noellecarterfood.com