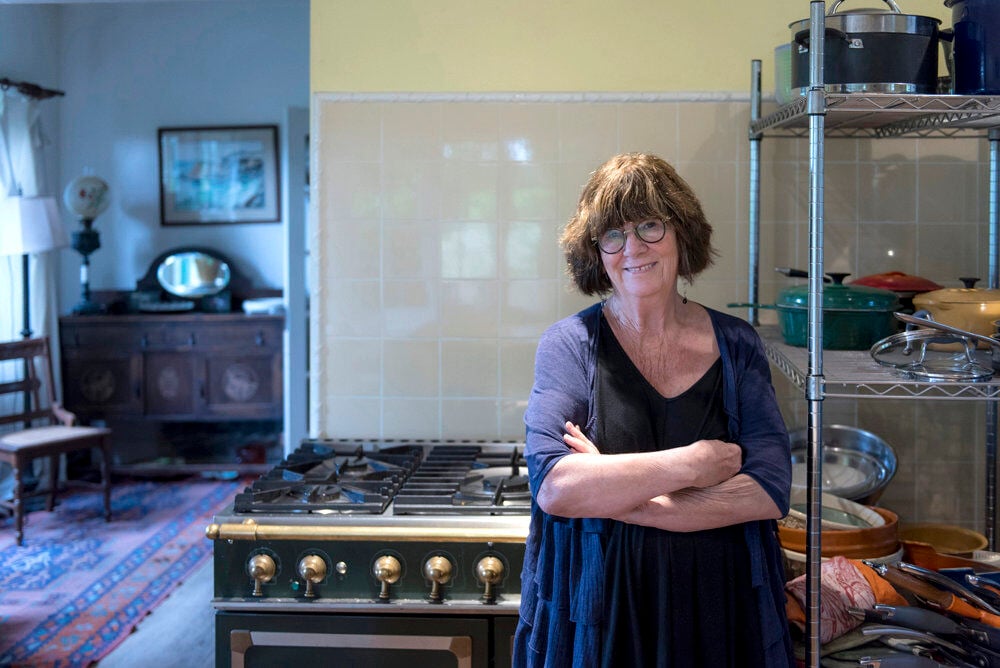 It's time for American cooks to embrace their French side; no passport or accent necessary.
As a proper guide for this French adventure, Georgeanne Brennan's cookbook, "La Vie Rustic: Cooking and Living in the French Style" (Weldon Owen, 292 pages, $35), offers indispensable advice.
Brennan's French lesson is based on simple, seasonal, sustainable eating; a perfect fit for California-style farm-to-fork cuisine. What's even better: Almost all of the ingredients are readily available.
"Cooking wonderful food is not difficult," she said. "These dishes are simply wonderful and enjoyable."
It's no wonder Brennan can straddle two continents with one cooking philosophy as she splits time between her Winters farmhouse and a summer home in Provence, a two-country lifestyle she's maintained for decades.
The European experience informed her and shaped her, both personally and professionally. Her most beloved works — such as "A Pig in Provence: Good Food and Simple Pleasures in the South of France" — feature her adventures as an American immersed in French country culture, raising goats and learning to cook with the seasons.
French food isn't stuffy or intimidating, instructs Brennan, the award-winning author of more than 30 cookbooks. Made with farm-fresh ingredients, it can be casual, inviting and healthy.
"Twenty or 30 years ago, 'French food' was code for heavy cream, rich sauces and fancy restaurants," she recalled. "But now, there's a renewed interest in French cooking and techniques."
French cooking also is not all the same.
"Like Italy, France has many different regions with different foods," she said. "The food of Southern France has much more in common with Mediterranean cuisine, while north of France has a colder climate and the food is more austere — except for butter."
Provence can be a model for California cooks, she added. With similar climates, both regions share a bounty of fresh locally grown ingredients. Examples fill her new book.
Walnut and almond tart could be the product of local orchards. Fresh-picked strawberries from local farm stands get star treatment in a silky mousse. Chicken braised with fennel and Meyer lemon was inspired by what was growing in her Winters kitchen garden.
They're all very French and at the same time Californian.
It's all about making the connections, Brennan said. Cooks can celebrate the seasons while getting in tune with the rhythm of nature — be it in the orchard, the garden, the barnyard or the wild.
"When you eat out of season, food doesn't taste good," she said. "For example, I wanted a zucchini in March. I found one in a supermarket; it tasted awful. But in June or July, I know zucchini will taste wonderful."
So, eat squash – or any fresh vegetable or fruit – when it was meant to be eaten, in season, she added.
"Over the year, think about the connections," she said. "Things just come together. When you begin to see it as a whole, you realize how it is all connected. From the orchard to the barnyard, all these things come together in various ways. That influences the way we cook and eat. When you see the connections, it's pretty exciting."
That same message connects more than 100 recipes and more anecdotes in her lively new cookbook, the product of nearly three years of work. Ethel Brennan, Georgeanne's daughter, and San Francisco photographer Sara Remington collaborated with her, creating many of the memorable dishes in Georgeanne's Winters kitchen.
"It's a different way of thinking about food," she said. "What's the best way of going about eating? It's eating according to the season and availability. That's the whole farm-to-fork concept. Add to that the French aspect: Food is meant to taste good — period."
"Fennel is good both raw and cooked," Brennan said. "Cooking transforms its distinct licorice flavor into an almost-sweet back note. From the garden, I like to use very young fennel for pickles and the larger, more robust bulbs for gratins and in braised dishes like this one. Since I have Meyer lemon trees at my house in California, I use them here, though any variety will work."
Fennel and Chicken Braised with Lemon
1 large or 2 medium fennel bulbs, with stalks and fronds
2 lemons, preferably Meyer, halved then cut into 3 pieces
1 teaspoon sea salt
6 chicken thighs, with or without skin
2 cloves garlic, minced
1 teaspoon dried oregano
1/2 teaspoon freshly ground pepper
2 tablespoons extra-virgin olive oil
1/2 cup dry white wine
2 tablespoons grated lemon zest
1/4 cup green olives, pitted
Trim the stalks from the fennel, reserving the lacy tips of the fronds for garnish. Cut the fennel bulb lengthwise into 1/4 -inch (6-mm) slices—the slices will look like hands. Cut the fennel "hands" lengthwise into 1/2-inch (12-mm) slices. Set aside.
Put the lemons in a bowl and sprinkle with the salt. Add the chicken, garlic, oregano, and pepper and turn to coat. Let stand for about 30 minutes for the flavors to infuse the chicken.
In a heavy-bottomed saucepan or Dutch oven, heat 1 tablespoon of the oil over medium-high heat. When it is hot, add the chicken thighs, reserving the lemon pieces, garlic, and oregano, and cook, turning several times, until lightly browned, about 10 minutes. Transfer the chicken to a plate or platter.
Pour the remaining 1 tablespoon oil into the hot pan and add the fennel. Reduce the heat to medium and sauté, stirring, until nearly translucent, 8-10 minutes. Stir in the lemons, garlic, and oregano, turning a few times. Add the wine and 1/2 cup (4 fl oz/125 ml) water and deglaze the pan by scraping up any bits that cling to the bottom. Return the chicken to the pan, cover, reduce the heat to low, and cook until the chicken is tender and the fennel can be cut with a spoon, about 45 minutes.
While the chicken is cooking, mince enough of the fennel fronds to measure 2 tablespoons. Combine the chopped fronds with the lemon zest.
Transfer the chicken mixture to a platter and garnish with the lemon-fennel mixture and the olives. Serve at once.
"Strawberries are often planted along the borders of potagers," Brennan said. "They are the first fruits to appear in spring and are frequently served marinated in red wine and sugar. For a fancier yet still easy dessert, try this strawberry mousse."
1 pint strawberries, stemmed and cored, reserving 4 strawberries, sliced, for garnish
1/3 cup sugar
1 tablespoon unflavored gelatin
1 cup heavy cream
Using a blender, purée the strawberries until smooth. Strain the purée through a chinois or fine-mesh sieve if you don't want seeds in the mousse. Transfer the purée to a large bowl and stir in the sugar.
In a small saucepan, bring 1/4-cup water to a boil over high heat. Remove from the heat, sprinkle the gelatin over the top, and let stand until dissolved, about 5 minutes.
Whisk the dissolved gelatin into the strawberry purée. Let cool to room temperature.
In a bowl, whip the cream to soft peaks. Fold the whipped cream into the purée. Spoon the mousse into 6-8 decorative dessert glasses or bowls and refrigerate for at least 2 hours, or up to 2 days.
Serve chilled, garnished with the strawberry slices.
"Pears are considered one of the most elegant fruits, some with buttery flesh, others slightly grainy, with skin colors ranging from reds and russets to golds and greens," Brennan said. "They are delicate, and only a handful of varieties are cultivated on a commercial scale because so many of the others don't hold up under the duress of shipping and handling. The home orchardist, of course, does not have those same worries, which makes it possible to choose from among hundreds of other varieties. Pears, unlike many other fruits, cannot be left to ripen on the tree or the flesh becomes mushy. Pick pears that are slightly underripe, place them in a paper bag on your kitchen counter, and let them ripen to perfection. Nearly any pear variety can be used in this simple salad, which balances sweet and salty flavors."
Pear, Arugula and Shaved Parmesan Salad
3 tablespoons extra-virgin olive oil
1-1/2 tablespoons balsamic vinegar
1/4 teaspoon sea salt
1/4 teaspoon freshly ground pepper
1 chunk Parmesan cheese, about 1/4 pound
4 cups wild arugula leaves
2 pears, any variety
In a salad bowl, whisk together the oil, vinegar, salt, and pepper. With a vegetable peeler, shave long, wide ribbons from the chunk of cheese. You'll need about 16 ribbons.
Add the arugula to the bowl with the vinaigrette and toss well to coat. Place one-quarter of the dressed arugula on each of 4 salad plates, heaping it into a mound.
Cut the pears in half lengthwise and carefully remove the core from each half. Cut the halves lengthwise into paper-thin slices. Place the pear slices and the Parmesan ribbons around and on top of the heaped arugula, alternating them as you go. Serve at once.
"A quintessential offering at every boulangerie in Provence, pissaladière is a pizza-like dough spread with a thick layer of deeply caramelized onions and dotted with oil-cured olives and anchovies," Brennan explained. "I've eaten it many times for breakfast at a café, along with a steaming café crème. This flatbread is similar, with its somewhat chewy crust, and the caramelized leeks are even sweeter than onions. You could add anchovies, too, if you wanted."
Caramelized Leek Flatbread with Black Olives & Soft Cheese
1 package active dry yeast
1 cup warm water (105 degrees F)
1/2 teaspoon sugar
2-3/4 to 3 cups all-purpose flour, plus flour for dusting
3 tablespoons extra-virgin olive oil, plus oil for brushing
1 teaspoon sea salt
2 large leeks
2 tablespoons extra-virgin olive oil
1/2 teaspoon sea salt
1/4 teaspoon freshly ground pepper
3 ounces soft goat cheese, farmer cheese, or other fresh, soft cheese
12-15 oil-cured black olives, pitted
Extra-virgin olive oil for brushing
To make the dough, dissolve the yeast in the warm water, then add the sugar and let stand until foamy, about 5 minutes.
In a food processor, combine the yeast mixture, 2 1/2 cups (12 1/2 oz/390 g) of the flour, 2 tablespoons of the oil, and the salt. Pulse, adding more flour 1/4 cup (1 1/2 oz/45 g) at a time, just enough to create a soft ball of dough — not too sticky, not too dry. When you touch the dough, it should not stick to your fingers.
Knead the dough on a floured work surface with your hands until smooth and elastic, about 7 minutes. Form the dough into a smooth ball.
Rub a large bowl with 1 tablespoon of the oil. Place the kneaded dough ball in the bowl and turn to coat the dough with the oil. Cover the bowl with a damp kitchen towel and let the dough rise in a warm, draft-free spot until doubled in size, 1 1/2-2 hours.
To prepare the leeks, trim the roots and the dark green upper parts and discard. Cut the leeks in half lengthwise and thoroughly wash before chopping. Finely chop the pale green and white parts.
In a frying pan or sauté pan with a lid, heat the 2 tablespoons oil over medium-high heat. When it is hot, add the leeks, salt, and pepper. Stir several times, then cover and reduce the heat to low. Cook, stirring occasionally, until the leeks are lightly golden, 35-40 minutes. Set aside. (If not using right away, cover and refrigerate for up to 1 day.)
Place a pizza stone or a heavy baking sheet in the oven and preheat the oven to 500 degrees F.
Punch down the dough and transfer it to a floured work surface, turning it over once. Roll it into a 15-by-12-inch (38-by-30-cm) oval about 1/2 inch (12 mm) thick. Lightly dust a baking sheet with a little flour. Partially drape the rolled-out dough over the rolling pin and unroll it onto the baking sheet.
With a spatula, spread the leeks over the dough, leaving a 1/2 -inch (12-mm) uncovered border around the edges. Dot the leeks with the goat cheese and the olives. Brush the edges of the crust with olive oil.
Bake until the crust is puffed and golden along the edges and the bottom is crisp and golden, about 15 minutes.
Remove from the oven, and while still hot, brush the edges once again with olive oil. Cut into pieces and serve at once.
"Walnuts and almonds feature in many French dishes, from pastries to fortified wines, and are grown in various regions of the country, where they can be seen in home orchards as well as in large commercial plantings," Brennan said. "In Provence, they are meant to be two of the 13 desserts at the traditional Christmas Eve table, either on their own or as part of a confection, such as in this nut tart. If you like, serve wedges of the tart with vanilla or caramel ice cream."
1-1/2 cups all-purpose flour
1/4 cup granulated sugar
4 tablespoons cold unsalted butter, cut into 1/2-inch chunks
1 large egg
1/2 cup firmly packed golden brown sugar
2 large eggs
2 tablespoons unsalted butter, melted and cooled
1-inch piece vanilla bean
3/4 cup walnuts, coarsely chopped and lightly toasted
3/4 cup almonds, coarsely chopped and lightly toasted
Preheat the oven to 350 degrees F.
To make the pastry, in a bowl, stir together the flour and granulated sugar. Add the butter and work it in with your fingers or a pastry cutter until crumbly and the size of peas. Add the egg and mix it with a fork. Tightly pack the dough into a ball. Using your fingers, press the dough evenly onto the bottom and up the sides of a 9-inch fluted tart pan with a removable bottom. Set aside.
To make the filling, in a bowl, combine the brown sugar, eggs, and melted butter. Split the vanilla bean lengthwise and scrape the seeds into the bowl. Whisk until well blended. Stir in the nuts, then pour the filling evenly into the tart shell, smoothing the top with a spatula. The filling should reach to within 1/4 inch of the rim of the tart pan.
Bake until the crust and filling are golden brown, about 50 minutes. Transfer to a rack to cool to room temperature. Slip a knife around the edges of the pan to loosen any clinging bits of pastry. Gently push on the bottom of the pan, nudging the ring loose. Slide the tart onto a serving plate, cut into wedges, and serve.