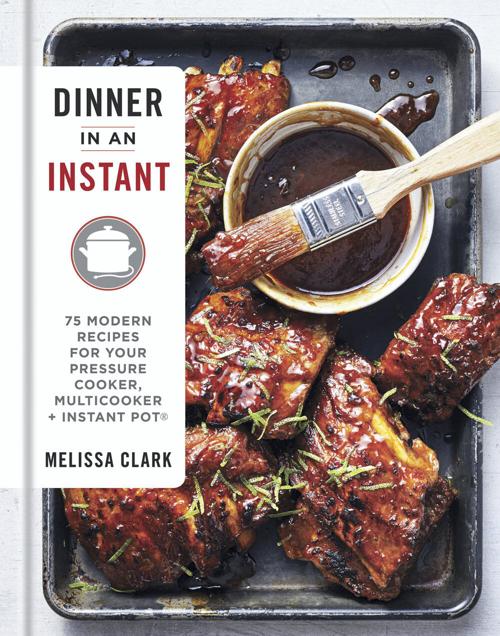 Korean Chile-Braised Brisket and Kimchi Coleslaw
4 to 5 pounds beef brisket, cut into 3 or 4 pieces
1 tablespoon dried red chile flakes, preferably Korean gochugaru
1 tablespoon sweet paprika
2-1/2 teaspoons kosher salt, plus more to taste
1/2 teaspoon freshly ground black pepper
1 to 3 tablespoons peanut or safflower oil, as needed
1 large onion, diced
4 garlic cloves, minced
1 tablespoon grated peeled fresh ginger
1 cup lager-style beer
1/4 cup gochujang (Korean chile paste) or Sriracha
2 tablespoons ketchup
2 tablespoons soy sauce
2 tablespoons light or dark brown sugar
2 teaspoons Asian fish sauce
1 teaspoon toasted sesame oil
Kimchi Coleslaw (recipe follows)
Rub the beef with the chile flakes, paprika, salt and pepper. Cover and refrigerate for 1 hour and up to 24 hours.
Set the electric pressure cooker to sauté (or use a large skillet). Add a tablespoon of the oil, let it heat up for a few seconds, and then add a batch of the beef and sear until it's browned all over, about 2 minutes per side, adding more oil as needed. Transfer the beef to a plate and repeat with the remaining batches.
If the pot looks dry, add a bit more oil. Add the onion and sauté until golden, 3 to 5 minutes. Add the garlic and ginger and sauté for 1 minute longer. Add the beer, gochujang, ketchup, soy sauce, brown sugar, fish sauce and sesame oil. Scrape the mixture into the pressure cooker if you have used a skillet.
Cover and cook on high pressure for 90 minutes. Let the pressure release naturally for 20 minutes, and then release the remaining pressure manually.
Transfer the beef to a plate or a rimmed cutting board and tent with foil to keep warm. Set the pressure cooker to sauté and simmer the sauce for 15 to 20 minutes, until it is reduced by half or two-thirds (remember that it thickens as it cools). Use a fat separator to skim off the fat, or let the sauce settle and spoon the fat off the top. Serve the sauce alongside the beef, with the kimchi coleslaw.
Kimchi Coleslaw: Combine 5 cups shredded cabbage, 1/4 cup chopped kimchi, 2 tablespoons peanut oil, 1 teaspoon toasted sesame oil, the juice of 1/2 a lime and 1/2 teaspoon sea salt in a large bowl and toss well. Taste, and add more salt or lime juice if needed.
Recipe from: "Dinner in an Instant" by Melissa Clark (Clarkson Potter/Publishers, an imprint of Penguin Random House, LLC.)
Full of spices, fresh ginger, and sweet dried apricots, this is a spunky and highly fragrant stew. The kale gives it enough vegetable matter to make it a one-pot meal, and the chickpeas are velvety and satisfying. If you don't have preserved lemons, season this with plenty of fresh lemon juice to balance the sweetness of the cinnamon and apricots.
Moroccan Chickpeas and Kale
3 tablespoons olive oil
2 Spanish onions, chopped
1 fennel bulb, diced (save the fronds for garnish)
1 large jalapeño pepper, seeded if desired, chopped
4 garlic cloves, minced
1 teaspoon grated peeled fresh ginger
2-1/2 teaspoons kosher salt, plus more to taste
1 teaspoon ground turmeric
1 teaspoon sweet paprika
3/4 teaspoon ground cinnamon
1/2 teaspoon ground cumin
1/2 teaspoon freshly ground black pepper
Pinch of cayenne pepper
2 tablespoons tomato paste
1 pound dried chickpeas
1 bunch fresh kale, stems discarded, leaves torn into bite-size pieces, about 5 cups
2/3 cup diced dried apricots
2 tablespoons chopped preserved lemon, or more to taste
1/2 cup chopped fresh cilantro, plus more for garnish
Using the sauté function, heat the oil in the pressure cooker. Add the onions, fennel and jalapeño and sauté until soft, about 10 minutes. Add the garlic, ginger, salt, turmeric, paprika, cinnamon, cumin, black pepper and cayenne and sauté until they release their fragrance, about 2 minutes. Add the tomato paste and sauté for another minute, until darkened but not burned. (If the tomato paste turns too dark too quickly, turn off the heat.)
Add the chickpeas and 5-1/2 cups of water. Cover, and cook on high pressure for 50 minutes; then let the pressure release naturally. If the chickpeas aren't cooked through, cook on high pressure for 5 minutes, then manually release the pressure.
Stir in the kale, apricots and preserved lemon. Using the sauté function, simmer until the kale is wilted, about 5 minutes. Stir in cilantro. Season with more salt if desired, and serve garnished with more cilantro and reserved fennel fronds.
Recipe from: "Dinner in an Instant" by Melissa Clark (Clarkson Potter/Publishers, an imprint of Penguin Random House, LLC.)