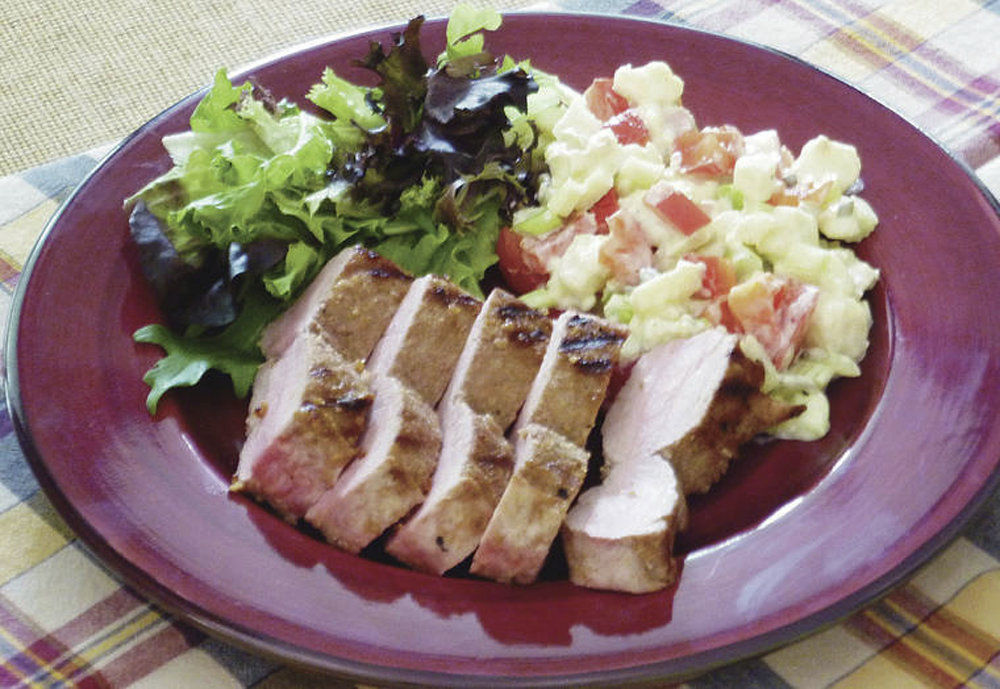 This easy dry rub adds flavor in minutes to barbecued pork. A blend of spices and peanuts rubbed into the meat forms a crust that is a great alternative to a marinade. You don't have to wait for the meat to absorb the flavors.
The pork can be barbecued or broiled. If you barbecue, heat one section of the grill and place the pork over the unheated section so it cooks indirectly, that is away from the direct heat.
Doctor up a deli potato salad or open a bag of washed, ready-to-eat salad to complete your quick and tasty meal.
SHOPPING LIST: To buy: 1 small container unsalted peanuts, 1 jar ground coriander, 1 jar cayenne pepper, 3/4 pound pork tenderloin, 1 small container plain deli potato salad, 1 bunch celery, 1 container vegetable oil spray, 1 red bell pepper and 1 bunch scallions. Staples: brown sugar, salt and black peppercorns.
Peanut Rub Barbecued Pork
Vegetable oil spray
20 dry roasted, unsalted peanuts (will make 2 tablespoons ground peanuts)
1 tablespoon ground coriander
1 tablespoon brown sugar
1/8 teaspoon salt
1/8 teaspoon cayenne pepper
3/4 pound pork tenderloin or boneless pork chops
Preheat half a grill or turn on boiler. If using broiler, line a baking tray with foil. Spray with vegetable oil spray.
Chop peanuts in a food processor and add coriander, brown sugar, salt and cayenne pepper. Blend together.
Remove visible fat from pork tenderloin. Butterfly the pork. Cut almost through lengthwise and open it like a book. Rub pork with the spice mixture on both sides, pressing the mixture into the meat. Place on preheated grill away from direct heat for 15 minutes, turning after 7 minutes or place on lined baking tray and broil 6 inches from heat for the same amount of time. Pork is done when a meat thermometer reaches 145 degrees. Carve and serve.
Nutrition information per serving: 291 calories (34% from fat), 10.9 g fat (2.1 g saturated, 5.4 g monounsaturated), 108 mg cholesterol, 38.2 g protein, 10.8 g carbohydrates, 2 g fiber, 239 mg sodium.
1 cup plain deli potato salad
1 cup red bell pepper cut into cubes
1 cup sliced celery
2 scallions, sliced (about 1/4 cup)
Salt and freshly ground black pepper
Place potato salad in a bowl and add the red bell pepper and celery. Toss well. Taste for seasoning and add salt and pepper to taste if necessary. Sprinkle scallions on top.
Nutrition information per serving: 190 calories (42% from fat), 8.9 g fat (1.5 g saturated, 2.4 g monounsaturated), 85 mg cholesterol, 3.3 g protein, 24.7 g carbohydrates, 3.6 g fiber, 512 mg sodium.
Quick Fix is a Tribune News Service column from Linda Gassenheimer. She is the author, most recently, of "The 12-Week Diabetes Cookbook," "Delicious One-Pot Dishes" and "Quick and Easy Chicken." Her website is dinnerinminutes.com. Find her on Facebook or follow her on Twitter @lgassenheimer. Email: linda@dinnerinminutes.com.
Be the first to know
Get local news delivered to your inbox!