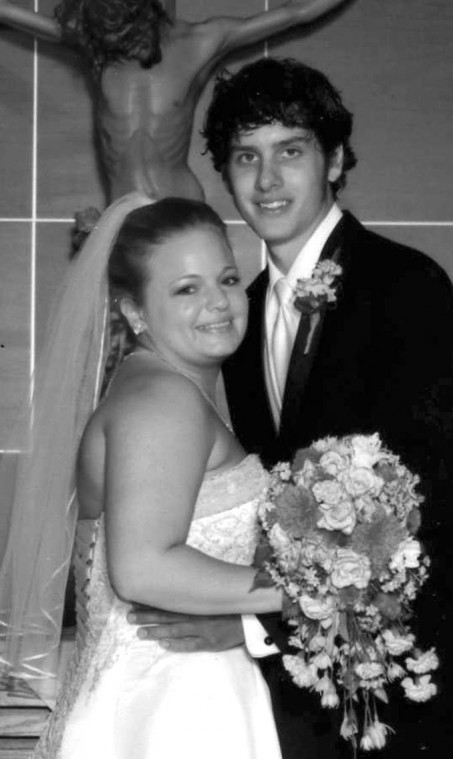 United in marriage June 6, 2009, at Blessed Sacrament Catholic Church in Grand Island were Allison Hoffman and Evan Beckstrom of Grand Island. Fr. Todd Phillipsen performed the ceremony.
Parents of the couple are Jeff and Lisa Hoffman and Tony and Joan Beckstrom, all of Grand Island.
Maid of honor was Amber Hoffman of Hastings. Danielle and Kirsten Haman and Carla Potter were bridesmaids. Personal attendants were Britteny Beckstrom and Alison Shafer.
Jason Beckstrom of Grand Island was best man. Groomsmen were Ryan and Blake Beckstrom and Barry Lewis. Ushering guests were Sam Martin, Grant Loeffelbein, Andrew Journey and Jake and Nick Arneson.
Candlelighters were Elle Martin and Cole Loeffelbein. Joe and Noah Arneson were alter boys. Barry and Kathleen Loeffelbein were readers and grandmothers, MaryLou Loeffelbein, Rosemary Matthiesen and Joyce Hoffman, were gift attendants.
Ansley Harvey and Abby Christensen were flower girls and Louis Hoffman was ringbearer.
Music was provided by pianist Myrna Sullivan, trumpeter Andrew Beckstrom and vocalist Rosemary Matthiesen. Kayla Beckstrom and Elizabeth and Julien Hoffman attended the guest book.
Special guests were grandparents Don and MaryLou Loeffelbein, Eldon and Mary Beckstrom, Rosemary and Ernie Matthiesen, Ken and Joyce Hoffman and great-grandmother Mary Hoffman.
A reception at Blessed Sacrament Jubilee Hall followed the ceremony. Host couples were Hank and Elsa McDermott and Dave and Cindy Arneson. Lisa Hoffman, Lori Martin, Carrie Beacom, Barb Journey, Julie Johnson and Deb Beckstrom were cake table attendants. Ashley Journey and Samantha Johnson attended the gift table.
The couple live in Grand Island and are planning a wedding trip to Riviera Maya, Mexico, in January 2010.
The bride graduated from Grand Island Northwest High in 2005. She received a Bachelor of Science degree in exercise science from the University of Nebraska at Kearney in 2009. She works for Grand Island Physical Therapy as a certified athletic trainer/physical therapy technician.
The groom is a 2005 graduate of Grand Island Senior High. He received an associate's degree in automotive technology from Central Community College-Hastings in 2007. He is an automotive technician for Ken's Auto Service.