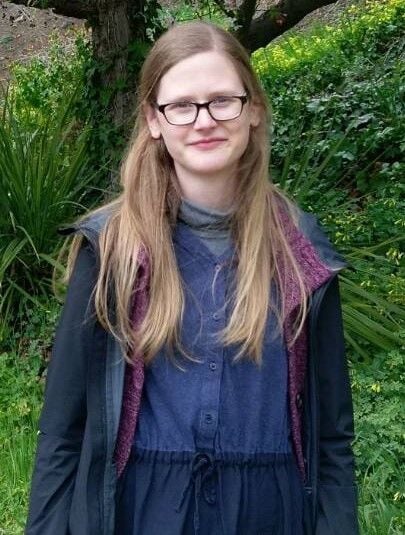 The seasons are changing and there's a lot to be excited about at your local library! Join us at the library at 5:30 p.m. Friday, Sept. 24, for a fall open house and dedication of our magnificent new outdoor crane sculpture "New Heights."
We thank artist Gary Staab, the Staab family and the Grand Island Public Library Foundation for making this beautiful sculpture possible, and community member Norbert Wenzl for the fitting name.
Don't forget: our hours changed after Labor Day. The library is now open 1 to 5 p.m. Sunday, 9 a.m. to 8 p.m. Monday and 9 a.m. to 6 p.m. Tuesday through Friday. The library is closed on Saturdays.
Since we are now open Monday evenings until 8, come by and see the cranes illuminated after dark!
"New Heights" is not the only exciting thing in front of our library. You can bring your kids to enjoy our new Early Literacy Outdoor Discovery Area, or ELODA, open even when the library building is closed! It's right in front of the library, inside the "ABC-123" gates.
In the ELODA, children can walk along the alphabet, count to 10 with hopscotch, bang on bongo drums, trace a finger trail maze, ring bells, and play a tune on the "Xylo-fun."
When the library is open, you can borrow a basket of beanbags from the children's desk to play either of the sidewalk games we've marked out.
Funding for the ELODA was provided by the Peter Kiewit Foundation.
September is Library Card Sign-Up Month, and kids can participate in our special Scout Hunt through the end of the month. Scout, the adorable puppy mascot you see on our new kids' catalog (https://gilibrary.tlcdelivers.com/kids), is hiding in nine different places around the library. He wants to show you his favorite spots and all the cool things you can do with a card!
Pick up a Scout Hunt sheet at the Children's Desk. Find all the places he's hiding, write down the secret word at each place, turn it in, and you'll be entered into a drawing to win your very own Scout plush. (Trust us, he's even cuter in person!)
And speaking of Library Card Sign-Up Month, we've made it easier than ever to get a card of your own. There's a computer kiosk set up right at the library entrance that allows you to fill out your application online (no paper necessary!). Then just pick up your new card at the circulation desk.
Also, did you know library cards are FREE to any resident of Hall County? I always tell people it's the best bang for your taxpayer buck.
With a library card, not only can you check out physical books (and DVDs and magazines), but you also have 24/7 access to online services including OverDrive and Hoopla.
OverDrive focuses more on ebooks and magazines; Hoopla on audio and video streaming (including movies and TV shows!). Both offer a large selection of ebooks and audiobooks.
Go to our website at www.gilibrary.org/, click on "Resources" and then "Downloads & Streaming," and take a moment to browse all their offerings. Remember, it's all FREE with your library card!
Access OverDrive materials on your phone with the free Libby app. Remember, OverDrive isn't just ebooks. It's got a huge selection of magazines, plus audiobooks and magazines!
Hoopla offers 10 checkouts a month, but unlike OverDrive, you'll never have to wait for an item on hold.
A friendly reminder: when our catalog software changed last month, we had to reset everyone's PIN to their four-digit year of birth. If you'd like to change it to something else and haven't yet, you can log in to your account at https://gilibrary.tlcdelivers.com or call us at 308-385-5333 during open hours and we'll help you out.
Laura Fentress serves as the youth and family services librarian for the Grand Island Public Library. Email her at lauraf@gilibrary.org.