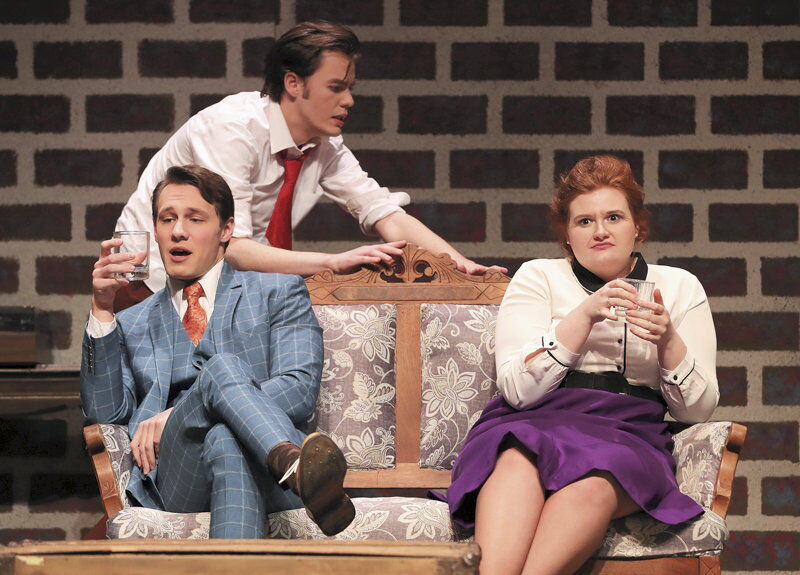 KEARNEY — Several area students are part of the cast and crew of a UNK theater event this weekend in Kearney.
University Theatre at Kearney is presenting a pair of one-acts from renowned English playwright Peter Shaffer. The final performance is at 2 p.m. Sunday, Nov. 21, in the University of Nebraska at Kearney's Miriam Drake Theatre.
"The White Liars" depicts a fateful encounter between a down-and-out fortune teller, a rock musician and his agent. This play is directed by UNK senior Danny Grimm of Amherst.
In "Black Comedy," lovesick and desperate sculptor Brindsley Miller has embellished his apartment with furniture and objects d'arte "borrowed" from the absent antique collector next door, hoping to impress his fiancée's pompous father and a wealthy art dealer. UNK senior Bryce Emde of Grand Island is the director for "Black Comedy."
Area cast members of "Black Comedy" include: Jakeb Larson of Grand Island (Schuppanzigh); Tobin Glinsmann of Henderson (Colonel Melkett); and Jack Garrison (Georg Bamberger), Tony Koetters (Harold Gorringe) and Rheann Marie Rodenbur (Miss Furnival), all of Kearney.
Crew members include Megan Coffin, assistant stage manager, and Rheann Marie Rodenbur, costume designer, both of Kearney.
Activities
Two area students attending Chadron State College are displaying pieces in a senior thesis art show, "Escape into Wonderland," which opens Monday, Nov. 22 in the Main Gallery of Memorial Hall and remains in display through Dec. 10. Those students are Rylie Cole of Minden and Daria Dart of Hastings. The show is the culminating experience of the Art program so that all art students can gain experience in planning and designing a gallery exhibition, as well as give the public a glimpse into the department's artwork.
Abigail Swanson of Grand Island is one of six students who attended the virtual Sigma Tau Delta High Plains Regional Conference earlier this month. The conference featured Nathan Hill, who spoke about his process writing "The Nix," a New York Times bestselling novel. Swanson presented "Glimpses of the Far Distance," a collection of poems touching on themes of growth, memory, writing and the meaning of words during a poetry panel.
Allison Wilkens of Gibbon was one of four students from the Nebraska College of Technical Agriculture in Curtis who traveled to Salt Lake City with their professor, Brad Ramsdale, for the American Society of Agronomy annual meeting. The NCTA Team earned fourth place. As the only two-year college, the Aggies scored higher than most of the four-year universities. Wilkens plans to graduate in May 2023 with a double major in agronomy and agribusiness management. She intends to join her family business in crop production and assist her father, Mike (an NCTA alumnus) with his agribusiness
Academic honors
Jered Lemkau, of Sutton, has been named to the summer 2021 trimester Dean's List at Palmer College of Chiropractic's main campus in Davenport, Iowa. Palmer College of Chiropractic, the first and largest college in the chiropractic profession, has campuses in Davenport, Iowa; San Jose, Calif.; and Port Orange, Fla.