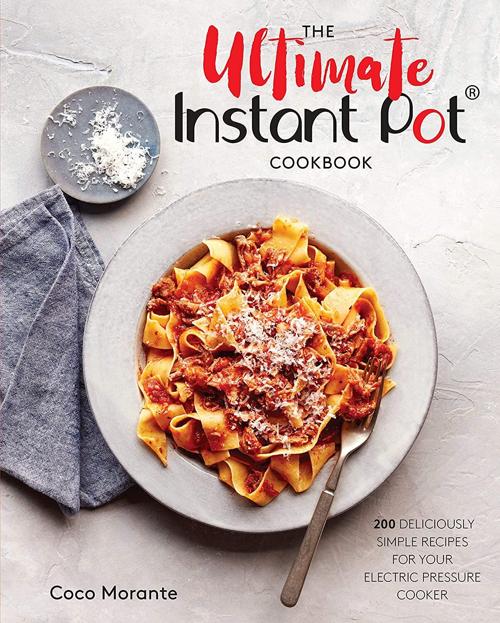 One of the many popular hobbies many people have picked up in the past year with quarantines and many restaurants and businesses closed was cooking and baking.
Did you know the Grand Island Public Library has an extensive collection of cookbooks for a wide range of cooking skills and interests?
Did you get a fancy new kitchen gadget like an Instant Pot or an air fryer? The library has you covered. One of my favorite Instant Pot cookbook authors is Coco Morante, who has released several great books with recipes specifically designed for your Instant Pot.
Two of her books are "The Ultimate Instant Pot Cookbook: 200 Deliciously Simple Recipes for Your Electric Pressure Cooker" and "The Ultimate Instant Pot Healthy Cookbook: 150 Deliciously Simple Recipes for Your Electric Pressure Cooker."
These have some great, quick and simple recipes and with recipes written for ease of use even for the newest user of the Instant Pot. A couple of my favorites are Tomato Basil Soup and Roasted Red Pepper Soup — both are absolutely delicious!
Do you follow a special type of diet like gluten free, ketogenic, paleo, vegetarian or vegan? We have you covered for those as well. Try books by popular blogger Gina Homolka's "Skinnytaste" series, Dr. Josh Axe's keto recipe series, many of Melissa Hartwig Urban's Whole30, Michelle Tam's Nom Nom Paleo series and many, many more.
How about a culinary trip around the world? With cookbooks from pretty much any corner of the globe, you'll find delicious new recipes for any flavor palate.
For some unusual Italian recipes try "Food of the Italian South: Recipes for Classic, Disappearing, and Lost Dishes" which covers recipes from Puglia, Campania, Basilicata and Calabria — a region of Italy not often highlighted in other Italian cookbooks (and a personal favorite as that is the region my grandmother's family emigrated from in the early 1900s!).
You could also take a trip to Vietnam with "Vietnamese Food Any Day" by Andrea Quynhgiao Nguyen or to the Middle East with "Israeli Soul: Easy, Essential, Delicious."
If you have a sweet tooth we have more baking cookbooks than you could ever hope to get through, and for a wide range of baking levels from beginner to expert and for mixed recipes to specific cookbooks. Some suggested baking cookbooks to try are Bon Appetit and YouTube chef Claire Saffitz's "Dessert Person: Recipes and Guidance for Baking with Confidence" or "The Book on Pie: Everything You Need to Know to Bake Perfect Pies" by Erin Jeanne McDowell.
There are also so many more cookbooks for a wide range of interests: grilling, smoking foods, mixing drinks, making your own condiments like ketchup and mustard, or even theories of cooking —t here is just so much more to explore!
Stop into the library any time during regular hours (9:30 a.m. to 6 p.m. Monday through Friday or 9:30 a.m. to 1 p.m. Saturday) and browse our cookbook section (Dewey Decimal number 641 through 641.59) and pick up something new.
If you can't make it in, or really need a new cookbook right now, hop online to some of our online resources Overdrive and Hoopla both have hundreds of digital cookbooks, including many of the popular and new titles, for you to check out right now. and start cooking or baking right away.
So brush off your cooking skills and give a new recipe a try, and as famous television chef Julia Chilc always said as she signed off at the end of her cooking shows, "Bon Appetit!"
Shaun Klee serves as the adult and technical services librarian for the Grand Island Public Library. Email him at ShaunK@gilibrary.org