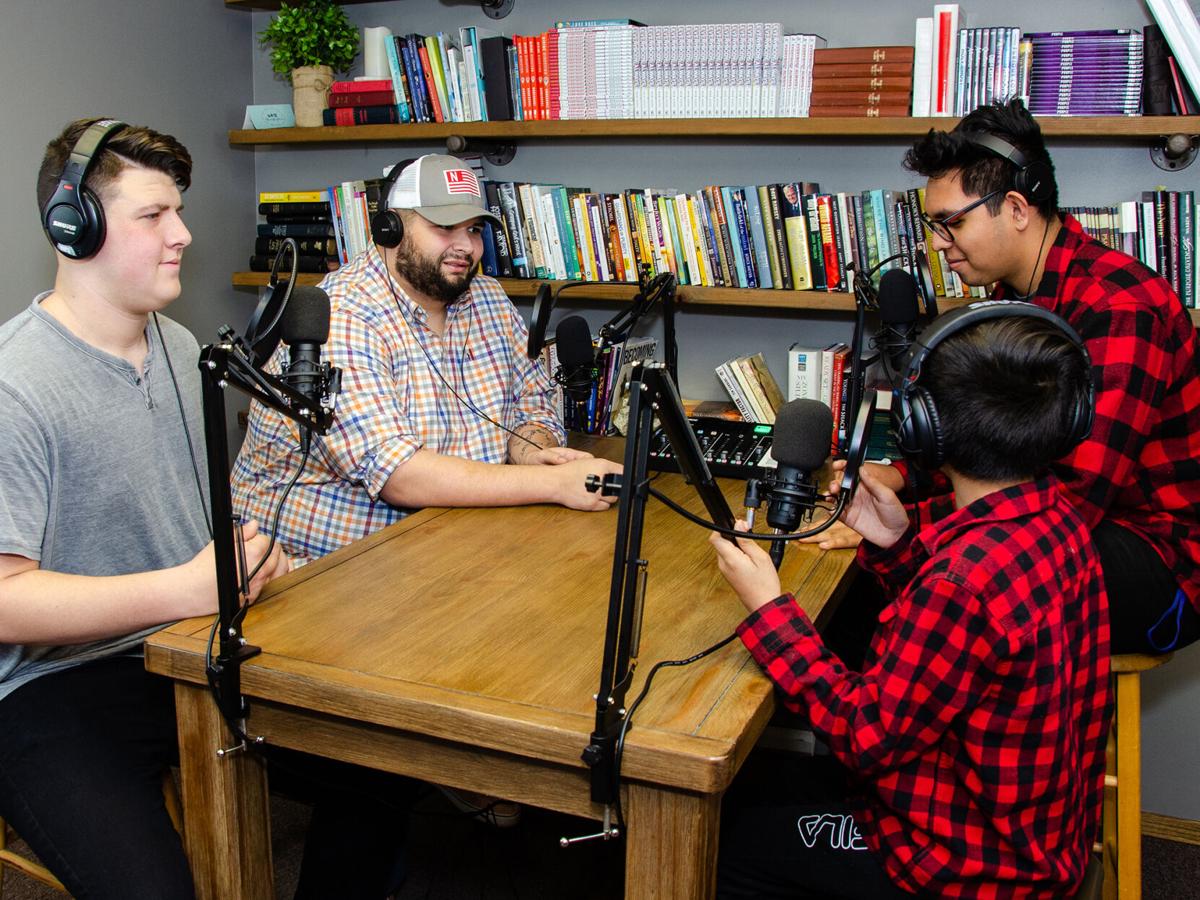 When the coronavirus pandemic emptied pews in March 2020, churches faced the challenge of how to reach parishioners without in-person services.
Nationwide, some church gatherings were labeled superspreader events. A series of Charlotte, N.C., convocations led to at least eight deaths and more than 185 cases of COVID-19.
In the Grand Island area, most churches closed in-person worship, with many moving to online services such as Facebook or YouTube for video streaming.
Many area churches now offer online streaming of church services, Bible studies, prayer groups and Sunday school. Church business often is conducted online, as well, using Zoom or a similar platform.
Franklyn Busby, liturgy and music director at Blessed Sacrament Catholic Church, said no streaming services were in place at his church when the pandemic hit.
"When COVID hit, the parish found itself in a situation where many of the older parishioners were either afraid to come or could not come to Mass," Busby said. "Clay Pfeifer and Darren Jacobson were working with the sound system, and the parish has quite a comprehensive sound system.
"Father Marty (Rev. Martin L. Egging) went to them and asked, 'Can you please find a way that we can put our Masses on social media?' And so, it is actually Clay and Darren that worked that stuff out."
"As is often the case in implementing technology, it was kind of a 'catch as catch can' situation," Busby said. "They started with a bare-bones — I mean, very bare-bones — rudimentary system that they had cobbled together." During the last year, they have upgraded the switches and also the cameras.
He added a note of caution for anyone starting from scratch on putting a streaming system in place.
"Some company will want to offer a $999, social media broadcasting package," Busby said. "God knows that's part of American capitalism now, but almost inevitably, folks that do that have to upgrade everything."
At this point, he said, the church only streams on Facebook and spreads the word on streaming services through a newsletter. Technical assistance is offered through what is called the "livestream team."
Sometimes, Busby said, a bright 9-year-old is recruited by a family member "to 'go over and make this work' kind of thing."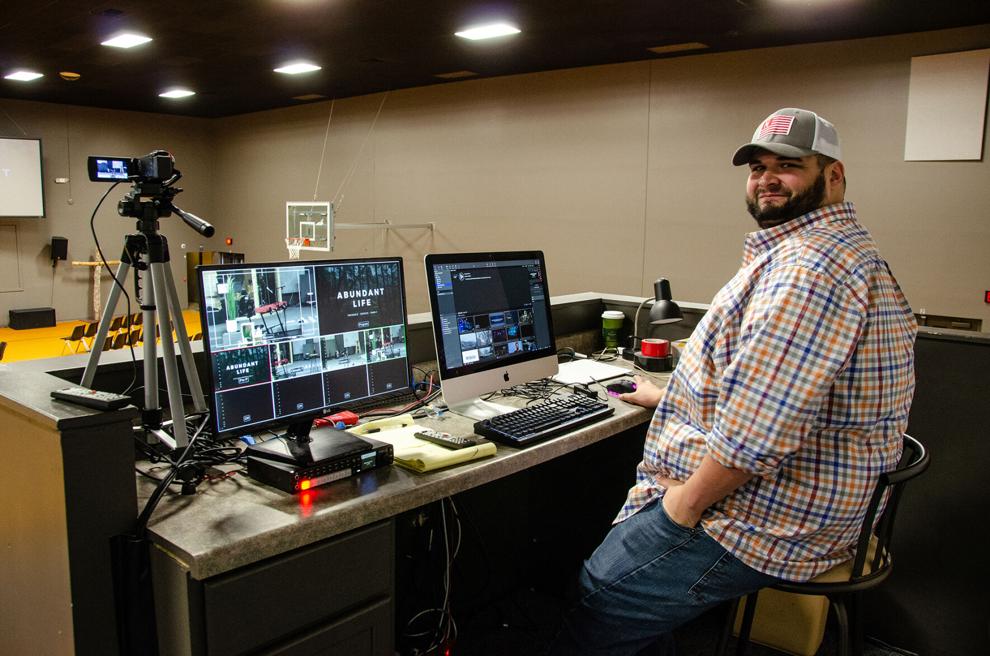 "Even if we get out of the era of pandemics, this is a ministry that we will continue," he said. "Technology-driven worship is something … that's not going to end when, or if, COVID goes away.
"One of the realities of COVID is that many churches have been confronted by the fact that they are still using 1950s-era models of ministry and worship," Busby said. "There's virtually nothing else in day-to-day lives that is based on the 1950s. So, this is definitely part of our future ministries."
The Abundant Life Church of Grand Island is all in on technology with Facebook and YouTube streaming and podcasts on Apple, Spotify and YouTube. Abundant Life's Facebook postings date back six years, with increasing frequency and more livestreams as time progressed. Streaming increased greatly in the last year.
"We livestream our main services on Facebook and YouTube," said Chris Granlee, youth pastor at Abundant Life. "We stream simultaneously to be able to cast a wider net. A lot of people with smart TVs have access to YouTube and not necessarily to Facebook.
"We also put out things like Motivation Monday with some of our pastors. We try to put out worship stuff on Wednesdays, and we have a few podcasts that are coming from different areas," Granlee said. "We have one that just got featured on a channel for our youth podcast called 'Leap of Faith.' It's two of our high school seniors who are doing this podcast."
The church also offers a "Ministers and Mugs" podcasts with Senior Pastor Jason Warriner and Executive Pastor Nathan Frew.
"It's kind of silly at first, just kind of describing the mug that they're using that week," Granlee said. "And then talking about Bible issues, kind of going over the Scripture together. And then our 'Leap of Faith' podcast is always a biblical principle in today's world."
The livestreaming is handled by Granlee and two interns, William Daws and Freddy Cabrera. In addition to the video stream of the service, online chat is available for viewers to be more connected with the physical church.
Granlee said when he and others started to increase streaming a year ago, they were happy to see so much help available online and from other churches. They now pay it forward by helping other churches get more involved online.
Trinity United Methodist Church was already livestreaming when the pandemic ended in-person worship. The Rev. Kelly Karges, senior pastor, credited parishioners Tim Victor and Josh Bergmeier for handling the technical aspects.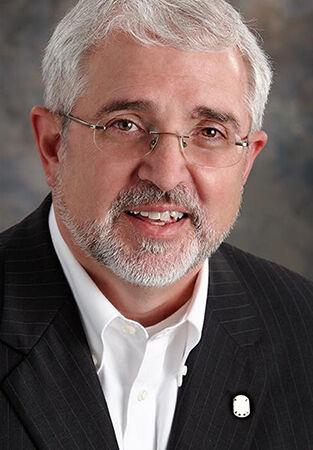 The church has installed remote cameras in the sanctuary and added improved lighting to ensure the best possible quality of their livestreams.
"We had already been doing the online worship about a year before. We were kind of lucky in that we had upgraded those lights in the front, upgraded a computer up above … the soundboard," Karges said.
"So, we had the hardware and the guys to run it before it happened. Right away, our goal was to make it look as much like the service we had before as possible."
"My friends in smaller churches, like at Doniphan where I was, that pastor, all of a sudden, was sitting in front of a camera in the sanctuary, playing his guitar and leading the whole thing and had to reinvent the wheel from the ground up. We were lucky we didn't have to do that."
Geoffrey Iringo, an associate pastor who joined the church in July, started chatting online with remote worshippers and then an after-worship chat session was set for 10 minutes.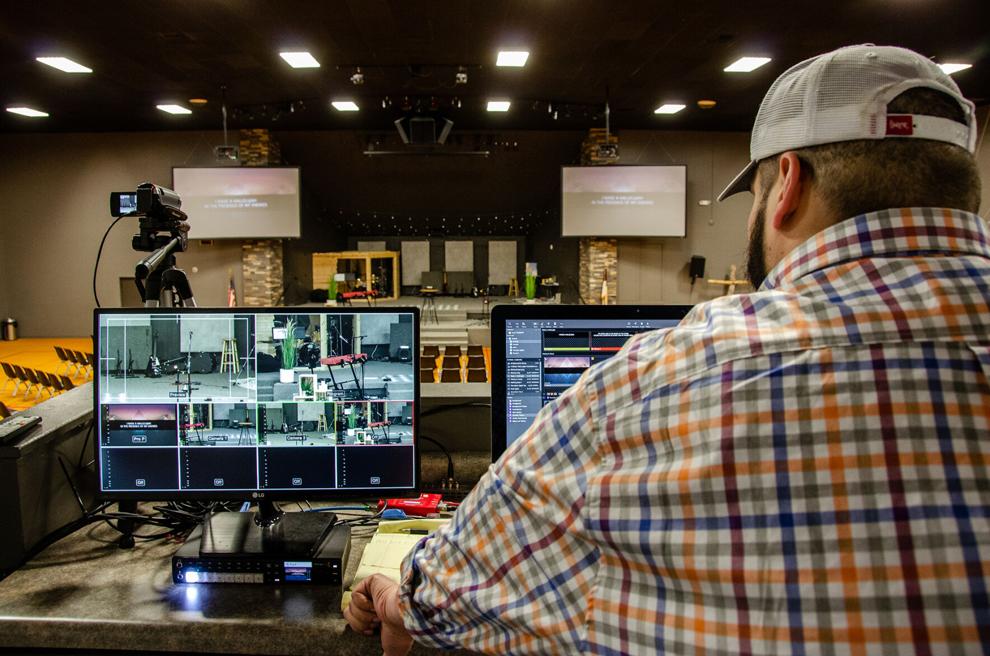 "People started chatting with each other online, and it was like a whole other contact that people seem to be enjoying," Karges said. "When we're preaching, Geoffrey and Kalaba (Kapundu, associate pastor) are out there with their heads down, typing, responding to people back and forth.
"I try and do the same thing when ... they're preaching, and people seem to really enjoy the direct response from the pastors they didn't get before. So, it's a whole other thing.
"I was just with Tim Victor in the sanctuary — our computer guy — and we were saying, you know, 'This is going to keep going.' It might even increase the media that we're doing after we're back in person," Karges said.
The church also has been using Zoom for three small groups this winter and spring, each with a different leader from the congregation. The newsletter is produced using an email program that allows for wide distribution to church members. The church also has an Instagram account.
"We're extremely lucky, as an old guy, that we got Allie (Alexandria Remm, publications coordinator) in here as a young whippersnapper. We said, 'We're going to do Constant Contact. Can you learn it?' And she said, 'Yeah, no problem.' So, she just learned it … picked it up," Karges said.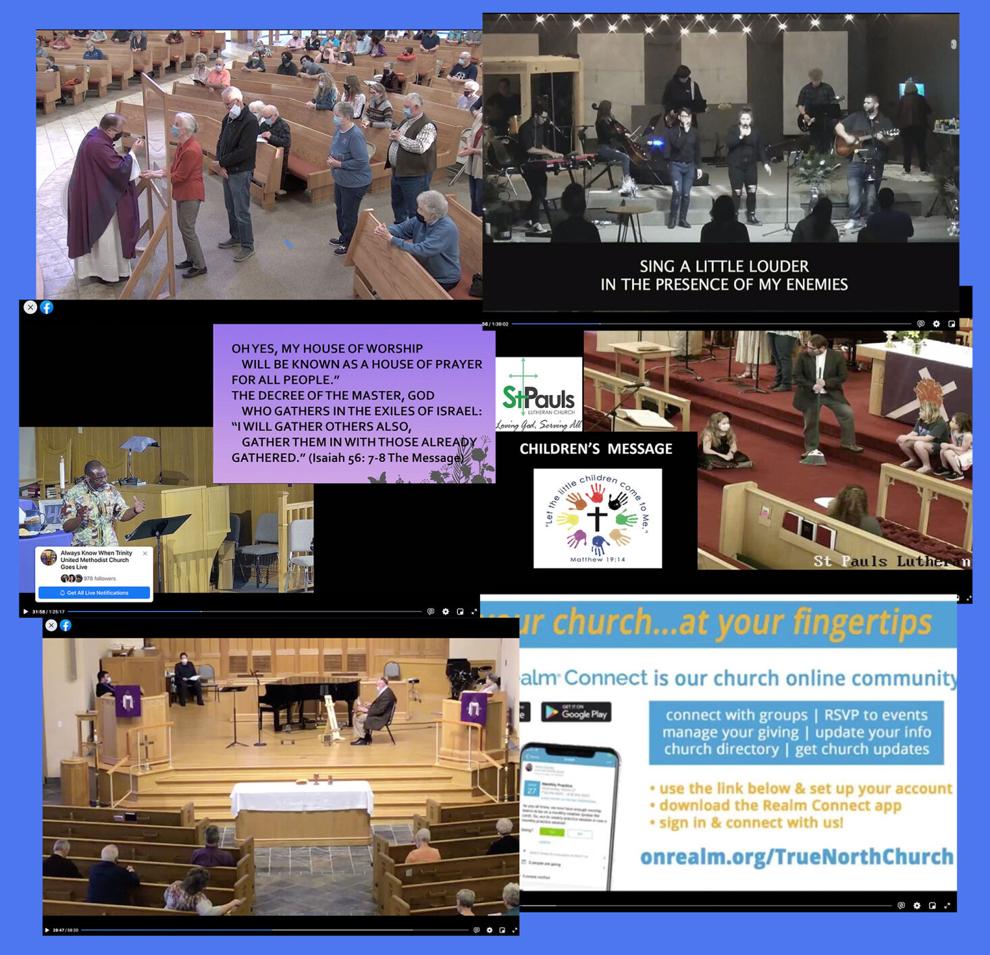 Sometimes people aren't familiar with their computers and email, he said, and things go into the junk mail folder. Then, someone walks the recipient through adding the church's email to the address book. He mentioned teens who were helping seniors sign up for COVID shots and said something like that would help the church as well.
"It's a double-edged sword," Karges said. "For the elderly that are able to do the internet, it's really made them less lonely, more in contact, unless you can't do it at all. Then you're still isolated."