Chess games can be perceived as slow-moving, but there is nothing slow about Grand Island Senior High's ascent into the Nebraska chess ranks.
It's been only several short months since Xander Braden, a freshman at Grand Island Senior High School, with the support of other students, approached GISH math teacher Vincent Jodoin about starting a chess club.
Thanks to Braden and other students, Saturday the young program shined as GISH hosted its first chess tournament.
"Most of the tournaments in Lincoln and Omaha will pull about 30 to 50 (competitors)," Jodoin said. "With this being our first inaugural major tournament, having pretty close to those same numbers ... is really awesome."
Saturday's home team, GISH, has about a dozen club members with a handful of competing players, including Braden.
"This is a good start," he said. "It's nice to see so many people here. I hope it can continue to expand further really just in general."
The tournament was run with United States Chess Association and other regional and state chess organizations for guides and assistance.
Nebraska's state champion came from Omaha to help. Nick Lacroix, already a seasoned player at 23, said it was encouraging to see GISH's chess club host such a successful tournament.
"It's nice to see so many people here I hope it can continue to expand further," he said. "(Chess) in general has expanded so much in the past few years."
Lacroix tested his wits against multiple players, at once, Saturday.
He sat in the center of several players, rotating to each to make a counter move.
Lacroix explained: "Everyone else will have a board and there'll be set up in a rectangle or circle. (Other players will) be sitting on the outside of the circle, and I'll be on the inside. I'll make a move on one board and then walk to the next and make a move there. And I'll just keep walking around across all the boards."
It's the first time Lacroix has ever done a simultaneous game.
There are even more ways to play chess, Jodoin explained.
And chess is a way to get more students with different backgrounds and interests involved in extracurricular activities, he added.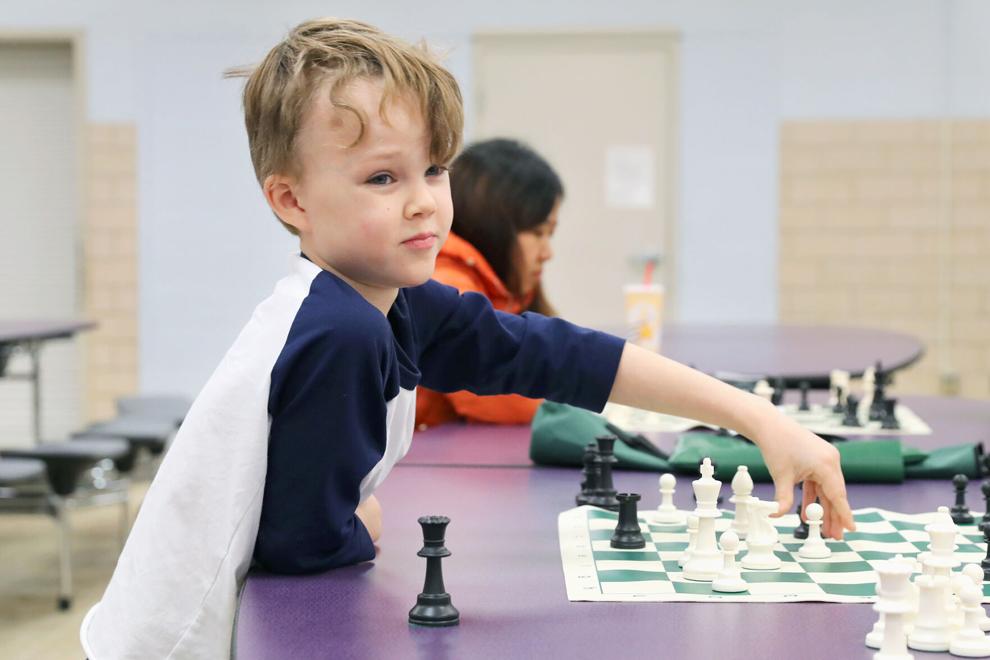 "One great thing about chess is it gives more types of students (a chance) to get to feel like athletes," Jodoin said. "Our district is super great with celebrating students with their activities."
There was plenty to celebrate Saturday, even before the brackets were filled.
Just because the chess tournament was probably the quietest tournament ever hosted at GISH, didn't mean it was any less competitive – or fun.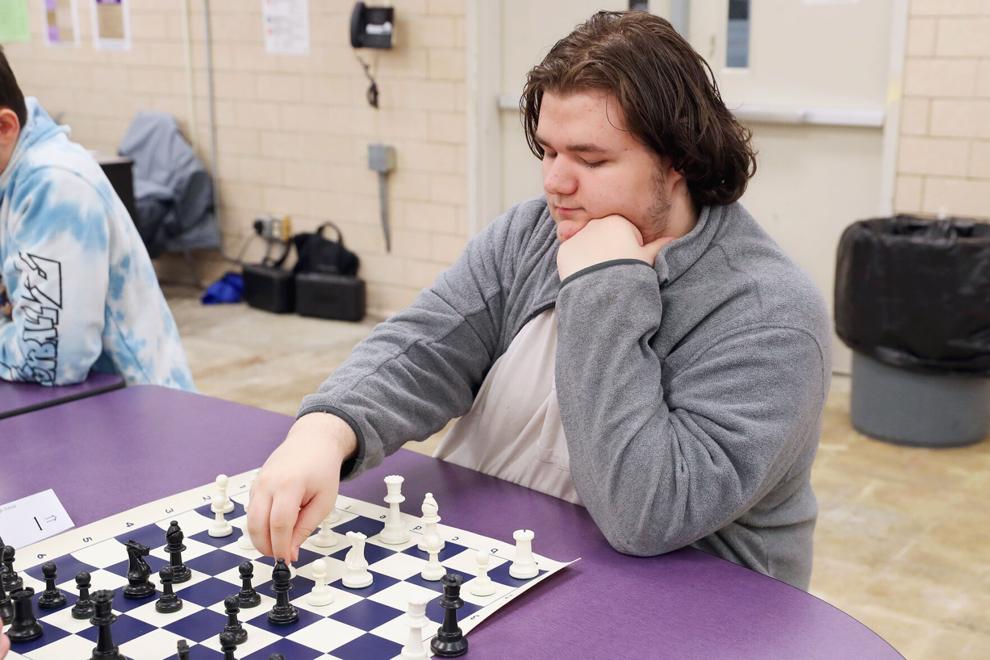 A few chess players at Saturday's tournament offered advice to those interested in chess.
Lacroix said: "Just play. Get started and get playing and get ready to be humbled because it's a tough game. You lose a lot at first, but it just feels so nice when you start to improve and practice and learn what to do and grow stronger."
Lacroix suggested chess websites like chess.com as a good starting point. There are plenty of videos on YouTube as well, he said.
The team's top competitor, Boyd Barrett, said it's important to know how the different pieces move, until it's almost like a reflex.
Barrett said his beginnings came from a popular Netflix show featuring the game.
Braden's advice was simple.
"Don't get bummed when you lose."
Jodoin said Grand Island Senior High students are encouraged to reach out for more information by contacting him.
He added that some of Grand Island Public Schools middle schools are catching the chess bug. The high school team is popular enough they have had to go from one club meeting a week to two.
"The kids are really showing the passion," Jodoin said. He looked Braden and Barrett. "It definitely makes me want to give more of my time."