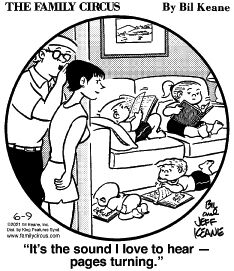 I think COVID has taught me that NOW is a great time for me to do a refresh in my life.
When you think of refresh, I think of all those R words: Revive, restore, repair, renew, remodel and reinvigorate, but I literally think of a refresh on my computer screen where everything is updated and fresh. A clean slate.
This is something that I — and I'm sure others — can use in our lives right now. The library really is a great place to refresh your life and possibly help you come out of a funk.
A friend recently sent me an article from the June 2021 Health Magazine titled "Fictional Therapy," by Jennifer King Lindley. The article says that, "Losing yourself in a novel isn't just relaxing — it can actually help you process your own worries and emotions."
It goes on to say there are practicing bibliotherapists out there who help clients with their troubles by prescribing fiction to help them cope. Books can mirror our own experiences and help us deal with emotions and see ourselves in a different light. Librarians can be a great resource. My friend said her therapy book was the classic "A Doll's House" by Henrik Ibsen.
Maybe you want to have a healthier lifestyle. The library is an asset for everyone. We have all kinds of materials to learn about eating healthy, exercising, travel, new hobbies, escaping into a fantasy book or a scary mystery. I know I need to read to distress. It's so much fun to go back and re-read the classics from my youth, and also even at my age, I can still be taken away with Alice down the rabbit hole.
This year's summer Tails and Tales reading program is an opportunity for people of all ages to get back to books, back to where you find your happy place. We have programming for all ages and of course, you can enter your reading minutes into our Beanstack site/app available from www.gilibrary.org and possibly earn some cool prizes.
I know there are many avenues to find good books. One such avenue is the Nebraska Golden Sower nominees for children and teens at www.goldensower.org.
I am currently reading the 2021-2022 Golden Sower Juvenile fiction book "Wildfire: A Novel" by W.R. Philbrick. I love Philbrick's "Freak the Mighty" book and movie. "Wildfire" is about a boy named Sam who gets separated from his camp during a forest fire and he has to run for his life.
I pop in and out of book clubs but I really enjoy getting together with friends and sharing book suggestions over food or coffee. The adult fiction book, "The Widows: A Novel" from the Kinship Series by Jess Montgomery is great! This was recommended by a friend and there are three books in this series with the fourth, "The Echoes," coming out in March 2022. My well-read friend also recommended the book "Midnight Library" by Matt Heig. I put this one on hold. It sounds awesome!
Kids can refresh with programs such the upcoming one from Kearney's Crane River Theater who will present "Page to Stage: Cinderella" at 10:30 a.m. Monday, June 14, at Grace Abbott Park. This library program is presented with funding from the Grand Island Public Library Foundation. Kids can bring a blanket or lawn chair. Afterwards there will be a fun craft for kids to do.
To wrap up this column, the Family Circus cartoon pictured here (and originally published June 9 in The Independent) says it all. The parents are looking at their children reading and state "It's the sound I love to hear — pages turning."
Refresh at your library and use us for a healthy and affordable lifestyle!