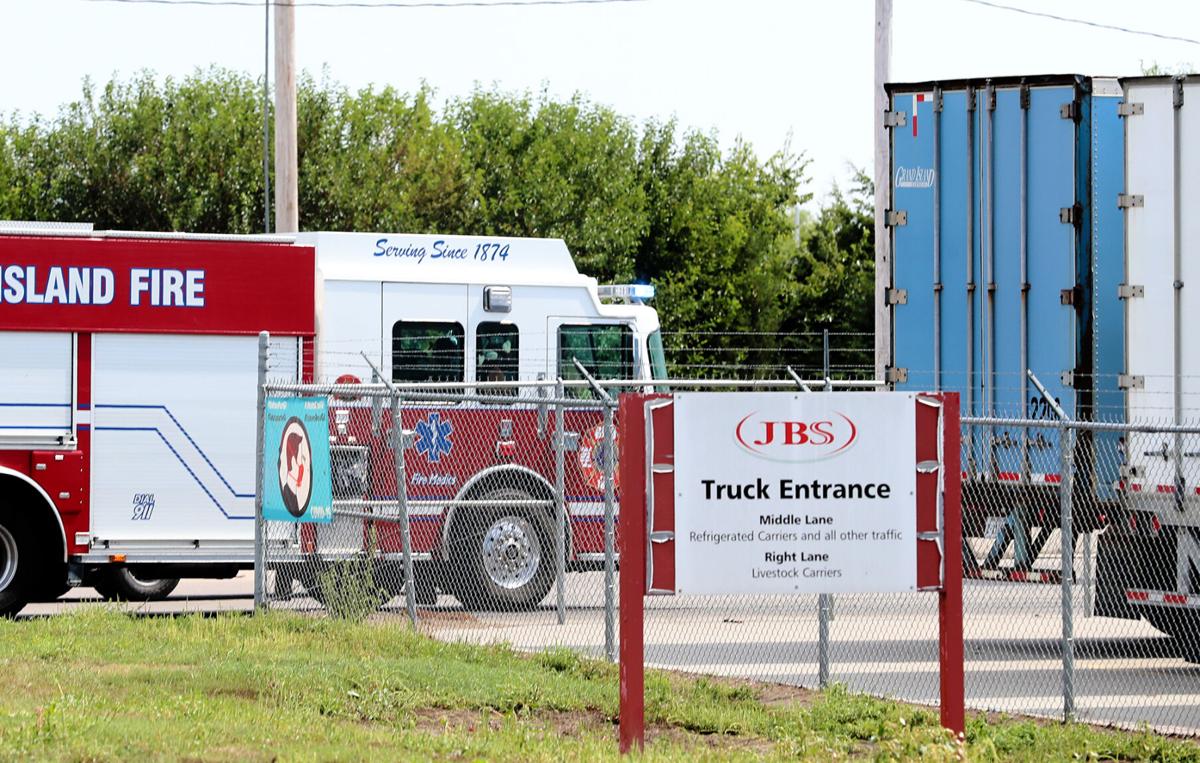 "No one's working today."
That's what an unidentified guard was saying Monday morning into the busy phone at the main security point for the JBS USA manufacturing facility at Grand Island.
A fire started on the rendering building roof of JBS, at 555 S. Stuhr Road, just before 10 p.m. Sunday.
The rendering building is separate from the main production facility.
Photos posted on social media on Sunday by Grand Island Fire Department showed fire shooting through the roof and onto the top of the roof.
There were no fatalities or injuries, GIFD Capt. Jim Hale told The Independent.
The nature of the fire, whether mechanical or chemical, is being investigated by the State Fire Marshal's office. A damage estimate has not been released.
Nikki Richardson, JBS USA corporate communications director, said in a statement to The Independent that operations are expected to resume Tuesday.
"Last night, there was a fire at our Grand Island, Neb., beef production facility. Thankfully, there were no injuries and we appreciate the Grand Island Fire Department for their quick response and support," she wrote. "The fire did not impact our primary production areas. We will not run the plant today, but we expect to resume operations tomorrow, pending ongoing assessment of the situation."
GIFD sent an engine back to the scene at about 1:25 p.m. Monday in response to a potential flare-up, but were soon called back to the station.
"It was nothing, so we canceled all our units," Hale said. "One engine company went out there and put out a little hot spot. We may have that throughout the day."
The late night call was a "five-alarm" fire, GIFD Battalion Chief Scott Kuehl said.
"That means all available people and all available equipment go to the scene and we have Grand Island rural volunteers come to Station 1 to cover any calls that might happen in the rest of the city," he said.
The fire still was active 12 hours later.
"It's been very, very difficult," Kuehl said. "It's a large building with lots of concealed spaces in roofs and walls, so they're having a tough time getting access to them to get them put out."
The previous day's crew was switched out and the new day's crew was continuing to fight the fire at 9 a.m. Monday.
The size of the building made putting out the fire difficult, Kuehl said.
"It's a large building that is not sprinklered and it has a lot of concealed spaces," he said. "We're just having to cut holes and find the hot spots, and try to get some water on it, or some foam, anything we can to get it to be put out."
The parking lot at JBS was nearly vacant at 9 a.m. Monday with workers told not to report to work today.
On Facebook, JBS notified the community and its employees: "As of this time fabrication and slaughter A and B shift will not be working September 13, 2021 we will post updates as soon as possible."
Comments on the JBS post showed some employees were not happy to learn about the fire this way.
Heather Akasha of Grand Island, who noted that her husband works at the factory, posted: "Many people were asleep when you posted this - next time send out phone calls or text to workers."
Raul Gual Vazquez posted, in Spanish: "They have to send the message to the phones, not just put it on Facebook."
The JBS USA Grand Island facility is a two-shift, beef-processing plant that employs more than 3,600 people. The plant has the capacity to process more than 1.4 million cattle per year. It currently exports to 20 countries around the world, including Japan, Hong Kong, Mexico, Korea, Canada, Singapore and Chile.