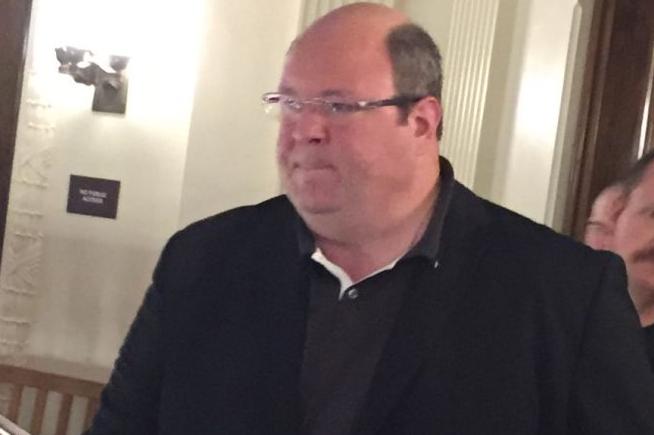 Former Northwest High school vocal teacher David Sackschewsky walked out of a Hall County District Courtroom Thursday afternoon and reported to jail.
Sackschewsky, found guilty of stealing money from Northwest's 14 Karat Gold Show Choir Booster Club, will serve at least 86 days at the Hall County Department of Corrections.
District Court Judge Mark Young placed Sackschewsky on five years probation and ordered him to pay $150,000 in restitution. The ruling says Sackschewsky must pay $1,700 a month to the booster club, commencing on the first day of the month following his "release from incarceration and continuing for 60 months thereafter."
Sackschewsky, 47, will spend 90 days in jail — minus four days for time already served.
He may serve an additional 30 days beginning Sept. 1, 2020, and 60 more days starting Dec. 1, 2021. But that 90-day sentence may be waived by the court upon the recommendation of his probation officer.
In October, Sackschewsky pleaded guilty to second-degree forgery totaling $5,000 or more and no contest to theft by unlawful taking totaling $1,500 to $4,999.
At his sentencing Thursday, Young said Sackschewsky's productions at Northwest were a source of pride for the community. But eventually he started using 14 Karat Gold money to support his lifestyle, including vacations. He put a lot of time into creating fictitious documents, the judge said.
Young said Sackschewsky is a gifted teacher, a master showman and a skilled motivator. But, "Sir, you also stole."
Before sentencing, prosecutor Sarah Hinrichs said Sackschewsky betrayed parents and show choir supporters. To pay the "exorbitant" show choir fees, Hinrichs said, some families had to make sacrifices "and he took advantage of that sacrifice."
Near the end of his tenure at Northwest, show choir students had to pay $900 in fees and generate $500 in corporate sponsorship for each group they were in, Hinrichs said.
Over time, she said, Sackschewsky got "caught up in the hype" and spent money that wasn't his.
She said that in January 2017, when Sackschewsky's sister, Laurie Stutzman, became treasurer of the booster club board, the number of checks going to the defendant increased.
"He believed that he was entitled to this money. That's hubris. That's not bad bookkeeping," said Hinrichs, who was assisted by Matt Boyle.
The two parties agreed before Thursday that $150,000 would be the amount sought in restitution.
Pointing to Sackschewsky's financial situation, Hinrichs said, "I think clearly the defendant has the ability to make restitution."
Sackschewsky believed he could pay at least $500 a month, and Hinrichs felt some of the monthly expenses he listed were discretionary. She pointed to a camper, which she said was bought at least in part with show choir money.
In Sackschewsky's defense, attorney Mark Porto said the teacher devoted decades of exemplary public service to the lives of young people.
"He has made this community a much better place than it would be without him," Porto said.
But even extraordinary people make mistakes, he said.
Porto believes Sackschewsky fits into the category of people who rationalize their behavior in their own minds and the problem then spirals out of control.
Sackschewsky has continued to maintain that he was told years ago by someone on an earlier incarnation of the 14 Karat Gold board that he should receive a stipend because of his time, his commitment and the quality of his work. He also paid for a lot of things out of his own pocket, Porto added.
In addition to paying himself back, Sackschewsky later began paying himself the money that would have constituted that stipend. He convinced himself that he was entitled to that money because of his years of service and his devotion, Porto said.
That was not excuse but an explanation, the lawyer said.
Sackschewsky lives a modest life, Porto said. He lives in a modest home and his family has only one vehicle — a van. He doesn't own an expensive condo or a second home somewhere.
Porto read supportive comments from some of Sackschewsky's former students. He has received support, Porto said, from priests, journalists and retired state senators. His supporters describe Sackschewsky as a devoted family man.
In arguing against jail time, he pointed out that Sackschewsky spent four days in jail over this year's Easter holiday, even though he had been cooperating with law enforcement. He was arrested on a Friday afternoon, in the presence of his wife and children. Sackschewsky's wife was driving at the time they were stopped.
His troubles have been well-publicized, Porto said, so no jail time was necessary to send any message to Sackschewsky.
"That message has been sent," he said.
Sackschewsky's criminal actions pale in comparison to the positive impact he has had on this community, Porto said.
Sackschewsky has "significant medical issues that need to be addressed," he said. He cannot drive.
Porto also disagreed with Hinrichs' assessment of Sackschewsky's financial condition.
In his statement to the judge, Sackschewsky said he understood why he was in court and he accepted responsibility for his actions. Early in his time at Northwest, he regularly lent his money to the music program. That led to him compensating himself to a larger degree than necessary.
He knew in his heart it was wrong, he said.
Those actions jeopardized and eventually separated him from a job he loved.
"And I know things will never be the same," Sackschewsky said.
He feels guilty for bringing shame upon his family and for conversations that had to take place among families in the area. He also feels sorry for the people who attended the school performances.
The crime, Sackschewsky said, has turned his career of good work "into a probable footnote."
He has received both physical and spiritual therapy since losing his job, he said.
Sackschewsky asked Young "with deep humiliation" to refrain from giving him jail time.
"You can be confident that I will not reoffend," he said.
Hinrichs said jail time was required so as not to detract from the seriousness of his offenses.
Young said he has received many letters about the case. Many of those messages came from members of an organization called Team Shack. Young felt some of those letters were in response to a note Sackschewsky sent to his supporters.
In that message, Sackschewsky said he could still get jail time, so he would appreciate their support, "regardless of the fact I did not steal any money."
Hinrichs also made reference to that comment, which she and the judge felt was a sign he didn't accept responsibility.
As part of the conditions of the sentence, Young said Sackschewsky must submit to chemical tests of blood, breath or urine upon request of his probation officer. The judge wonders if his problems at Northwest might have begun with an alcohol or drug problem, and would like to see if there is evidence of that.
Another condition of probation is that Sackschewsky be gainfully employed or actively seeking employment.
Porto brought up the issue of where the restitution will go. The true victims in the case were the students who were taught by Sackschewsky and their parents, rather than current students, he said.
Young said that decision will be up to the 14 Karat board.
Be the first to know
Get local news delivered to your inbox!