A major improvement and renovation project is being planned for Grand Island's Fonner Park campus.
The effort is being organized by The 1868 Foundation, which supports the Nebraska State Fair and its affiliated facilities, and is being planned by the global design firm Populous.
The total project, designed in three phases, is expected to cost $59 million.
The project is dependent on the Nebraska Legislature approving a request from The 1868 Foundation for $24.9 million in American Rescue Plan Act funds. If that is approved, Populous expects construction could begin as early as 2023.
Improvements are needed to facilitate the future growth of the site, said Charlie Kolarik, a Populous senior architect, on Wednesday at a meeting of community stakeholders held at Dinsdale Automotive in Grand Island.
"What we've seen through the market feasibility research is that there's a lot of potential for growth," Kolarik said. "A lot of the big events that are here and want to stay here are running out of space."
The first of three phases will focus on the campus grounds and infrastructure. This includes paved parking spaces, improved surface and underground drainage, easier access to arenas and upgrading the "Big Red Barn."
Per market studies, Phase I scenarios include a 102,000-square-foot expansion of the Cattle Barn and 27,500-square-foot barn canopy, a new 77,000-square-foot indoor arena, a 28,000-square-foot covered connector to Five Points Bank Arena, and 56 additional RV hookups.
Phase II calls for a 20,000-square-foot ballroom and multipurpose space.
Phase III will enhance the arena and entertainment event spaces.
The "Barn Bar" would get an expansion. Kolarik called it "a very popular space."
"We looked at how we could expand that with overlooks into the barn and into the site, and add some guest experience amenity to the barns that would just create additional unique spaces where folks who are here for a week at a time with their animals would have different types of spaces and experiences," he said.
Kolarik emphasized the importance of diversifying experiences for visitors to keep potential revenue at the site.
"You've got a huge captive audience here," he said. "Before they get up at the end of the day and go to the hotel, a lot of them would rather not have to walk all the way out to their truck, and drive to the offsite place to get food if they have it right here," he said.
Stakeholders also felt the Thompson Foods Indoor Arena could be improved, Kolarik said.
"There was a sentiment that they felt like it was a backdoor, and a lot of folks, from fairgoers to vendors and exhibitors, expressed that that area, the circulation corridor, from the east side of the site, across to the main body of event venues ... could be improved," he said. "We looked at how we could develop more of a boulevard approach to that area."
The plan also addresses ongoing storm water issues, a main concern for stakeholders. Populous worked with Grand Island's Olsson Engineering to look at surface and underground drainage for the campus.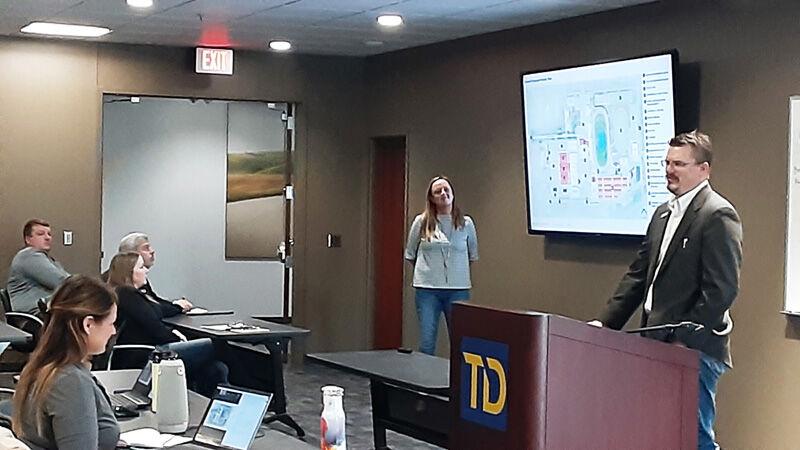 "The idea is, we've got to get this water under control as a first step," Kolarik said. "We need barns that don't have water in them, so we can sell these things better. While there's isolated areas where that's an issue, it's a very commonly themed issue."
A key element of the master plan is the planned casino.
Elite Casino Resorts, based in Iowa, is preparing to build a $100 million casino at the Fonner Park site.
"We feel that that has gone far enough down the road, even though it's not constructed yet, that that footprint should be permanently fixed in the plan for consideration of planning purposes," Kolarik said.
The casino has "a big impact" on the "market feasibility of different types of events," Kolarik said. With a casino, there is a greater potential for convention-type events, for example.
"It's an appealing component. It adds an entertainment and food and beverage component that's very unique to the site, and that's appealing to almost every type of stakeholder that is using the facility," Kolarik said.
Asked what role Elite will play in the project, Kolarik said the casino group has been active as a community stakeholder, but "didn't have an opinion to share."
"They have spoken to us in terms of some intent related to how they might utilize (Heartland Events Center) or how they might receive something like the convention expansion piece, so they've given their input on those components that are really directly related to their business model," he said.
He added, "I would say, their business model is fairly isolated to those components of the site where they're located."
Populous projects annual state tax revenue of $765,300, county tax revenue of $179,200 and city tax revenue of $375,400 with the implementation of the growth plans.
Kolarik lauded the qualities of the Grand Island campus.
"Grand Island and the facilities you have here are known throughout all of North America as the finest livestock show facilities in the country, in terms of the quality of the product exhibitors experience here," Kolarik said. "If you ask anybody in the livestock show world what's the best facilities in North America, it's always Grand Island."
The complete 200-page master plan document will be available at the 1868 Foundation website — 1868foundation.org.