In the weeks leading up to Oct. 15, the apartment in northwest Grand Island was filled with anticipation. Across the country, in homes in California, Florida and North Carolina, travel plans were being finalized.
A woman in Montana was content with the knowledge that she had played a part in all this. Although not making the trip, events in her life had led up to what was about to happen in Nebraska.
That "what" was the writing of the final chapter in a story that started nearly 85 years ago, most likely in south-central Missouri.
It's really four stories that come together to form a fifth.
Those stories include a little romance, a hint of scandal, a touch of mystery, some serious detective work, a bit of luck and a whole lot of perseverance. They are filled with frustration, hope, disappointment, happiness and joy. And finally, it's filled with love. Lots of love that was decades in the making.
To borrow a phrase from "Law & Order: SVU" — "these are their stories."
Bob's story
Bob O'Dell always knew he was adopted.
"It was never a secret," he said. "It was just something everyone knew about."
Bob, who is now 83 and lives in Grand Island with his wife, Karen, recalls the first time he wondered about his birth parents.
"We had one of those 'tell me about your family' assignments in school," he said, "and I concocted some out-there story about who my birth parents were and why they had to give me up. Needless to say, my (adoptive) parents were not pleased."
His adoptive mother, Alma, grew up in the Ogallala area; his dad, Charles, was from Oklahoma. They met when his dad, an electrical lineman, moved to the area to help with the construction of Kingsley Dam and Lake McConaughy in the 1930s.
After they married, they returned to Oklahoma, where his mom — one of 11 children — was anxious to start her own family.
"Here she was, with all her siblings and their kids, and she wanted nothing more than to have her own," Bob said, "but it didn't happen."
Unable to conceive, the young couple decided to adopt and turned to the Fairmount Maternity Hospital in Kansas City. They were hoping for a baby girl.
"It was also no secret that, when they decided to adopt, they wanted a girl," Bob said.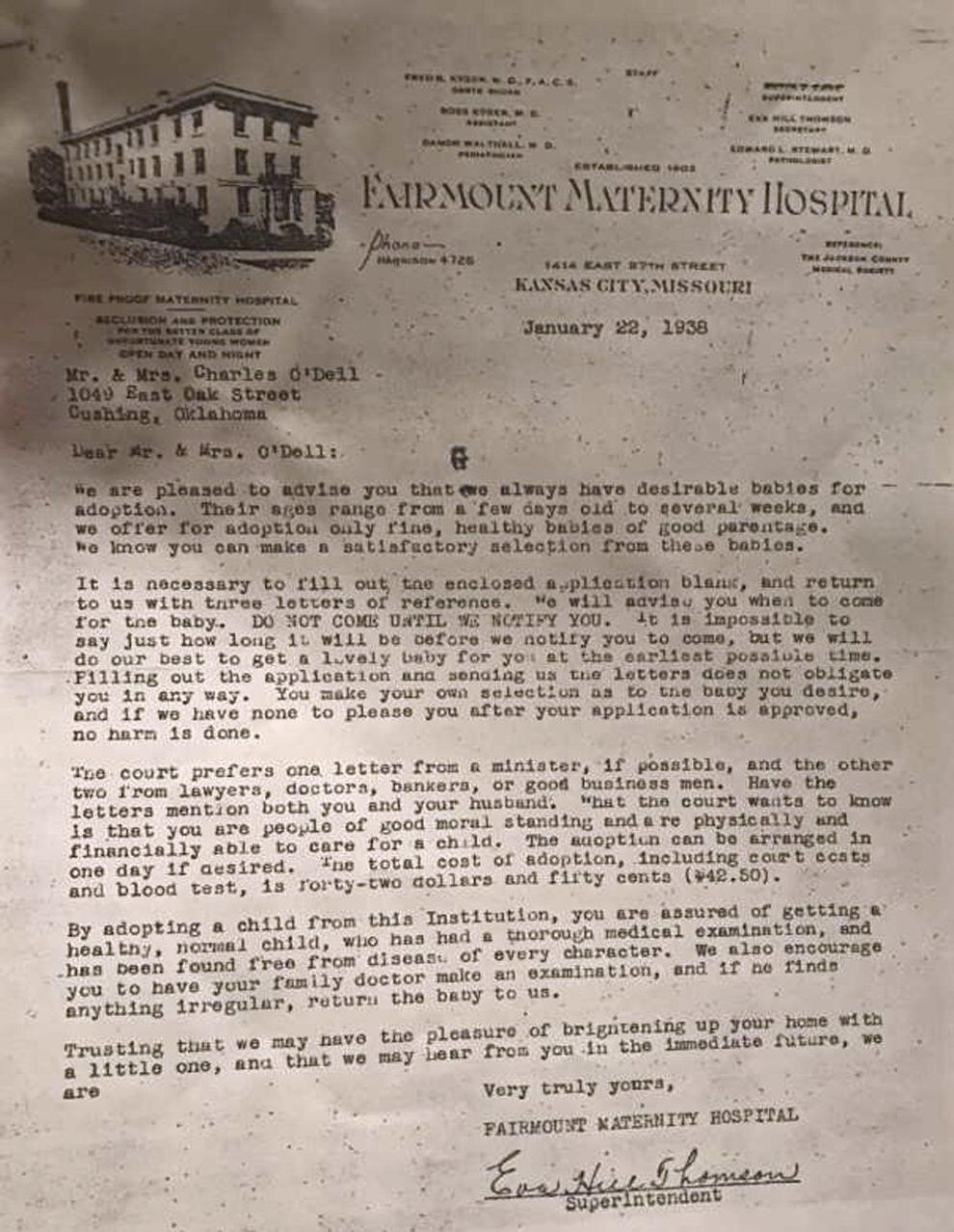 But they "settled" for the "lovely little boy" the agency had available at the time.
The "lovely little boy," born Feb. 25, 1938, was given the name Donald Hall at birth. And on March 19, 1938, with three letters of recommendation (one "from a minister, if possible, and the other two from lawyers, doctors, bankers or good businessmen," attesting to their "good moral standing" and that they were "physically and financially able to care for a child" and the payment of the $42.50 adoption fee, Donald Hall became Robert O'Dell.
"It's not every baby that comes with a 'money back guarantee,'" Bob said, "but I did."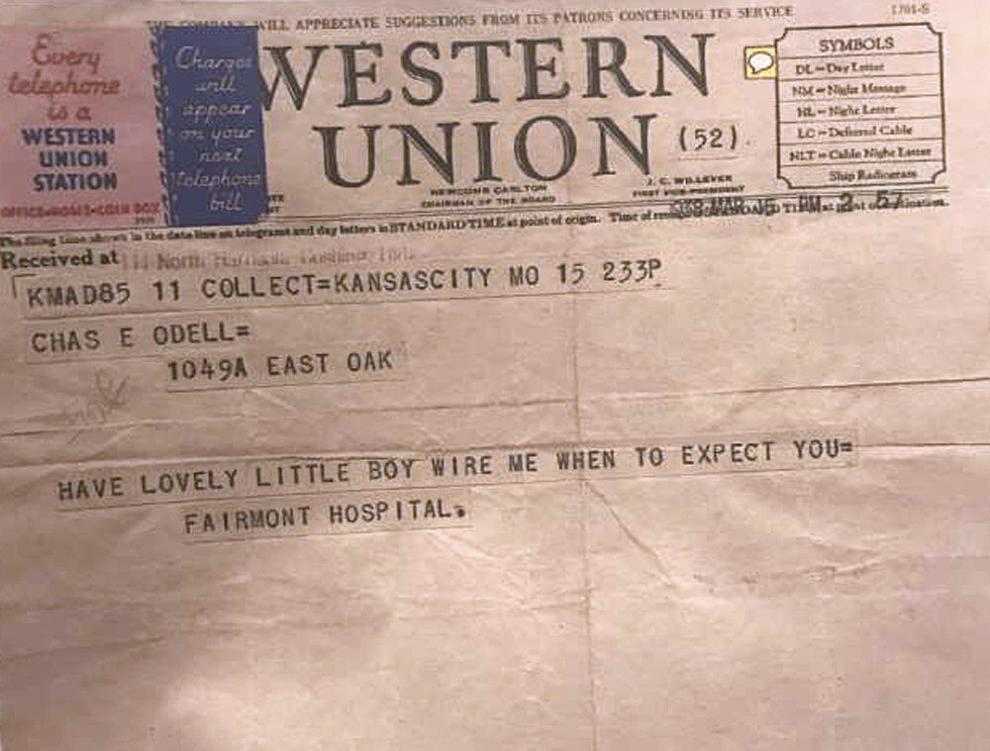 A letter from the hospital sent to Charles and Alma after their initial inquiry read, "By adopting a child from this Institution, you are assured of getting a healthy, normal child, who has had a thorough medical examination and has been found free from disease, of every character. We also encourage you to have your family doctor make an examination, and if he finds anything irregular, return the baby to us."
"I guess I must have passed muster," Bob said, "because they kept me."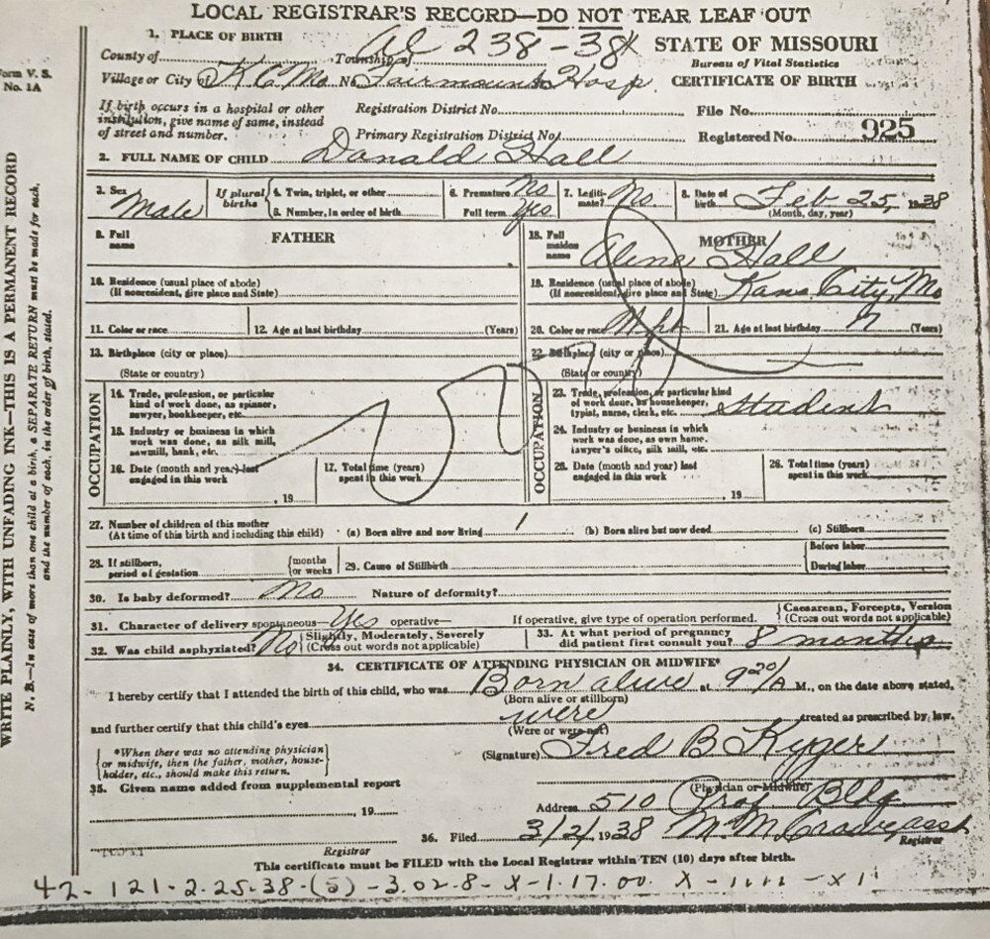 The O'Dells eventually returned to Ogallala, via Louisiana and Texas, to be closer to Alma's family. For several years, it seemed the family was complete.
It wasn't however, and when Bob was about 10, something happened. After years of trying to have a biological child with no success — and the subsequent decision to adopt — his mom gave birth to a baby girl.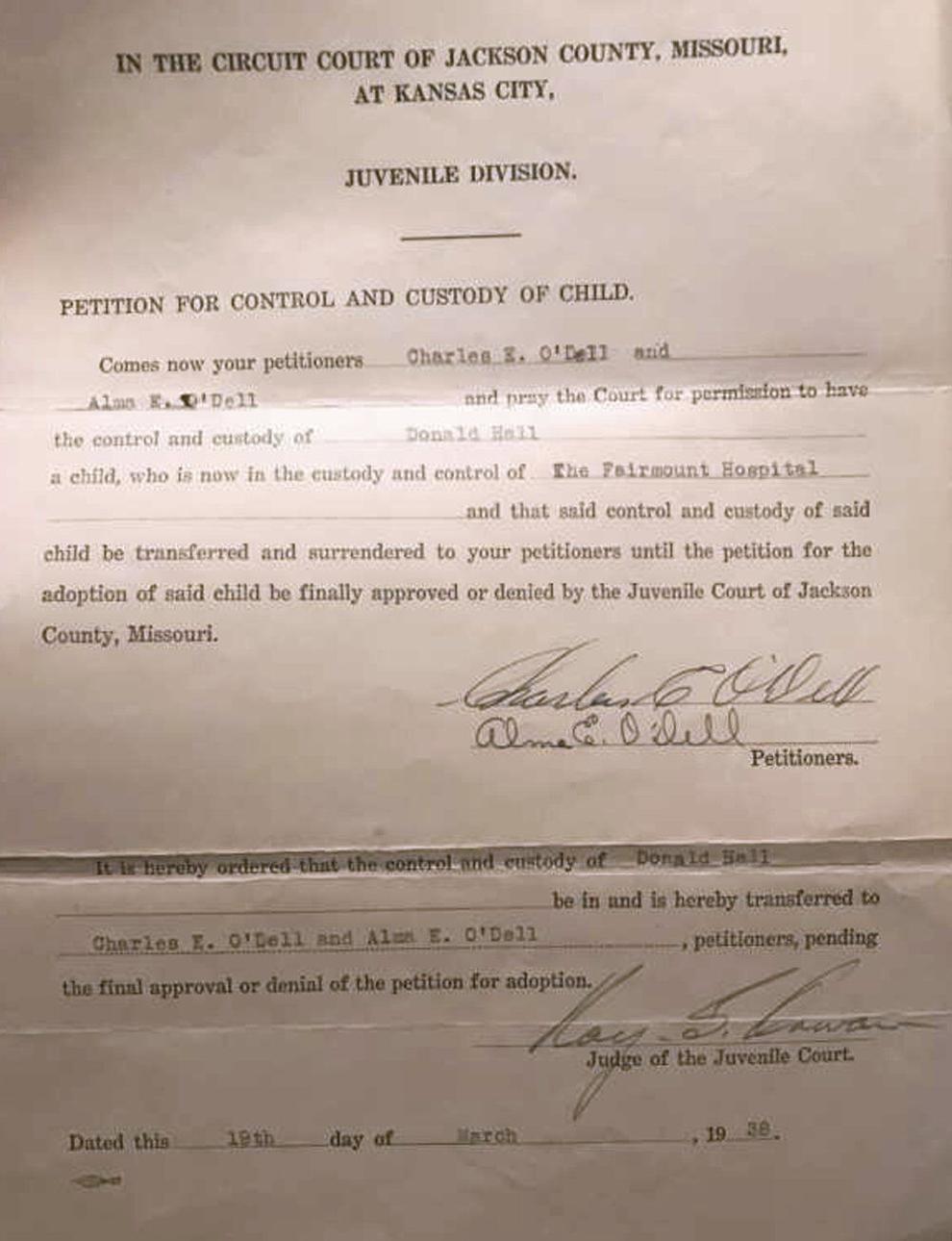 And without warning, Bob's life turned upside down. His mom finally had the daughter she'd always wanted.
"I can't say I was abused because I wasn't," he said, "but just like that I was excess baggage. I had food to eat, clothes to wear and a roof over my head. Everything I needed physically to survive, I had. But emotionally? Nothing. There was very little — if any — love. They just didn't know what to do with me."
His tween and teen years were lonely ones.
After a job transfer took the family to North Platte, Bob graduated from North Platte Senior High School in 1956 and went on to attend Kearney State College. That's where he met Karen, got married in 1958, earned his degree in 1960 and started his family. After graduation he taught English and theater in several high schools, including York, North Platte and Oshkosh. He and Karen had three sons: Kurt (1959), Mike (1960) and Doug (1964).
But having his own family only intensified his desire to find out more about his roots.
With the age difference, he was never close to his sister (she died of cancer many year ago) and although he maintained contact with Charles and Alma, it was distant. And despite having all those aunts, uncles and cousins, he was never close to his extended family.
It was in the late 1970s when he got serious about finding out what he could about his birth parents. There was no Google, no databases, no social media to turn to. It was a whole different world.
Taking a chance, in 1980, Bob placed an ad in a national magazine, seeking others who were either looking for birth parents or looking for children who had been placed for adoption. That ad garnered about 70 responses, and from those responses, "Open Arms Quarterly" was born.

The newsletter, published in North Platte, featured news articles about adoption issues, paid ads from those who were searching and success stories. Bob's own ad ran in every issue.
"But I never had any responses," he said. "I didn't have my own success story."
After four years of publishing the newsletter, he said, it became too much to handle with his full-time job and raising a family, so he turned it over to another group.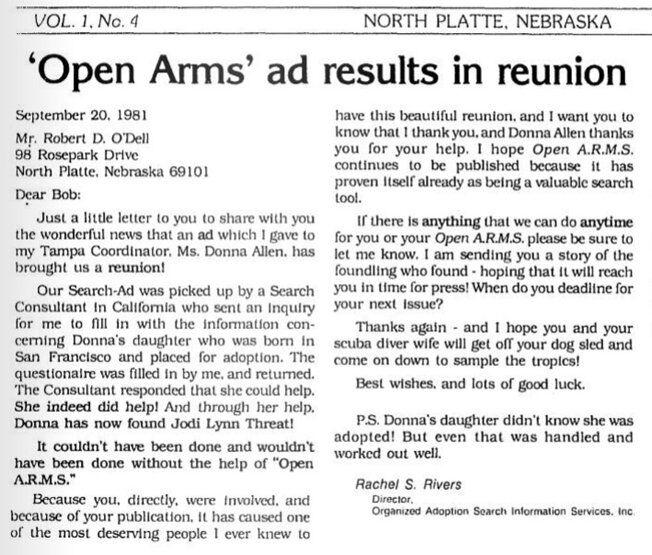 "I was hoping they would carry on the mission," he said, "but it folded after a few months."
Meanwhile, Bob spent several years working for the state of Nebraska by helping people who were visually impaired. He always has been an outdoor enthusiast and loved to hunt and fish. He got involved in protecting natural resources, especially groundwater.
He also championed the rights of adopted children and took on the cause of open adoption records. He testified more than once in front of legislative committees when various bills were presented.
Bob and Karen moved from Ogallala to Grand Island in 2004, in order to be located closer to their sons who now live in Brady, Kearney and Lincoln.
By that time, he had pretty much accepted he was never going to have the answers he had been searching for.
And then came genetic genealogy databases offered by Ancestry.com among others. Taking one more chance, Bob decided to submit a sample in hopes of finding any living relative.
One of the first matches he found — albeit a distant one — was a woman named Kim who lived in Montana. He sent her a message via Ancestry's message board. It was a long shot, but one worth taking.
Joe's story
Joe Hughes is probably the most unlikely character in this story, and yet, without him, none of this would have ever happened.
Hughes, a Realtor who lives in San Diego, grew up in Montana. His part in this journey started six or seven years ago when he sent his favorite cousin, Kim, a DNA kit for Christmas.
"She had lost both parents and several siblings and was feeling lost," he said. "I sent her the kit so she could find out more about her Irish roots. Our grandfathers were brothers and they were 100% Irish. I sent one in as well.
"So, imagine our surprise when those kits revealed that I was nearly three-quarters Irish and she was less than 5%, plus we were NOT DNA matches."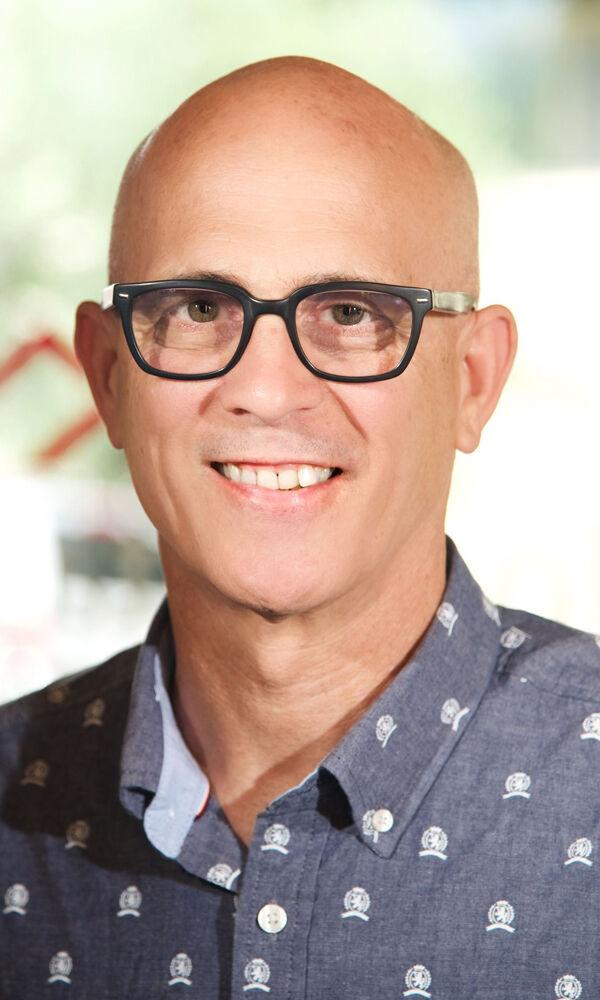 Further research revealed the cousin's mother had had an affair and gotten pregnant at age 44, 18 years into her 25-year marriage to a man who was Joe's mother's cousin.
"She was devastated to find out — at age 57 — that the one parent whom she felt loved by, was not her father," Joe said. "I felt terrible, but I was determined to find out who her biological father was, and if by chance he was still alive or had any other living — or deceased — children. The chance that he might still be alive was slim, given that her mother would have been over 100 a years old at the time."
And that's how Joe's story became part of Bob's story.
"In order to determine who my cousin's father was, I had to put her DNA matches into a tree (on Ancestry.com) and discover how they were linked together," Joe explained. "The most common family name was Mitchell, then Bone and followed by Church. I found the link between the Mitchell and Bone families, but was unable to find an intersection with the Church family. I did find two DNA matches in the second- and third-cousin category that I couldn't link to any of those three families and therefore could not add them to the family tree."
One of those matches led to a woman in Portland, Ore., who knew who her mother's family was, but only knew her father's name.
"I eventually discovered who her father was through a lucky Google search on his name," Joe said. "Then I discovered that she had two living half brothers through a combination of family tree and public record searches. After locating her brothers and introducing them to her, we discovered she had another half brother who had been discovered a couple years earlier. When searching family trees, I was able to tie her father to the Church family in Kim's family tree.
"She was Kim's closest DNA match to the Church family. That meant I was getting closer to the intersection to the family trees with the Churches."
The other match was Bob, who had initiated his own search through DNA matches on Ancestry. Bob, discovering Kim was somewhat of a match, had sent her an email asking how they might be related.
"He was pretty much grasping at straws," Joe said, "because he had so little information to go on at that time. He had a birth certificate with his mother's name, that she was 17 and where he was born. That was it."
With Bob left as the closest remaining match in the second- and third-cousin category who had not been identified as belonging to any of the three families, Joe realized that, if Bob was close enough to Kim to come up with a match, he might be the missing piece that connected Kim to her biological dad.
In the beginning, Joe communicated with Bob through Ancestry's message board and eventually realized he was going to have to communicate with him by phone to get anywhere.
"It's very difficult to identify the identity of an adoptee's parents without any close family matches, but I was bound and determined to try as I had become quite attached to Bob after hearing his story," Joe said. "The only thing that he knew about his parents is that his adopted mother's name on his birth certificate was Aline or Alene Hall and that she was 17 years old.
"He had no close family, or first- or second-cousin DNA matches in Ancestry.com. I did find second- and third-cousin matches to the Bone family (eventually tied to Alene) and second- and third-cousin matches to the Robertson family, but had no idea which side — or sides — of the family those families were related to, mother's or father's."
"I was thrilled when I discovered a match well within the range of a first cousin DNA match," he said. "Once I identified his match as a first cousin, I was able to identify one set of grandparents: James Walter Elliott and Mable Amber James, who had 10 children. The next task was to try to identify which of their 10 children could have been one of his parents."
It was a process of elimination. Two of their children were deceased before Bob was born, one was 11 years old and another was 5.
"So out of the six remaining possibilities, there was 17-year-old Hannah and her five older brothers," Joe said. "Hannah had never married, and she was the right age at the time, so she could be his mother. Hannah's five older brothers were married, and four of the five had children."
Bob latched onto the idea that Hannah was his mother and considered the possibility that she had never married after having a child out-of-wedlock.
Joe spent quite a bit of time searching family trees and Ancestry records looking for any clues to Hannah's past. At the same time, he had concluded the Bone family was probably on the other parent's side of the family since he had not been able to discover any shared DNA matches with ties to both families.
"We had to make some assumptions at that point and that's what seemed to make the most sense," he said.
He searched through a couple generations of Bones family members but none of them appeared to be in the right place or time to be a potential parent. He looked at their dates of birth, location and offspring, but none of them fit the puzzle.
And then, the entire search took a different turn.
"I discovered that one Bone family member who had shown up in a family tree as being deceased decades earlier than she actually was, fit the puzzle," he said. "As it turned out, we were able to identify her as the great-grandmother of one of Bob's new DNA matches that had enough shared DNA that she could have been Bob's niece. Her grandmother would have been 17 at the time of Bob's birth. She definitely was a close fit, if not an exact fit for the puzzle."
In addition, Bob was related by DNA to her great-grandfather's side as well. But then, there was a another surprise find. Her grandmother was a twin and the twin's name was Alene Hudson.
"Bingo, we had discovered the identity of Bob's mother," Joe said. "It was no surprise that Bob's mother was no longer alive, as she would have been 98 years old if she were still living. We did discover that he has a living half sister, Joyce, who is five years younger than him"
The discrepancy between the name listed on the birth certificate and that of his birth mother is easily explained. Joe said Alene and her sister had older half siblings who had Halls in their family.
"This is a guess," he said, "but it's pretty easy to assume that they didn't want to use her real name on the birth certificate so Hall was an obvious choice. Same last initial, so it made sense."
Sadly, Bob's half sister on his mother's side showed no interest in meeting him. She passed away this past summer in Las Vegas, where Bob's mother had moved after she was married.
Then the search turned to focus on figuring out which of the five Elliott boys was Bob's dad. Since four of them had children it would be possible to test their living descendants and, if none of them were a match, it would have to be the fifth brother who was Bob's father.
There was one grandson who had enough DNA to be a nephew, but after getting his dad to submit a sample, he was ruled out as a half brother.
"So now we were down to the three remaining brothers with descendants to test," Joe said. "Another brother's granddaughter was willing to take a DNA test we mailed to her. She turned out to not have enough DNA to be a niece."
Of the two remaining brothers, one had two sons who are still living, but Joe couldn't convince either one to take a DNA test.
"Finally, we were able to track down the two daughters of the remaining brother," he said. "We had a cousin reach out to them and to explain that Bob was at least a first cousin, if not a half brother."
One of the sisters has a daughter who had recently submitted an Ancestry DNA test but hadn't yet received the results. When she did, it was confirmed she had enough shared DNA to be Bob's niece. When her mother also submitted a test, it further confirmed that she was indeed Bob's half sister.
With one sister confirmed, he got a bonus half sister. The sisters are the daughters of Ralph Elliott, the fourth son.
The search was over. Finally.
The story of Kim's search for her biological father did not have a happy ending.
"As it turns out, I was able to use what I had learned from Bob's search, (he is her third cousin) as well as that initial match with the woman from Portland, to solve the puzzle," Joe said. "It turned out he had five wives, and even though four of them were of childbearing age when married to him, the only 'wife' he ever impregnated was my cousin. He was single at the time, but he must have been a difficult man based on the length of all of his marriages except the last one."
Jan and Pat's story
This story starts with a phone call made early in the summer of 2019. Deborah Spillers, who lives in Louisiana, called a cousin who lives in Maitland, Fla.
"We probably have another cousin," she said. "Right now, we're not sure where he belongs or who he belongs to. The family tie has been established; we just need to figure out where he fits in."
With the bombshell news that they might have a brother (or, at the very least, a first cousin), Patricia Tipton called her sister, Janice Ellis, who lives in Wake Forest, N.C.
"I called Jan and said, 'You're never going to believe what Debbie just told me!'" Pat said.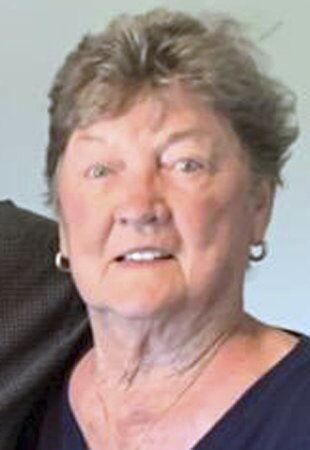 They talked about DNA tests and Jan said she'd had a test for nearly two years but had never sent it in. However, Jan's daughter, Tricia Kiepper, had just submitted a test she'd had around for a while.
It wasn't long before Tricia got a phone call.
"She told me, 'Mom, this guy named Joe called me and told me I was the niece of some guy named Bob who lives in Nebraska,'" Jan said.
"Joe," of course, was Joe Hughes, the Realtor from San Diego.
Jan did send in her test, and it further confirmed that she and Pat were, indeed, Bob's half sisters.
"I got my results within a couple of weeks," she said "and I was a 99.6% match to Bob."
Ralph, one of the five Elliott boys, was Pat and Jan's father. He was also Bob's.
Jan was excited to find out about her new sibling.
"I thought, wow, this is great! I didn't know if I'd ever meet him but I wanted to find out more about him."
Pat's first reaction was "surprise, but then I just wondered what he was like. And curious if he would be anything like Jan and me."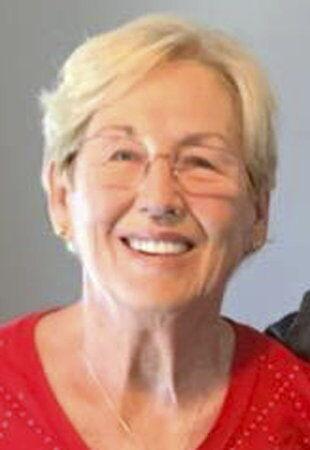 In late June or early July 2019, Jan and Tricia called Bob. Several of Jan's other family members were there, including her husband, Al, and her son, Matt.
"We immediately started talking about getting together," she said.
A video chat, set up by one of Bob and Karen's friends in Nebraska, quickly followed. Pat and Jan were both in on that chat.
"I thought right off the bat, that Bob looked like my dad," Jan said. "And since I also look like my dad, there's no doubt whatsoever that we are brother and sister."
In the conversations that followed, Jan discovered her dad and Bob had more in common that just looks.
"My father loved to fish," she said, "and he was an outdoorsman, just like Bob. He even started fishing tournaments in the Tampa area where we lived. Dad would have loved this man if he'd known he had a son. They are so much alike, even down to fly fishing and what kind of boats and motors they preferred." (Aluminum and Evinrude, for the record.)
It's with that thought, that both Jan and Pat are convinced their dad had no idea he had a son out there somewhere.
"If my father had ever known he had a son, he would have been a part of our family," Pat said. "If he'd known Bob was there, he would have found him. He taught young people how to hunt and fish. My mom and dad traveled all over the country, including visits to family in South Dakota and Iowa, and he would have sought out Bob, made every effort to find him."
"He'd have been part of his life, somehow," Pat said. "We always said dad raised two sons … but they were both girls."
Girls who went hunting and fishing with dad. Girls who learned to use tools and appreciate hardware. Jan says Pat was more of a tomboy than she was, but both scaled their fair share of fish and plucked feathers from ducks.
The sisters grew up in Tampa, Fla., with their dad, Ralph, and mother, Margaret. Ralph was born in 1916 and lived in Crocker, Mo., and Margaret was born in 1915 and lived in Tampa. They met in Tampa where Margaret was attending college and settled there after their marriage.
Ralph and Alene's story
While this story has lots of names and dates, it also includes a lot of speculation. Historical records and DNA databases can only reveal so much.
"We still have no idea how Ralph and Alene got together," Joe said.
Bob thinks the two families somehow knew each other. Jan is not so sure. "For all we know it could have been a one-night stand."
What is known is that Ralph was born in 1916, one of 11 children, to James Walter Elliott and Mable Amber James.
James and Mable met in 1904 at the St. Louis World's Fair; he was selling iron stoves and such, she was selling candy. They were married in December 1908.
Ralph had six brothers: George, Joe, John, Jim, Bobby and Richard, who died as an infant. Richard was a twin. (The other twin died at birth and isn't included in online records; hence the discrepancy with how many children were in the family.) He also had three sisters, Marian Frances (known to the family as Hannah), Mary Jane and Naomi, who died at age 11.
The family lived in Crocker, Mo., about 140 miles southwest of St. Louis and 90 miles northeast of Springfield.
The Elliott boys were known for having a good time, Jan said, and they often would "just get in their cars and go places."
That might have been how Ralph and Alene got together, on a spontaneous trip in the early summer of 1937, perhaps to Springfield or somewhere else in the Ozarks.
Alene Hudson was born Jan. 13, 1921, in Fairview Mo., about 75 miles southwest of Springfield. She had a twin sister, Noreen, and several older — by quite a bit — siblings. Her father, John Alva Hudson, was 65 when the twins were born to his second wife, Lucille "Celia" Bone, who was almost 35 years younger than he was. His first wife, Mary, had died in 1916.
John was a successful auctioneer and businessman in the Fairview area and, according to newspaper accounts of the time, he was thrilled with the twins.
"He loved to take them out and show them off," Joe said, "and by all accounts was a loving father, who was proud of his daughters."
So how he reacted when his 16-year-old-daughter found out she was pregnant is anyone's guess.
Joe thinks maybe the older siblings jumped in to "protect their little sister," even suggesting that Alene went to live with her older sister until the baby was born.
"That would make sense," he said, "and maybe help explain how she ended up in a Kansas City maternity hospital and how the name Hall ended up on her baby's birth certificate."
Alene had barely turned 17 when she gave birth. Other than the documents Bob has from the hospital that his parents had saved, not much else is known about what happened.
Meanwhile, Ralph married Margaret Eugenia Stanley on July 2, 1938, and they settled in Tampa. Pat was born less than a year after they married; Jan followed a few years later.
Ralph was a salesman who started his career with the Pioneer Tire Co., and founded the Tampa Tarpon Tournament.
In the early 1950s he bought a hardware store and went into business with Johnny Vander Meer, a former Major League pitcher for the Cincinnati Reds, who is most remembered for being the only MLB pitcher to throw two consecutive no hitters. The two were good friends and founded the Elliott Vander Meer Hardware Store in Tampa.
"We had a good life growing up," Jan recalled. "He was known all over town for his laugh. He got along well with everyone."
Ralph died in 1996; Margaret in 2004.
Among Ralph's belongings was a photo of a young woman no one in the family could identify. Dated 1937, everyone is now convinced the woman in the photo is Alene.
"It has to be," Jan said. "Everything fits."
Alene eventually got married and settled in Las Vegas with her husband, David Adamson. She apparently was quite the ceramics artist and was elected as president of the Nevada State Ceramists in 1970.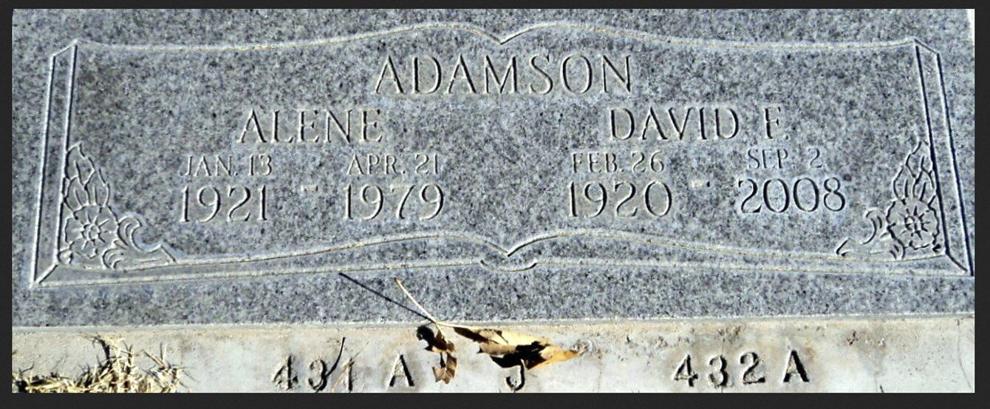 She died in 1979 at age 58. The couple had just the one daughter.
The reunion
On Friday, Oct. 15, the atmosphere in that northwest Grand Island apartment was buzzing.
Three or four conversations going on at the same time. Photos being passed back and forth. Lots of "I can't believe we're really all here" comments popping up every few minutes.
Bob and Karen, Jan and Pat, Pat's daughter, Tricia, and Joe finally had gotten together after two years of planning.
Right from the first contact in 2019, an in-person meeting was the goal.
"It was discussed in the very first phone call," Jan said. But shortly after that, her husband, Al, became ill and has since passed away. And then COVID hit and their plans — like everyone else's — got put on hold.
Talk about meeting up started again early this year, but nothing was settled until Tricia finally stepped in and said, "Let's just go. Pick a date and stick with it."
August was the original target, but the Nebraska State Fair threw up a few obstacles with travel and lodging plans. Eventually, Oct. 15 was the chosen date. Once that was settled, Bob invited Joe to join the party and bought him a plane ticket.
"Now fully vaccinated, and unable to wait any longer, the two sisters will meet their new half brother," Joe wrote in an email a week before the reunion. "Finally, Bob's lifelong dream of knowing his family will come true."
Pat flew into Grand Island on Thursday, Oct. 14. Jan and Tricia flew in to Lincoln on Friday, the 15th.
Bob and Karen met Pat at the airport.
"He had a mask on but I knew immediately who he was," Pat said, "because he had the Elliott eyes. He was acting kind of goofy, the typical humor of the Elliott brothers."
His eyes, even with the mask, gave it away.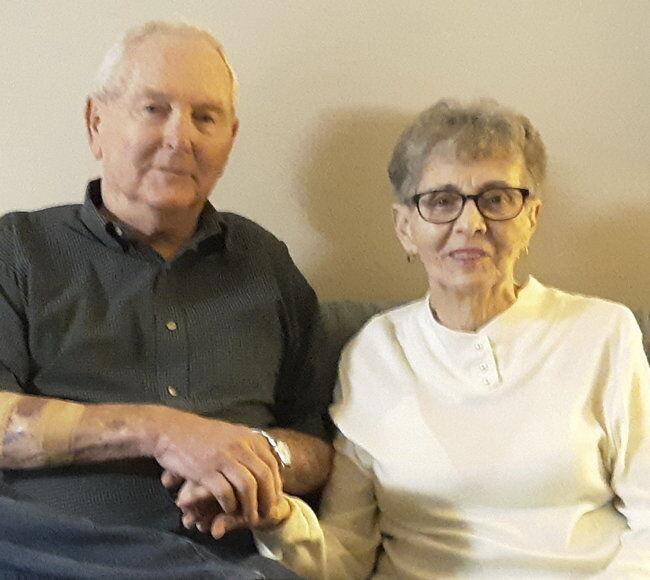 When Jan and Tricia arrived from Lincoln on Friday afternoon, Bob and Karen's son Mike, who lives in Kearney, was on hand to witness the meeting.
"I have to admit I was a bit skeptical at first," Mike said, "because I didn't want my parents to be hurt if this didn't work out. And I wanted to be sure everyone was who they said they were. I was skeptical until I saw the photos and then there was no doubt in my mind. One of the other (Elliott) brothers looks like one of my brothers."
It all was a bit overwhelming for Bob.
After years of searching, hitting dead end after dead end, after getting his hopes up only to have them dashed again and again, and finally, having to wait two years to be able to meet his half sisters in person, it was finally happening.
"If you could have seen the look on Bob's face when he first saw pictures of his father — the man he'd never seen before — it was seeing an 80-year-old dream come true," Joe said.
The group spent most of Friday afternoon exchanging family stories, looking at old photos (Pat had brought quite a collection with her), and talking about the journey that had brought each one of them to Grand Island.
That non-stop conversation carried on through dinner at a local restaurant, where new friendships were formed, phone numbers and email addresses were exchanged and just about everyone involved ended up with new friends on Facebook.
At the end of the weekend, as everyone prepared to go their separate ways, it was a time to reflect.
"This changed my life," Jan said, "because I'd never had a brother/sister relationship before and I'd always envied my father's family because when they got together they had so much fun telling jokes and going back and forth. I wanted that for myself."
Pat echoed that sentiment.
"I really enjoyed it. It's unfortunate we didn't meet Bob sooner," she said. As with most people his age, "he's not the person he was a few years ago. I'm 83, he's almost 84, and I regret we really didn't have time together over the years. That our families could have gotten to know each other. My middle son is Mike, his middle son is Mike, and they are almost the same age. It's too bad we didn't get the chance to meet up earlier. That would have been nice to have down the line."
Mike also wishes this reunion had happened sooner, but he looks at it from a different point of view.
"I'm happy he has found his roots," he said. "He's spent half his life trying to find out who his parents were. What happened made him what he is. He spent most of his life not feeling like he fit in; that feeling of rejection is pretty typical of people who are adopted. I just wish it had happened 50 or 60 years go. His life would have been so much different."
And for Joe, all the work, all the internet searches, all the time looking for DNA matches, it was all worth it.
After solving the mystery of who each of Bob's parents were, "I really wanted to be a part of when he got to meet his sisters, so I stayed involved," he said. "Since that was accomplished, at least on his father's side, I could have just faded into the sunset, but I must admit that I am quite fond of Bob and Karen. I want to continue to be a part of their lives and watch as the family bond grows between him and his sisters. After all, I've never been a quitter."
Meanwhile, Joe has "officially" joined the O'Dell family, creating his own adoption certificate making Bob his honorary brother.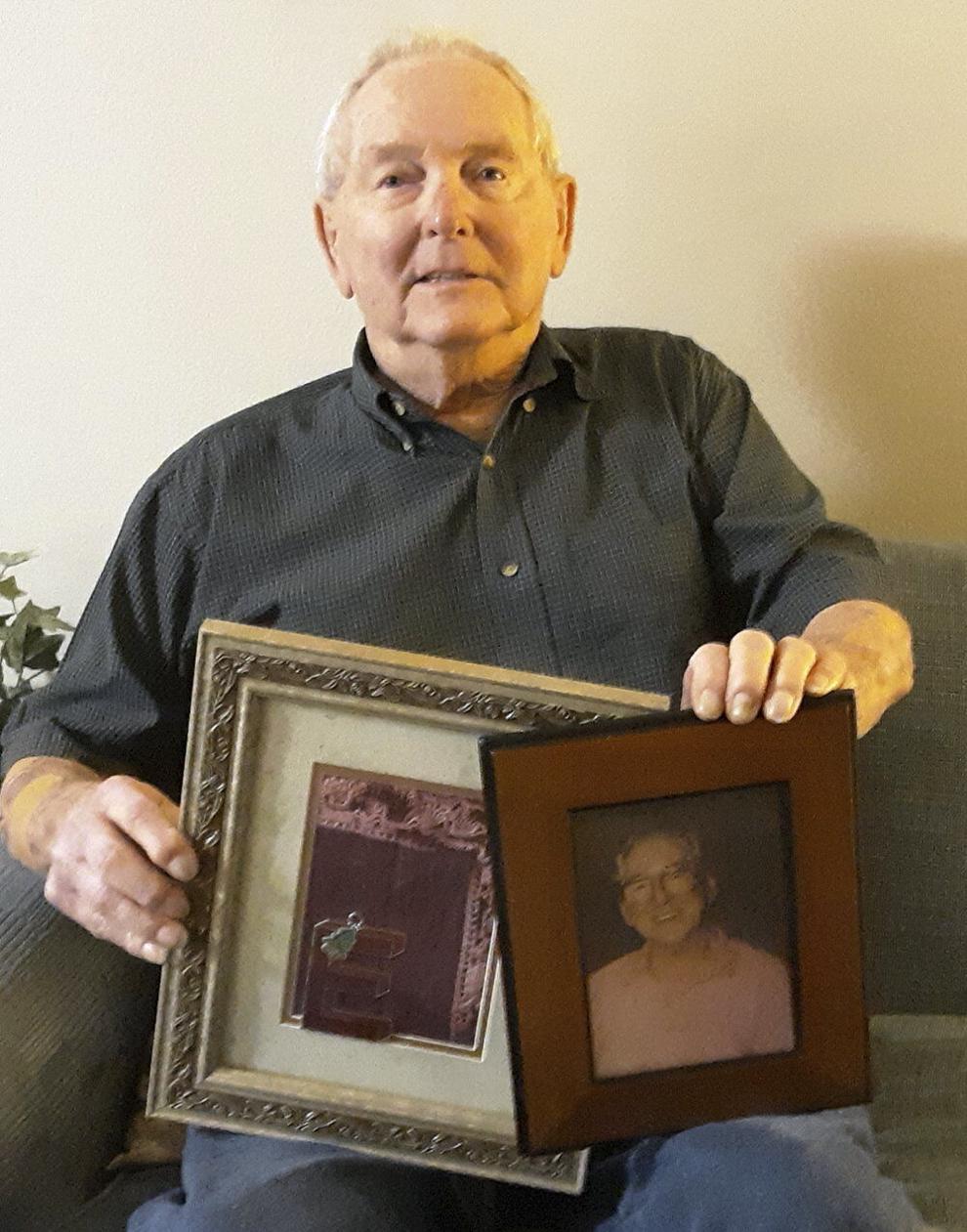 "I love that guy," Joe said. "Since he is 20 years older than me and my dad was 38 years older than me, he felt more like a big brother. That was one of the reasons that I wanted to adopt him as my big brother. I call him 'Boobie,' a nickname that he would probably never admit that he likes!"
For Jan and Pat, a trip for next summer is in the works.
"I had so much fun with Bob when we were out there," Jan said, "I can't wait to come back."
As for the changes in Bob?
"Just the look on his face when he talks about what he's found out the past two years," Pat said.
And Bob has these final words to offer:
"For any and all who have added this long-awaited chapter to the story of my life, please accept my sincere appreciation. A story made somewhat unique because of the adoption factors and made possible by those who brought these people, places and incidents to life, and to those yet unknown who may become part of this story in the future.
"To those who share not only DNA but share likes and interests, thank you."