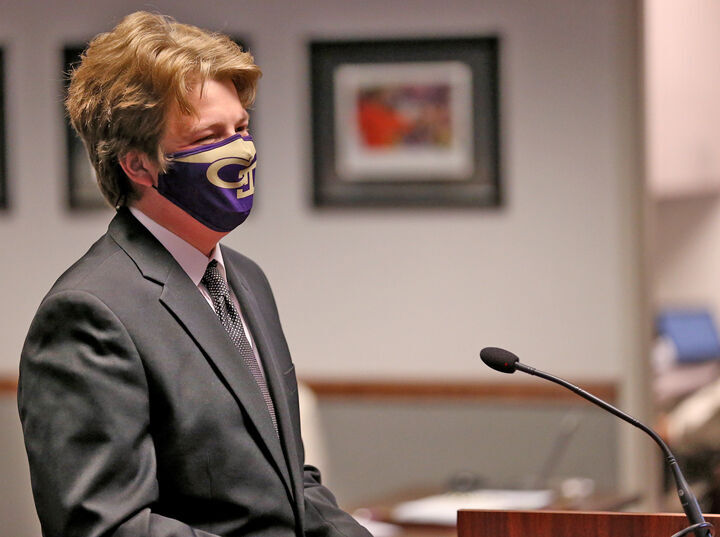 A Grand Island Senior High student said he hopes to help his classmates and be their voice on the Grand Island Public Schools Board of Education.
Kendall Bartling, a senior, was sworn in Sept. 10 as the student representative to the GIPS board at its meeting. He said since he was in sixth or seventh grade, he's always thought of ways to help his classmates and use the opportunities to help them.
When the opportunity to be the GIPS board's student representative presented itself, Bartling said he thought this would be the best way to help his classmates.
"I knew that I could use my voice and my skills on the board in order to make sure that my fellow classmates were heard and their concerns are being addressed, especially at that top level for the district," he said. "I think having somebody on the (school) board who is speaking their mind is very important."
In order to become the student representative, Bartling said he "put his name in the hat" by applying. He said he interviewed with GISH Executive Principal Jeff Gilbertson and GISH counselor Dave Woods, as well as two GIPS board members — Dan Brosz and Bonnie Hinkle.
"They asked me questions about what the board means to me, what it does and what I would bring to the table that other people can't," Bartling said. "They went through those questions and they decided who got it. It is a relatively simple process, but it is a very full-on process, too, to make sure they choose the right person."
Hinkle said the GIPS board has had a student representative since 2005. She said the board likes having a student since they are able to "get some really good ideas."
"It is just good to hear how things that have been implemented, or things that currently are happening, such as the COVID responses or the racial injustice issues that are going on, are impacting students' lives," Hinkle said. "What more do they need from a support standpoint from the board of education?"
Hinkle said what typically happens is GISH juniors are notified of the student board representative position and can apply for it in the spring of their junior year. However, due to COVID-19, she said this process was delayed this year.
Gilbertson said five seniors applied for the position, and all were recommended for an interview. Normally, Hinkle said, each applicant is interviewed in person, but due to COVID-19, applicants were interviewed virtually.
Hinkle said the thing that made Bartling stand out from the pack was his articulation and interest in how politics — including the GIPS board — works.
"Kendall has a desire to learn about that," she said. "Plus, with the ideas that he shared in his interview about how he would connect with all students and bring back that information, and his willingness to innovate and help us redefine the role, we just think he has a lot to offer."
Bartling said that past student board representatives have done either one of two things: deliver only monthly reports on how things are going at GISH or also be actively involved in matters relating to the board by voicing opinions. He said he hopes to be the latter.
As the student board representative, Bartling said his philosophy will be to "filter out the joke requests" and determine whether a student's concern is valid. From there, he said, he will find a way to articulate that concern to the GIPS board.
"It might be delivered in my report and it might be brought up in my conversations with board members," Bartling said. "But, my philosophy is that if a student has a concern that is valid, I will find a way for somebody on the school board to listen to them."
With everything that has transpired in the district due to COVID-19, Bartling said it is even more important for him to be the student voice on the GIPS board. He said that in talking with last year's student representative, Madison Lane, he was told she got "maybe five or six emails" from students during the course of her term. So far in his term, he said he has had 50 to 60 students reach out to him about things to bring up to the board.
"It is definitely the most active this role has been probably since it was created," Bartling said. "I feel like my position is one where it goes both ways. People need to tell me what is happening and I need to tell people how to communicate to this body that seems to be shrouded in mystery for a lot of people."
Hinkle said the GIPS board wants to expand the student board representative role this school year and "make it more valuable to both the student and the board." She said board members are excited to work with Bartling to further connect the GIPS board and students.
Gilbertson said Bartling will have no problem moving forward with the board.
"Kendall is confident and he jumps right in because is an activator," he said. "He will have an idea and the next question is, 'When can we get this going?' He is all about results and I really appreciate that about him."