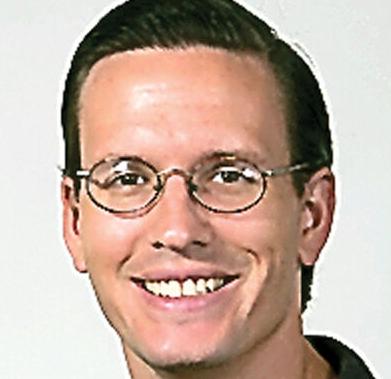 Jan. 6, 2021, quickly moved near the top of the darkest days for the United States of America during my lifetime.
Unlike the darkest of days, Sept. 11, 2001, the pain and fear wasn't forced upon us. We did this to ourselves.
Emotions went wildly up and down as the news reports, videos and pictures kept coming forth throughout the afternoon from Washington, D.C.
Our nation's Capitol Building was being invaded by a group of rioters while Congress was in session to officially count the electoral votes for Joe Biden and declare him the president-elect.
But the current president, the one who had disputed the election results before it was even held, added fire to an already combustible situation.
Donald Trump's actions through all of this aren't shocking. This is a man who won't accept any sort of personal defeat or loss.
He mocks losers. Only weak people aren't winners.
Any perceived failure in his life whether personal or professional isn't his fault.
So, obviously, he couldn't lose a presidential election. It was stolen from him.
And many, many of his devoted followers agree.
It doesn't matter that there is no concrete evidence of voting fraud, not in the numbers needed to sway a presidential election.
The Heritage Foundation lists 15 people nationwide who were convicted of voter fraud in 2020 and, spoiler, they weren't always voting for the Democrats.
The elaborate, grand conspiracy schemes that some believe took place to put Biden into the presidency don't make sense.
A not-too-deep search of the internet can find conspiracy theories of Democrats conspiring with Venezuela, or Italy or possibly even The Iron Shiek.
If these theories are true, then the Democrat overlords conducting the theft of this election are the worst supervillains this side of one who confesses his entire plot right before killing the superhero, giving the hero just enough time to figure out a clever way to escape and save the day.
If Democrats can flip a switch or sneak in replacement ballots in any key state, why do they only do this for the presidency? Why not steal a few Senate seats and avoid needing to sweep a Georgia runoff? Why not win some key state races too?
Why not take Florida for Biden and end the election week drama early?
But like a sports fanatic whose beloved college football team only went 3-5 because the league and referees conspired to refuse to call the opponents for holding penalties, Trump and many of his supporters inside and outside of politics refused to accept this loss.
So when Trump made a speech in front of a large gathering of supporters Wednesday morning and used the words "fight" or "fighting" more than 20 times and encouraged his followers to march to the Capitol, "to see whether or not we have great and courageous leaders or whether or not we have leaders that should be ashamed of themselves throughout history, throughout eternity," what followed was one of the most shocking, unsurprising things of my life.
We know all about the ugliness that followed. It was frightening and horrifying. Lives were lost.
Yet, a bright spot emerged from all the darkness. In the late hours of the night, Congress completed its task. It counted the electoral votes and confirmed that Joe Biden will be the next president of the United States.
The aftershocks of this invasion of the Capitol by a mob will be felt for a long time.
Family members and friends are mourning those whose lives were lost.
People are learning there are consequences for their actions. Many of the rioters who were happy to take selfies inside the Capitol are finding themselves out of a job.
In the months ahead, there will be many who will find out if "we were doing this for the president" is an effective defense in a court of law.
There will be political consequences. Members of the cabinet are bailing out less than two weeks early, deciding that this was the last straw.
Pressure is building on the members of Congress who were most enthusiastic in attempting to support Trump and his claims. Sen. Josh Hawley lost a book deal and gained a lesson in the difference between capitalism and the freedom of speech.
Nebraska Rep. Adrian Smith explained that he objected to the Electoral College votes from several states because of long-standing concerns about elections.
I'd suggest that the time to address those concerns are prior to an election, not after. Otherwise, it makes one wonder if the concerns are legitimate.
Or, in the world of politics where one is always worried about winning re-election, are the concerns more because your party's candidate lost and you want to appeal to your go big red, red, red base and avoid a primary challenge in two years?
Not that these concerns should all be shooed away. Much like Florida's electoral process received a thorough review after 2000 (what a quaint, civilized disputed presidential election that now appears to be), it would be smart for the electoral process in the questioned states to be looked at to avoid future questions.
And somehow, someway, we as a nation need to figure out how to avoid anything like Jan. 6, 2021, happening again.
Forget making American great again.
First, we need to make America sane again.
Dale Miller is a sports writer for the Independent. Once a week he wanders away from the sports department to offer his take on non-sports related topics. Email him at dale.miller@theindependent.com