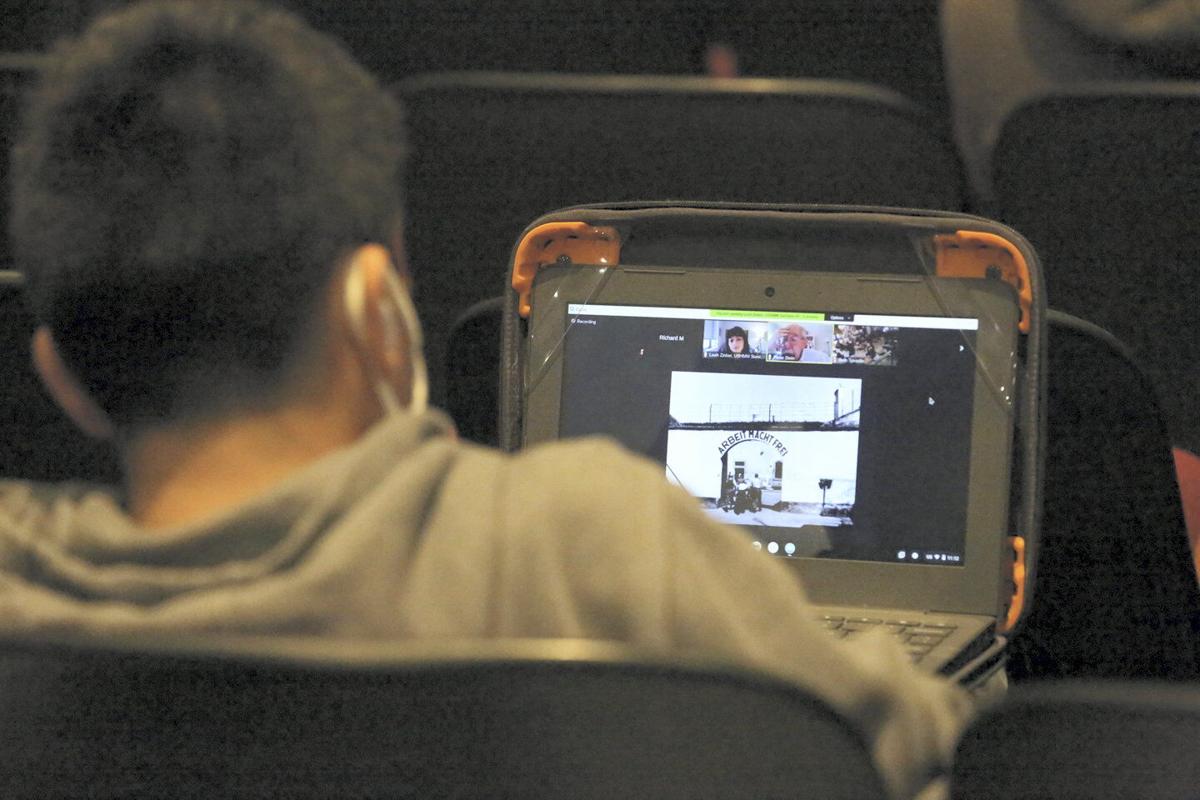 sophomores have been confronted with the intense, disturbing realities of the Holocaust as part of a co-teaching effort.
Ashley Shultz teaches social studies at Grand Island Public Schools Academy of Technical Sciences. English/language arts teacher Brendan Hanaphy of the academy co-teaches the unit. The students already are equipped with some background information learned in middle school; books such as "Number the Stars" by Lois Lowry are read and basic knowledge about the Holocaust is taught.
As sophomores, the students' learning is taken to a higher level.
"We're able to dive a little deeper into personal stories," Shultz said. Part of that learning came from two virtual "guests" Zooming into the Grand Island Senior High Auditorium on Wednesday and Thursday.
The father of Wednesday's speaker was 13 during the Holocaust. Hazzan Michael Krausman's father survived the Holocaust, including the brutality of the Buchenwald concentration camp.
On Thursday Peter J. Stein, a Holocaust survivor and author of "A Boy's Journey: From Nazi-Occupied Prague to Freedom in America," spoke to the sophomores via Zoom.
U.S. Holocaust Memorial Museum hosts virtual "meet-and-greet" sessions with museum volunteers whose lives were touched by the Holocaust. About 60 individuals volunteer their time and share knowledge and memories with students learning about the Holocaust.
"It gives them that personal connection to walk in another person's shoes," Shultz said.
Stein's earliest years were spent in Prague, Czechoslovakia. He was a young boy when the horrors of World War II came to fruition. Stein was personally spared from the worst of the horrors of the Holocaust because his mother was Catholic; his father, Jewish. Both parents were subject to forced labor.
Many of his relatives experienced much grimmer fates. His beloved grandmother was 78 when she was taken away by Nazis; she had multiple medical issues requiring medications and other necessities, yet she was deprived of them upon her abduction. She died 19 days later.
As time went on and the plague of antisemitism spread, more and more of Stein's relatives "disappeared," he said. His mother tried to protect her young son from the realities and horrors his relatives faced.
"My mother would typically say they were on a business trip. What else can a mom tell her 6-year-old, 7-year old son?" Stein remembered. They'd have a gift for him when he saw them again, she told him.
Stein's mother tried to keep his Jewish heritage under wraps lest the wrong people found out, but the secrecy wasn't always successful. Growing up, Stein was subject to bullying, especially from one particular boy in his class. To this day, among his other possessions from his growing up, a class photo has been saved. The photo appeared on the students' screens, a classroom lineup of children much younger than the GISH sophomores looking at it. Stein pointed out his friends, their young faces circled. He pointed out the bully, his face also thickly circled.
Every day his environment reminded him of ever-present, ever-escalating danger. Stein's classroom itself beat down on him; hanging at the front of the room was the Nazi flag and a portrait of Adolf Hitler.
There was no gathering after school for him and his classmates. His mother feared what could happen if her son wasn't home after school. Despite her efforts, the friends still snuck in some time to play, their favorites being soccer and ice skating.
Stein remembered they spoke among themselves of an end to the war settled by a soccer game with Germany.
"There was a fantasy that everything would be solved in one match," he said.
At 12 years old, Stein fled with his mother to the United States.
He said he vividly remembers the view as the ship pulled into New York's harbor upon their arrival in 1948.
"The Statue of Liberty was lit up — the crown, the torch," Stein recalled. "Everyone was ooh-ing and aah-ing. I wanted to stay up all night (to look at it)."
He watched his surroundings, waiting for King Kong to scale the Empire State Building — just like the movie he watched in his home country.
Nazi-occupied Europe — Prague included — didn't turn into a living hell for minority groups overnight — something Shultz said she wanted to emphasize to her students.
"It's really important that they understand the rise of antisemitism — that it isn't just one moment in time. There were so many events leading up to it," she said.
Stein described the scope of the Holocaust: "It's not only concentration camps. It's also other groups."
"Does history repeat itself?" a student asked via Zoom chat.
Stein thought for a moment.
"What happens is people around the globe have short memories. Somehow the wheels (of genocide) keep spinning around," he said.
Stein described the blank squares blazing the pages of Czech newspapers after the rise of Communism, the country's leaders censoring their people's source of information. He made note of today's rise of neo-Nazism and the racial injustices in the news almost daily.
It could happen again, he concluded — but it doesn't have to.
"Educate yourself; always ask questions," Stein advised the students. "We're all capable of much more understanding than what we do."
Jessica Votipka is the education reporter at the Grand Island Independent. She can be reached at 308-381-5420.