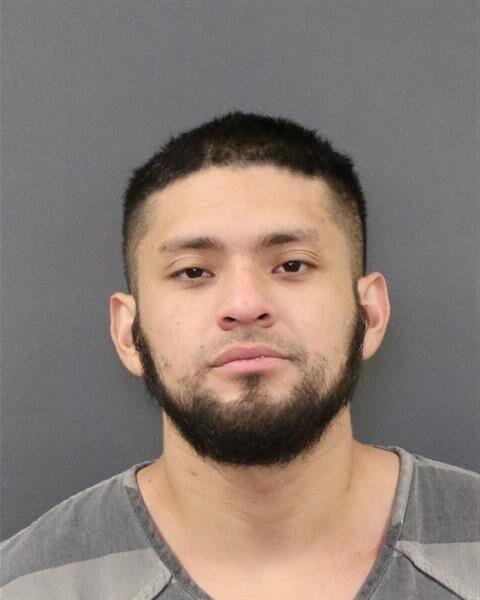 Karlos Chavez, a 25-year-old Grand Island man, was arrested early Saturday in connection with a burglary earlier that evening at Taco Bell, 2211 S. Locust, and trespassing at a mobile home court.
Chavez was arrested at about 3:15 a.m. Saturday, when police responded to the area after a report of suspicious noises coming from a vacant trailer, 2323 Bellwood Drive. Officers observed broken glass at the front door and a man inside, wearing a gray sweater. Officers could hear the suspect breaking items inside the residence. After he exited the trailer, he was advised by officers to stop. When he started running, he was tackled a few trailers away, police said.
The suspect was identified as Chavez. Police said he was in possession of three glass pipes and a crowbar.
A Taco Bell employee reported that she found the drive-thru window open and damage done to the cash drawers and lockboxes. The suspect took a small amount of change and cash from the office. Police identified the suspect shown in surveillance video as Chavez.
In Hall County Court on Tuesday, Chavez was charged with burglary, possession of burglar's tools, first-degree criminal trespass, resisting arrest, obstructing a peace officer, possession of drug paraphernalia and two counts of criminal mischief.
Judge Arthur Wetzel set bond at $25,000 and scheduled Chavez's preliminary hearing for 10:30 a.m. Dec. 9.
Two Grand Island restaurants were burglarized Sunday night — Dairy Queen, 3660 W. Capital, and Pizza Hut, 1023 W. Second St.
Police don't think the Taco Bell burglary was necessarily related to those two "just because the MO is different," Capt. Jim Duering said.
At Dairy Queen, burglars did a lot of damage, forcing open the front door, Duering said. In the Taco Bell crime, no signs were evident of forced entry to the door.
At Dairy Queen, police responded to an alarm at about 11:40 p.m. Sunday. Two glass doors had been shattered, but nothing was taken. The damage to the Dairy Queen was estimated at $11,000.
A total of $3,597.23 was removed from the Pizza Hut on Sunday night. Surveillance video shows that a male suspect entered the restaurant by force at 11:57 p.m. Sunday. The burglar damaged two cash registers and stole a lockbox. It's possible that a second person was involved in the crime, Duering said.
Get local news delivered to your inbox!
Subscribe to our Daily Headlines newsletter.