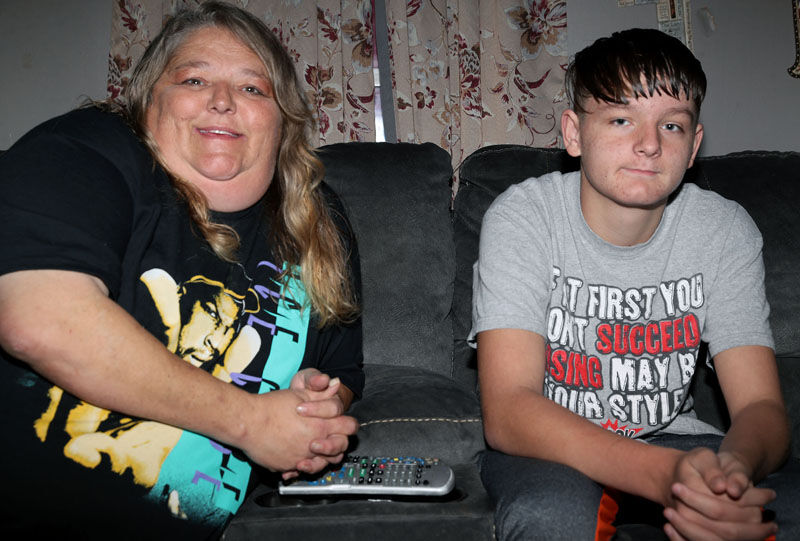 The father of Rashell Hillis' child owes more than $28,000 for nonpayment of child support and medical expenses, according to the mother, and she believes she's not being treated fairly because she's a working mother.
Hillis and her 13-year-old son, Noah, live in Hastings. The father of the child, Terry Allington, is a former Grand Island resident. Hillis said she and Allington, who never married, had a two-year relationship.
The last time she received a child support payment from Allington was in July 2020. He made a payment the following month, she said, but the check bounced.
Hillis believes the system penalizes hard-working mothers, and whose kids aren't on any assistance.
The state "will not help them go after the child support" and "the fathers are able to get by with it," she said.
Deputy Hall County Attorney Katie Doering, who handles child support enforcement for the Hall County Attorney's office, can't talk about the details of a specific case.
But, "we as an office do our best to treat everybody the same," she said.
Her office has to balance different interests, Doering said.
The noncustodial parent, who is usually the one ordered to pay child support, could be a father or a mother.
Doering does not agree that working custodial parents are penalized.
Some people view her office as being "equivalent to their attorney," Doering said. She has had to explain to some individuals "that we are not their attorney" and "that we're going to handle things the way that we handle things," she said.
"We try to treat the noncustodial parents like people." Her office tries to work with them and "we try to meet them where they are, to get them paying."
Her office has not treated Hillis' case "any differently than we would treat any other case," and has made the same enforcement efforts "that we've done on every other case," Doering said.
Hillis believes the child support referee was too lenient in granting Allington more time.
In one appearance before the referee, Allington said he forgot to get an attorney, Hillis said. In another case, Allington said his attorney was out of town, Hillis said. After appearing before the referee four times on a contempt of court charge, Allington missed the fifth appearance because he said he was in the hospital, Hillis said.
On Aug. 11, Hall County District Court issued a warrant for Allington's arrest for failure to appear.
Hillis believes the charge should be a felony rather than a misdemeanor if a noncustodial parent's financial obligations reach a certain amount of money owed or if the noncustodial parent misses a certain number of court hearings.
Although Hillis was told she didn't need to attend Allington's court appearances, she felt it was important to represent her child's interests.
Allington, a trucker, is now in jail in Sarpy County. He was arrested Nov. 5 in Lake City, Callif., on a felony warrant. He is charged with committing theft by deception, totaling $5,000 or more, in Sarpy County on May 24.
Allington, 48, is represented by John Hascall, a Sarpy County public defender. Hascall did not return a phone call to the Independent, which tried unsuccessfully to contact Allington. On court documents, Allington's residence is listed as Scottsbluff.
Hillis worked 70 to 80 hours a week until she got COVID, she said. As a result of the virus, she couldn't work for six or seven months. Now she's working a reduced schedule
Because of her health problems, Hillis said she and her son are on Medicaid. Until she got COVID, she said she hadn't been on assistance for more than 10 years.
They are now "scraping by." But life would be a lot easier if she were getting the $400 a month she's entitled to, Hillis said.
If that money was coming in, "I wouldn't have to work four or five hours extra because I need to go get my son a pair of shoes."
Hillis points out that she decided to raise Noah. "I raised him. And he's a pretty darned good kid."
But Allington is the father. "He should be held just as much responsible," she said.
"Somehow our system allows the fathers to run away, and the mothers can't get any help," Hillis said.
Hillis' child support papers say if the noncustodial parent gets 30 days behind on payments, he will be held in contempt.
Doering said depending on the case and depending on how much in arrears the parent is, "we may give them a couple of months before we file a contempt against them."
"Generally what we have found is if you try to work with the noncustodial parent to kind of meet them where they are, give them a little bit of grace, they're more likely to pay down the line," Doering said.
She knows that can be upsetting for some custodial parents who want "that immediate retribution" and for the noncustodial parent to be held in "immediate contempt."
But Doering doesn't believe that's what enforcement is about.
"I think the purpose of enforcement is to get them to eventually pay, and so that's why our policy tends to be, to give them a little bit of grace," Doering said.
Again, it depends on the case.
If someone is a frequent offender, they might not be given as much grace, Doering said.
"As far as enforcement and contempt is concerned, we do get cases where people will be thousands of dollars in arrears," Doering said.
Her job is more difficult when no address of the noncustodial parent is available. Some are hard to track down because he or she moves from job to job or relocates regularly.
"It makes enforcement a lot harder, and at the end of the day we can put someone in jail over and over again, but if they don't pay there's only so much that we're able to do," Doering said.
One enforcement technique is informing the parent who's in arrears that his or her driver's license will be suspended. In response, most people will pay up. But "if the person doesn't care about driving illegally, that doesn't really get us anywhere," Doering said.
Her office can't suspend a driver's license if it doesn't have the driver's address. Under statutory requirements, the person first must be notified. That is a common problem because people might be homeless or change addresses often.
Doering said she realizes her office might not always handle enforcement the way an individual thinks it should.
Doering represents the people of Hall County. She's working for enforcement, "and often what I want is in line with what the custodial parent wants." But at the end of the day she does not represent custodial parents "and custodial parents don't get to dictate how we handle enforcement," she said.
She knows that can rub people the wrong way.
But it doesn't matter if the parent "who's wanting us to enforce" is an unemployed custodial parent, a male or female or someone who either has a lawyer or doesn't.
Doering's office tries to "treat everybody equally," she said.
She knows some custodial parents might feel frustrated because it might appear to them that her office isn't doing anything. But she is "doing what I am legally allowed to do," Doering said.
There are limitations on her office for a reason, which is due process.
It's important to make sure that noncustodial parents are treated fairly, she said.
Doering said she could be a bulldog attorney who "goes in there and rips them apart. That's not my style. And I don't believe that's our purpose, either."