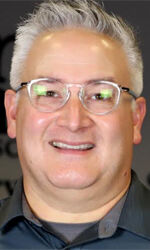 With schools burdened by the coronavirus, how is the TeamMates program holding up?
"We are plugging away, doing the best we can," said Rod Felton, the program coordinator in Grand Island.
At Northwest High School, TeamMates mentors and students have been able to meet in person. The school is allowing education-related outside visitors. Until Tuesday, the same was true of Central Catholic, which now has gone to remote learning.
Grand Island Public Schools is not allowing outside visitors. But the adults and students have been able to connect through videoconference calls.
A portal developed by the TeamMates' central office just became available Oct. 15 to the Grand Island program.
It's been rewarding for Felton to see students and adults "getting to connect again" after such a long break, he said. The mentor and mentee are happy to see each other, he said.
Right now, the local TeamMates program consists of 113 pairings of students and adults.
"We have less now than we did before the pandemic hit," Felton said.
Some of the mentors have been reluctant to visit schools because of the virus. And some may not have the technology to meet with the student online.
So the program is down a few matches.
Felton expects the adults who've taken a step back to return when the world is safe again. "I feel like they will," he said.
Students' parents and mentors sign an agreement before the Zoom calls may take place. The TeamMates office spends a lot of time collecting those parent permission forms.
They haven't collected 100% of the forms. "But we're pretty close," Felton said.
Mentors and mentees are encouraged to meet weekly, just as they did before the pandemic.
Felton coordinates TeamMates efforts at Heartland Lutheran, as well as Grand Island Senior High, Northwest and Central Catholic.
His office space is provided by Grand Island Public Schools. The program has part-time employees at Barr and Walnut middle schools.
Students can become involved in TeamMates when they're going into sixth grade. The program continues through high school.
TeamMates, which has chapters in five states, is happy to welcome new mentors.
"We're always looking for people that have 20 or 30 minutes around lunchtime that just want to make a difference in a student's life," Felton said.