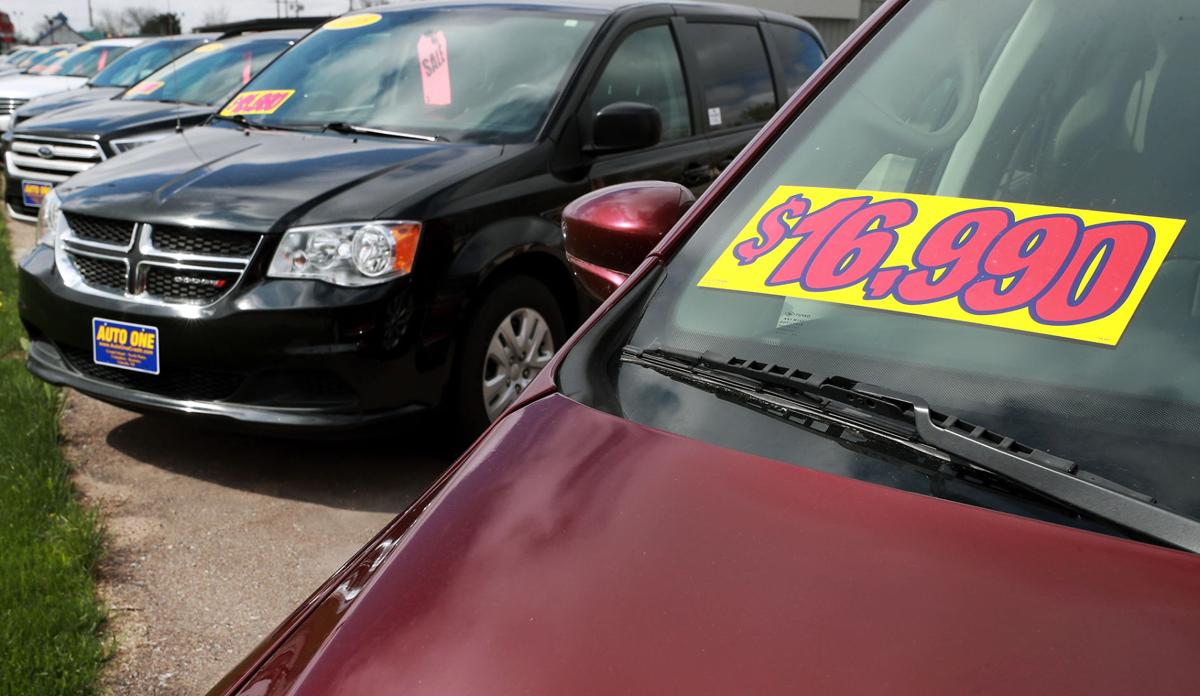 While people ponder what's ahead for the economy as Grand Island slowly emerges from the COVID-19 pandemic, another indicator of how well the economy was performing before the virus impact was recently released.
From the Nebraska Department of Revenue, taxable sales were $76.8 million in February, up 12.6% from February 2019's $68.2 million. Both Hastings and Kearney also saw increases in taxable sales in February of 14.7% and 15.2%, respectively.
Motor vehicle sales were also up in February as Hall County reported a 14% increase of $10.9 million compared to $9.6 million in February of 2019. Adams County saw a 67.1% increase in motor vehicle sales from the year prior and Buffalo County 16.4%.
Cindy Johnson, president of the Grand Island Chamber of Commerce, said for many, reimagining what business will look like post COVID-19 is the focus. Many business owners are asking whether life will return to what it was prior to the pandemic and what the economy will be like.
"Grand Island's growth and development figures for January and February were healthy," Johnson said. "Motor vehicle sales were up over 15%; food and beverage tax revenue and taxable sales also experienced a double-digit increase. This would suggest that there is a potential for stability and growth once we emerge from the COVID cloud."
She said resilient businesses that are taking this opportunity to rethink their next normal. Many are focusing on the expanded role technology is playing for their business, determining how agile they were in responding to the crisis, and rethinking their supply chains.
"Consumers seem to have a renewed or newfound appreciation for local restaurants, stores and small businesses, and this value will be evident in their buying decisions post-COVID," Johnson said. "Leaders are turning the challenges presented with COVID-19 into opportunities and possibilities for the future of their businesses. This bodes well for the future of Grand Island."
She referenced a recent Chmura Economics webinar in which national data showed the industries most impacted by COVID-19 (with 60% or greater vulnerability) were the arts, recreation and retail, whereas industries such as construction, manufacturing, larger corporate companies and public administration are least vulnerable (5% or less), likely due to an ability to resume work in an altered capacity.
Johnson said analysts expect to see a quick bounce back of employment in trade fields over the next two years as many individuals are able to receive unemployment and finish their certifications. With the pandemic affecting graduates from community colleges across the nation, there will likely be a lineup of qualified applicants seeking employment when job markets reopen.
The University of Nebraska-Lincoln Bureau of Business Research and Nebraska Business Forecast Council recently reported, while the state's economy has contracted sharply this spring, with a spike in unemployment and revenue losses for businesses, the state economy should recover rapidly, though economic activity will drop in Nebraska for 2020 as a whole.
The council recently issued a new three-year forecast that said Nebraska employment is expected to drop 2.4% in 2020 compared to 2019, with non-farm personal income falling 0.8% and farm income declining 22.6%.
"The economic downturn has been especially severe in industries that require face-to-face interaction between customers and workers, or which serve travelers or customers who crowd together," said Eric Thompson, an economist and director of the Bureau of Business Research.
Key examples include retail trade, air travel, leisure and hospitality, and personal services. Segments of the health care sector also have experienced significant job loss.
Assuming the spread of COVID-19 is brought under control, the forecast said employment should bounce back quicker than after a typical recession as customers return to most industries and the business community adapts to changing consumer preferences. Nebraska employment is projected to grow 2% in 2021 and 1.4% in 2022.
The rate of job loss in Nebraska, while substantial, has not been as rapid as nationwide.
"Nebraska has a smaller share of employment in several hard-hit industries," Thompson said.
The forecast said that Nebraska has less employment in travel and tourism than the nation, and is not focused on motor vehicle or oil production. Nebraska also has a larger share of employment in the essential industries of food production and processing, and industries such as finance and insurance, where there is more potential to work from home.
Among individual industries, the forecast said retail trade employment is expected to decline 3.9% in 2020, with employment bouncing back at a 2.4% pace in 2021. Retail employment is projected to fall 0.5% in 2022, continuing the industry's long-run trend of job loss.
Services employment, which accounts for 40% of all Nebraska jobs, is expected to decline 3.6% in 2020, with most severe job loss occurring in restaurants, lodging and personal services. Service industry employment is projected to grow 3.1% in 2021 and another 2.5% in 2022, allowing the industry to regain its role as the engine of Nebraska job growth.
The forecast said impacts also will spread more broadly across the economy to industries such as finance, construction and information, as well as to state and local government. Employment in these industries and sectors is expected to fall about 1% in 2020.
The forecast said that the agriculture and manufacturing industries will be impacted by a global economic recession, which has reduced commodity prices and opportunities for export. Manufacturing industry employment is expected to fall between 2% and 3% in 2020. Losses will be broad-based. Further, the ethanol sector has contracted sharply, which represents lost manufacturing employment but also has implications for Nebraska agriculture.
Low commodity prices, challenges in the ethanol industry and the periodic shutdown of meat-processing facilities will pressure the agriculture sector in 2020. Government payments may account for 50% of farm income during the year.
The forecast said that government payments also will support personal income in Nebraska in 2020.
"However, rapid growth in transfer payments, such as enhanced unemployment insurance and one-time payments to households, will not be sufficient to offset multiple sources of loss, including falling wages and salaries, proprietor income and income from dividends, interest and rent," the forecast said. "These transfer payments also will disappear in 2021, potentially limiting income growth to just 2.2% in that year, despite a recovery in employment. Non-farm personal income is expected to grow 3.7% in 2022."