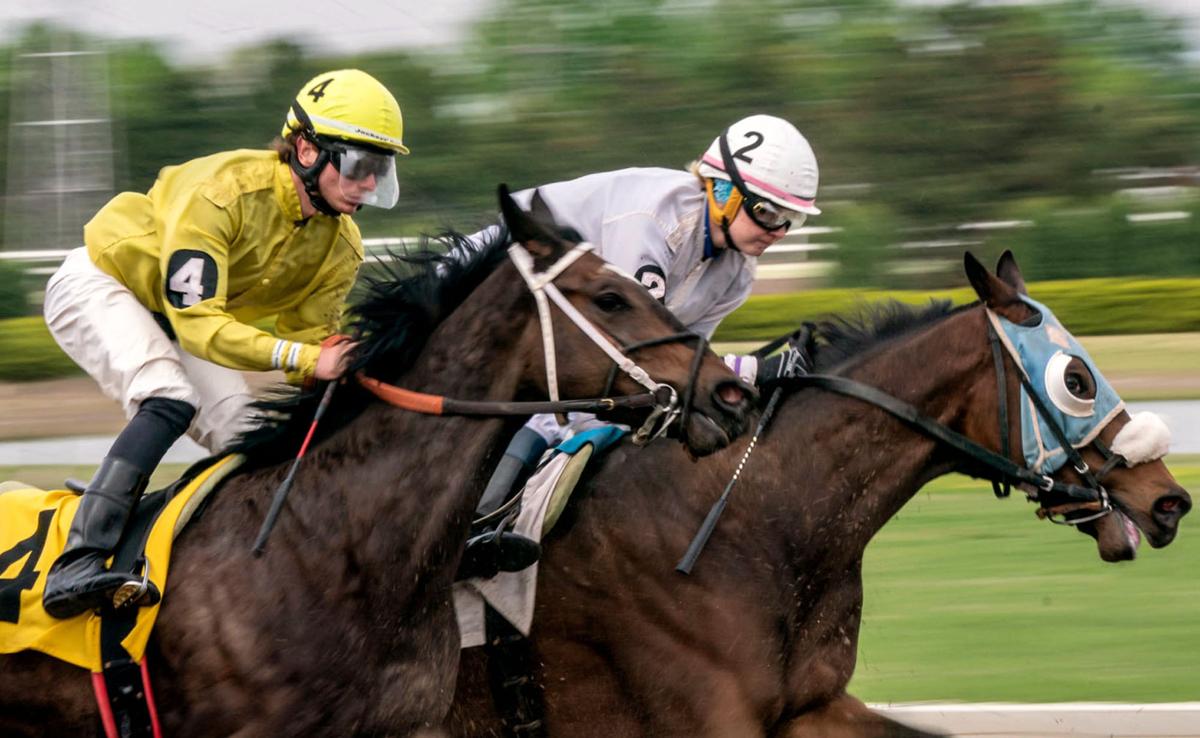 The legalization of casino gaming in Nebraska will benefit the thoroughbred industry and Nebraska agriculture, said Fonner Park's chief executive officer. And, yes, there will be a casino at Fonner Park.
The passage of three ballot initiatives Nov. 3 "is going to be a tremendous lifeline for the Nebraska thoroughbred industry. So that's good for Fonner Park. That's good for horsemen. And that's good for Nebraska agriculture, for the farmers and horse breeders," said Chris Kotulak.
The initiatives allow casinos at licensed horse race tracks and earmark most of the tax revenue to property tax relief across the state.
Because of legalized gambling, Fonner Park will be able to increase race purses and breeder incentives and awards. Kotulak said. Revenues derived from the casinos will go toward the purse structure.
If Fonner Park has a $10,000 race, 60% of that total, or $6,000, goes to the winning owner. The second-place owner gets 20%, and third place receives 7%.
"Well, the problem is we don't have a lot of races with $10,000 purses," Kotulak said. "We have a lot of races with $5,000 purses. And so the horsemen and the owners are pretty much racing for peanuts."
If Fonner is able to double its purse structure, "Now we can be competitive. And we can have a stronger racing product to offer. Because currently the kind of purse money that we believe we will offer is being offered in Iowa and Minnesota and Oklahoma and Wyoming, where we get our horsemen," Kotulak said. "We will now be on par with them."
Steps will be taken as soon as the governor establishes a gaming commission.
"The sooner we get up and running, the sooner we can give back to our community," he said.
Kotulak expects a casino to be built on Fonner Park property.
"I foresee that happening," he said. If a Grand Island casino opens, it "must be built at Fonner Park, in accordance with the initiatives that were passed."
Ho-Chunk Inc., which funded most of the pro-gambling advertising during the campaign, is the economic development arm of the Winnebago Tribe of Nebraska.
Will the Grand Island casino be operated by Ho-Chunk?
"Ho Chunk Inc. is only one of possibly 50 casino operators that are available to us," Kotulak said. "Ho Chuck Inc. has an agreement with the racetrack in South Sioux City, Neb., Omaha and Lincoln. And that is their business. They have an agreement. We can make an agreement with any casino operator we so choose, or any casino management we so choose, including Ho Chunk Inc."
Ho Chunk is just one possibility. "They may be one, but it could be any other of the casinos that are out there," Kotulak said.
Fonner Park would derive proceeds from the casino. "Yes, there would be a small percentage of what is retained that would be allocated towards the horsemen and then, of course, that Fonner Park would retain for capital improvement, salary, maintenance — those sort of things."
The casino will be good for employment possibilities in Grand Island. Kotulak said "easily a few hundred jobs will be offered to the community that just were not here before. These would be jobs in food and beverage, hospitality, IT, marketing, security, surveillance and so on."
Local horsemen will benefit "shortly after casino revenues start to be generated," Kotulak said.
It sounds as though some form of gaming will be introduced first in current Fonner Park buildings.
"I am hopeful that we would start to have some form of casino operation underway here in the coming year — 2021," Kotulak said.
It is reasonable to believe, he said, that casino gaming will come in stages, "meaning we would very likely use some form of the existing facility whilst another phase would be planned for later development."
All forms of Class I casino gaming will be permitted. That would include craps, blackjack, roulette, card games "and naturally slot machines," Kotulak said.
Slot machines "generate more than 80% of casino revenue," he said. The games he mentioned are the most popular games. So it's likely that those games "might be part of the initial presentation."
It's possible that local horsemen will benefit in 2021. But the Fonner race season ends in May.
It's more likely that tracks in Lincoln, Omaha and Columbus will benefit in 2021 because they race into August and September, Kotulak said.
Fonner Park "might not get anything going until after the race meet," Kotulak said. It's possible that gaming could arrive before May 2.
"Who knows?" Kotulak said. "It could be before. But our race meet ends May 2."
The tracks that race later in the year will "have a better opportunity to become operational" and provide money to horsemen in 2021, he said.
Cindy Johnson, president of the Grand Island Chamber of Commerce, doesn't want to see a gambling "shack" built in Grand Island. But she has confidence that Fonner Park will do the right things.
"The results of the Nov. 3 election as it relates to establishing casinos in Nebraska was a strong indication of the support our residents have for this expanded form of entertainment. Not only did the casino measures pass, they passed overwhelmingly," Johnson wrote in an email to The Independent.
"Gambling is not new to Nebraska or Grand Island; keno and lottery tickets are two options already in existence," Johnson wrote. "Additionally, Fonner Park and its legacy of horse racing has been a longstanding entertainment (and gambling) tradition in Grand Island. Thousands of people equate horse racing with Grand Island and visitors flock to Grand Island to share the excitement of the races with their friends and longtime racing enthusiasts. Casinos will add to our array of entertainment options; it is attractive to people of all ages and backgrounds. At the same time, the casino will help promote and support horse racing.
"Well-run, high quality casinos have shown to be economic engines in a community," Johnson wrote. "We only need to look to our neighbors to the east — Iowa — to see what economic impacts can result from the gaming industry, including employment, taxes, and procurement of products and services from local or state companies."
Brad Mellema of the Grand Island Convention and Visitors Bureau feels passage of the measures will "unequivocally" be good for Grand Island.
Before the initiatives neared passage, Mellema hadn't given a lot of thought to what they might mean. "Well, I don't know if Nebraska's ready for this," he said to himself.
But Mellema called a friend of his, who is the tourism director in Dubuque, Iowa.
The friend noted that Dubuque has had a dog track and casinos for a long time.
"We have never had a problem, and it's been nothing but positive," he told Mellema. "It has been an absolute gem for Dubuque, Iowa. There's no reason to think that it wouldn't be the same for Grand Island."
It was encouraging for Mellema to hear that. "He just talked about the level of professionalism that they're run with," Mellema said. "I'm sure there's a few negatives, as there are with any business, bar, restaurant, whatever."
But Mellema believes the beefed-up horse racing and casino will "be a boon to tourism and the hospitality industry, in general, for Grand Island."
What does Mellema believe will help the local economy more — improved horse racing or the casino?
Mellema said he doesn't know because he doesn't know enough about the subject.
But he points out that a casino operates year-round, whereas horsing racing lasts roughly three months.
For that reason alone, it seems like the casino would have "a steady impact on tourism," he said.
A casino also makes a city "a more attractive town in a lot of ways" for attracting meetings and conventions.
"A lot of times people like to do that." It gives them one more entertainment option, Mellema said.
"So it would not be unusual, I would think, to perhaps attract some new business that might otherwise go elsewhere," Mellema said, referring to conventions.
In looking at a city, organizations planning conventions base their decisions on a number of things.
"It might be shopping, it might be entertainment, it might be restaurants. It might be attractions such as Stuhr Museum, those kind of things," Mellema said.
"So this simply adds one other dynamic that may attract certain groups. Other groups, maybe not. But certain types of groups might be attracted to that," and it could become the factor that tilts them toward coming to Grand Island, when maybe "they went elsewhere at other times."
Get local news delivered to your inbox!
Subscribe to our Daily Headlines newsletter.