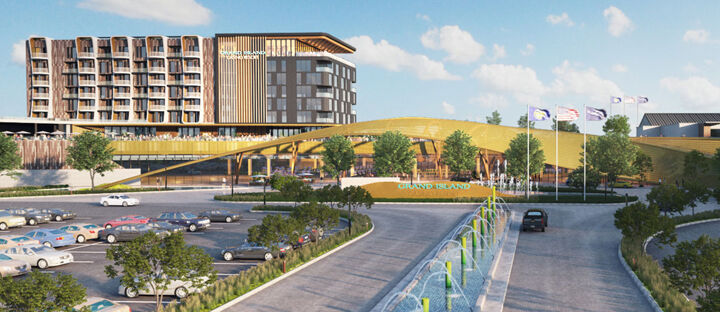 A big new casino and resort will reimagine Fonner Park and reinvigorate the "iconic property" that has brought horse racing fans to Grand Island since 1954, said Dan Kehl, chief executive officer of Elite Casino Resorts.
The elaborate facility should also draw people to central Nebraska.
Karlyn Ollendick, Elite's chief operating officer, said the $100 million project will be a destination casino resort.
Kehl said Elite will build a "big, beautiful resort with first-class amenities that should make Grand Island and Fonner Park proud."
Ollendick talked about the economic impact of the venture.
"When you add a casino resort to your community, the direct impact is life-changing," she said.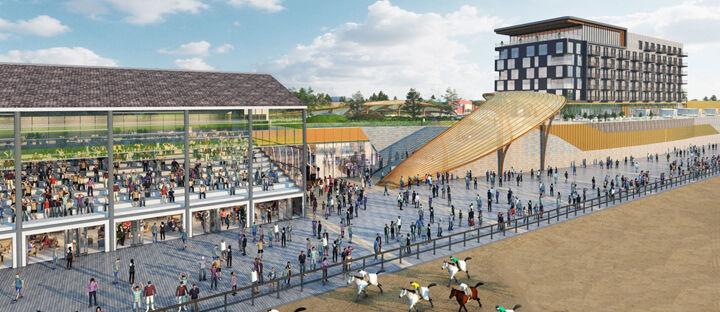 Fonner Park announced Friday that Elite will be its partner in the project, to be known as Grand Island Casino Resort at Fonner Park.
Nine companies submitted proposals to be the casino operator. That group included "the biggest of the big" and "the smallest of the small," Fonner Park CEO Chris Kotulak said.
Fonner representatives met with eight of the firms. The selection process included many meetings and "a lot of travel," Kotulak said.
Fonner Park President Dan Fogland said the group tried to "make the right decisions going forward for Fonner and our community."

As the Fonner officials sifted through the proposals over the last five months, "one group kept coming to the top," Fogland said.
Elite operates three casino resorts in Iowa. One of them, located in Larchwood, Iowa, primarily serves Sioux Falls, S.D. Pending state gaming approval, Elite will build a casino resort in southern Illinois.
"We have a proven track record in regional markets," Ollendick said.
"We value communities the size of Grand Island," Kehl said.
"We have spent more than 30 years building a business in towns your size, and it's in our wheelhouse," he said. "We're so excited about this partnership with Fonner Park."
The company builds world-class properties to begin with, and continues "to reinvest in our properties because it's important," Kehl said. "It's important not only for our success, but for the success of the communities in which we operate."
The company values having local investors who take pride in the property and provide valuable feedback, Kehl said.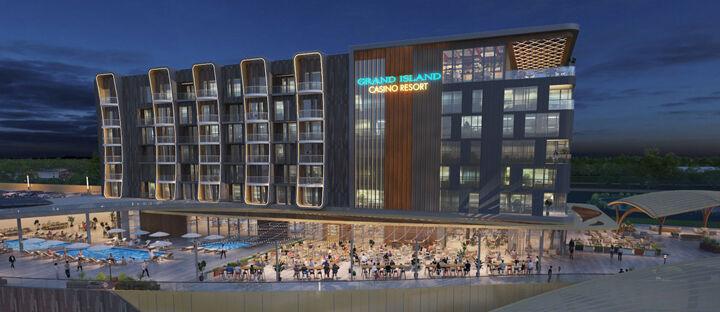 "We understand that a gaming license is privilege," he said. "We operate with the highest integrity and respect to maintain that privilege."
Ollendick said Elite is "committed to making communities better."
After a temporary gaming facility is housed in the Fonner Park concourse, the construction of the hotel and casino will be completed, in one phase, within 18 months.
Kehl said the casino floor will be big, beautiful and energetic.
"The casino floor will have a seamless connection to the existing Fonner Park structure to guarantee guest flow between the casino, racing operations and the convention center," he said,
The hotel will be "rich with amenities," Kehl said. The 116 hotel rooms will include luxury suites.
In addition, "We will offer classy, fun and varied restaurant choices."
Fine dining will be offered at Ruthie's Steak & Seafood on the rooftop, which will offer a great view of Grand Island, he said.
The other eateries will be a Grab & Go restaurant, a family dining establishment and a sports bar and grill.
"There'll be something for everyone, with dining options for every taste," Kehl said.
A roof deck on the second floor will be multifunctional throughout the year.
There might be "an ice skating rink up there in the winter," a playground for kids or a Santa Village at Christmastime, said Grand Island native Nathan Casteel, the project's design leader.
Elite offers strong benefits, as well as a profit-sharing program, Ollendick said.
The company will work with area schools and provide a multitude of career paths for employees.
Also important, Ollendick said, is the opportunity to "bring back home" individuals who may have left the Grand Island community and would like to return, possibly to be closer to family.
Elite not only encourages its employees to volunteer for local charities, but it also matches their hours with cash donations through a program called Winning Hands, Ollendick said.
The company offers a program that brings injured veterans to the golf course. It has helped thousands of veterans throughout Iowa. "And we would love to bring this program to Grand Island," she said.
Elite's mission statement said it provides first-class facilities in a fun environment that "promotes community pride and spirit."
It's a good business model to give back time and money, "to treat your employees like family" and to invest in their professional development, Kehl said.
In addition, "It's a good business model to buy from local vendors and providers as much as possible," he said. "And to be honest, it's a lot of fun to be the best casino company in every market that we operate in."
After 30 years of operation, Ollendick said, "We believe that becoming a community partner is our secret sauce."
Kotulak pointed to the size of the Elite delegation that came to Grand Island. It's one thing to bring members of your staff, he said. But to also bring along a number of your board members "is really astounding," he said.
That points out the sincerity that Kehl, his family, staff and board have for the project, Kotulak said.
"And I think that they are now part of our family," he said. "I cannot tell you (how) good I feel about this."