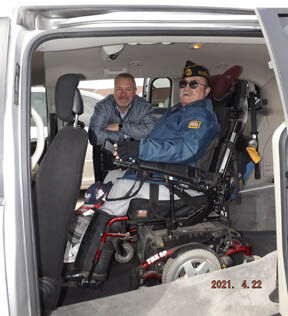 An encounter at the St. Paul Runza last summer led to Sam Rutten getting a new mobility van.
Todd Vetter of Omaha, stopping for lunch, noticed a beat-up van in a handicapped spot at the St. Paul restaurant.
Vetter works for Vetter Senior Living, which owns Brookefield Park in St. Paul.
"My main job is supplying handicap vans to our locations," he said.
He realized the van in the parking lot served someone with a disability.
Vetter went inside and talked to Rutten and Janet Moody, his girlfriend and caregiver. They were returning from an appointment in Grand Island.
"I made a comment to him that if you ever needed to replace the van to give me a call," Vetter said, adding that he'd love to help.
He is involved with an organization called Mobility for Humanity, which finds handicapped-accessible vans for people who need them. Rutten's name was added to the waiting list.
Several months ago, Rutten got a phone call from Mark Zach of Omaha, president of Mobility for Humanity, about a refurbished van that was available if the couple could show proof they could afford the licensing and insurance for it.
On April 22, Rutten was presented the 2011 Dodge Caravan with rear entry ramp at Brookefield Park.
Zach showed Moody and Rutten how to properly strap in the wheelchair and pointed out other features of the van.
Rutten, who lives between Cedar Rapids and Belgrade, received the vehicle at no cost.
The 69-year-old Vietnam veteran has been paralyzed from the chest down since February 2012.
The accident happened a few days before his 60th birthday. He had been riding his mule, Jute, when the mule walked under a tree branch, brushing him onto the ground. Because of a neck injury, he has been confined to a wheelchair since.
Rutten and Moody previously used a 2007 Dodge Caravan, which had more than 168,000 miles on it. Over time, the side ramp that lowered and raised automatically stopped working. They replaced it with homemade ramps that had to be pulled out and put back into the Caravan. The side door was also hard to open.
Vetter was delivering personal protective equipment to Brookefield Park when he stopped for lunch.
Vetter said he could tell the owner needed a replacement vehicle "because the van was pretty wore out, from looking at it."
Vetter manages the fleet of vehicles for Vetter Senior Living, which owns 32 facilities in Nebraska, Iowa, Kansas and Missouri.
Coincidentally, the van Rutten received came from a Vetter facility.