Central Community College has been recognized for making its world a greener place.
The Nebraska Statewide Arboretum gave CCC the Community Landscape Award, which recognizes marked improvements to the campuses' "green infrastructure."
Campus pollinator gardens have been planted in some capacity on several CCC sites since 2017, all four sites – Grand Island, Hastings and Columbus campuses, plus the Ord center – receiving grants, said Central Community College Environmental Sustainability Director Ben Newton.
"We started with the first one in Columbus. Then Grand Island saw that it was a great project and a great system and applied for the grant in the spring. Hastings applied for the grant and for the garden in 2020."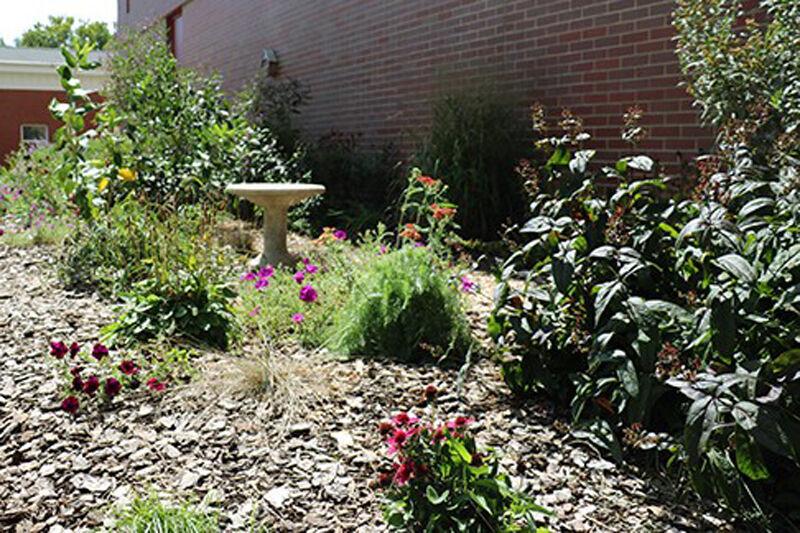 Pollinator gardens offer shelter and food for pollinators like honeybees and butterflies. Newton said creatures like these are small but mighty. "We used to have native prairies throughout Nebraska, and we've lost a lot of that acreage due to commodity agriculture and development across the state," Newton said. "That habitat that was once originally here provides that habitat for native insects. I like to say they're keystone species because they also provide food for us. Three-fourths of all the food that we eat comes from pollinators, and then they are also keystone species for birds."
Besides being a safe haven for pollinators local and passing through, Grand Island, Hastings and Columbus gardens are maintained by students and interns, some without the use of chemicals. Newton said having people pitching in is essential to keeping the pollinator gardens going. "I have paid student internships on each campus through the sustainability office. We do have volunteer students, there's a Students 4 Sustainability Club. There are entire classes that come out and help – we've had an English class that dedicated their time. We have dual credit students from the high school that are also helping out in the garden."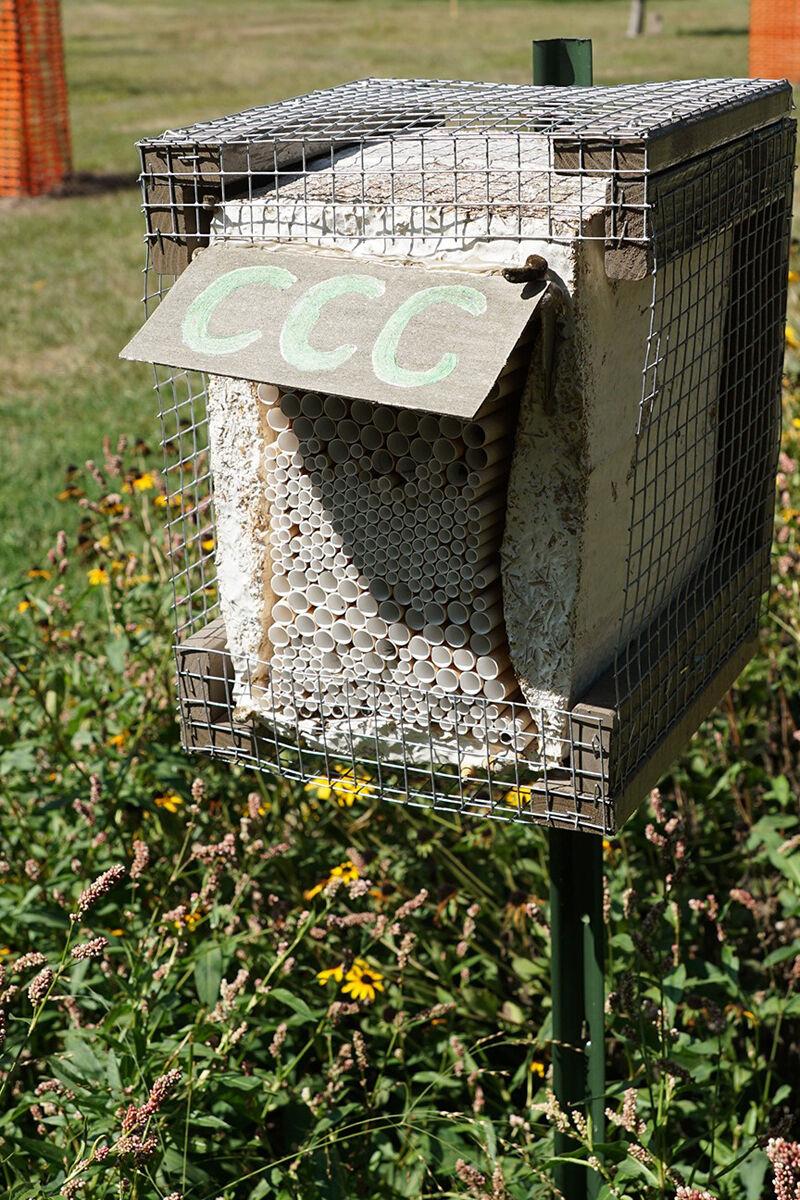 The success of the Grand Island and Columbus campuses' gardens inspired CCC's Hasting campus to take on its own pollinator endeavor, receiving a plant grant in 2020, followed by a Bloom Box planting in 2021. Bloom Boxes were created by the Nebraska Statewide Arboretum in hopes of getting ready-to-plant pollinator plants to public and private lands like homes, schools and parks. Without resources like these, Newton said, having gardens like those in Grand Island, Hastings, Columbus and Ord might not have happened. "We got the start through the Nebraska Statewide Arboretum because they provided a lot of the resources – how to develop and design the projects, so that not only do we receive the funding, but we received assistance of how to plant how to maintain and take care of the pollinator gardens."
Like Grand Island's gardens, the Hastings campus gardens are chemical-free. Native pollinators were selected to help the school's nearby vegetable garden, which is used by culinary arts students. Pollinating insects from the garden also benefit the Pawnee corn garden, which specializes in native corn varieties.
Newton said that CCC Hastings has inspired others in the community – including the city itself. "It's actually growing to other organizations now, like the city of Hastings utilities. They're interested in pollinator habitats. They have a solar farm out near the airport, and planted pollinator plants underneath those solar panels."
In Ord, CCC's satellite center has grown a garden near the community's hiking and biking trail, the result of collaboration between CCC regional director Crystal Ramm and the City of Ord. Ramm maintains the garden. As the project expands, Students 4 Sustainability has added multiple Bloom Box gardens.
Columbus campus was the first of the locations to be beautified by native plants, also handpicked for pollinators. Central Community College management director Kim Garretson and then-Columbus campus president Matt Gotschall were key players in the project. It's a research site for the school's intern-led mushroom bee hotel ("mushroom mycelium bee hotel," Newton calls it) trial, which was funded by University of Nebraska Extension and the National Science Foundation.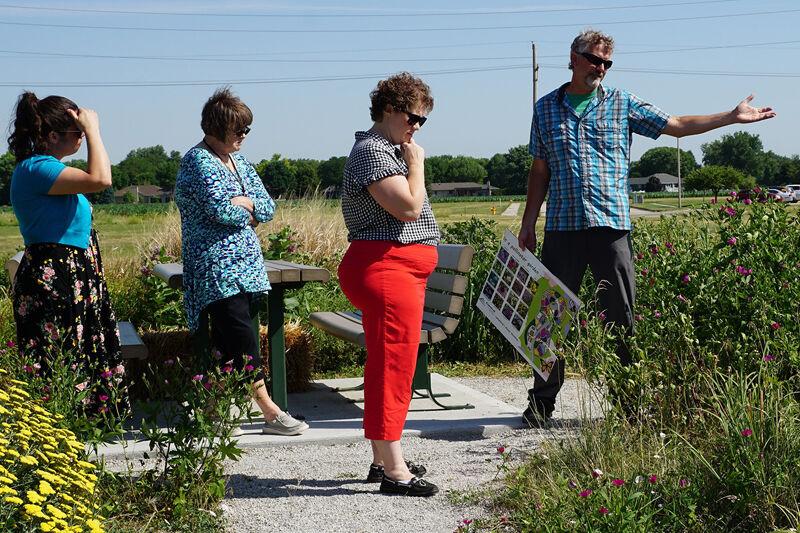 Native plants, like those planted in the CCC gardens, have the potential to cut down water bills as well. Newton said these plants are efficient. "[Native plants] can hold more rainwater than your typical lawn because the roots go down deeper. Native plants generate healthier soil as well, because they provide shade and so that soil is much richer than you would get in your typical turf grass."
Newton said so far the gardens have been successes. "Since that first garden was installed, I've seen the benefits not only to the environment, but also to community education." Newton said the garden is open to the public, and that he and CCC interns are available for tours. Grand Island's garden is located on the northeast side of CCC's main campus, by the school's Center for Health and Technical Science.
Central Community College is also promoting native pollinators by selling seed collected from the gardens. The seed packets, containing about 100 seeds, cost $1, benefitting Students 4 Sustainability. "We do have student interns on each campus. If they're in Columbus, we have a student there that has a supply of our native seed, and then in Grand Island and Hastings. Students aren't always around so you can contact me I can get you in touch with how to get the seed."
Newton said the most rewarding thing about the projects has been watching his students. "The students get excited and learning about the benefits of pollinators."
The Nebraska Statewide Arboretum, a nonprofit originally founded through the University of Nebraska, presented Newton, along with students and staff members from the Grand Island, Hastings, Columbus and Ord CCC sites with the award during a ceremony early November.
Jessica Votipka is the education reporter at the Grand Island Independent. She can be reached at 308-381-5420.