It takes a lot of bravery to perform by yourself, especially when everyone else is competing in a team.
Backing out of the competition wasn't an option for Morrill High School cheerleader Katrina Kohel. Instead, the 17-year-old decided to perform a solo cheerleading routine at the Nebraska State Cheer and Dance competition at the Heartland Event Center in Grand Island on Feb. 17.
And her determination to compete led to recognition by event attendees, fellow competitors and, now, people throughout the country and globe.
"It has been such a positive impact to all of us," said Morrill cheerleading coach April Ott. "We have multiple cheer friends across the state, all of their love and support has been amazing."
From a very young age, Kohel knew that she wanted to be a cheerleader.
"It was my childhood dream," said Kohel. "My parents used to take us to the high school football games and I would just sit there and watch the cheerleaders."
Now a senior, Kohel has been on the Morrill cheerleading team her entire high school career. She had even gone to the Nebraska State Cheer and Dance competition twice before 2023.
Yet, going to the competition this year was different.
According to Kohel, there had been three freshmen on the cheerleading team with her at the beginning of the year. However, due to personal reasons, all three end up quitting a week before the state competition.
That didn't deter Kohel from going to the competition, as she had no intentions of quitting.
"It never really crossed my mind," said Kohel. "When my coach told me, I told her I would just go by myself."
Kohel and Ott got to work reworking the entire routine so that she could perform alone at the competition. According to Ott, the two worked on the routine for the entire week, as well as the Monday and Tuesday before the competition. At night, Ott would remake the cheerleading signs, in order for Kohel to easily flip them by herself.
"She was so gung-ho about it, working really hard to revamp everything," said Ott about Kohel. "I'm so proud of the work she did and how she was able to do the routine."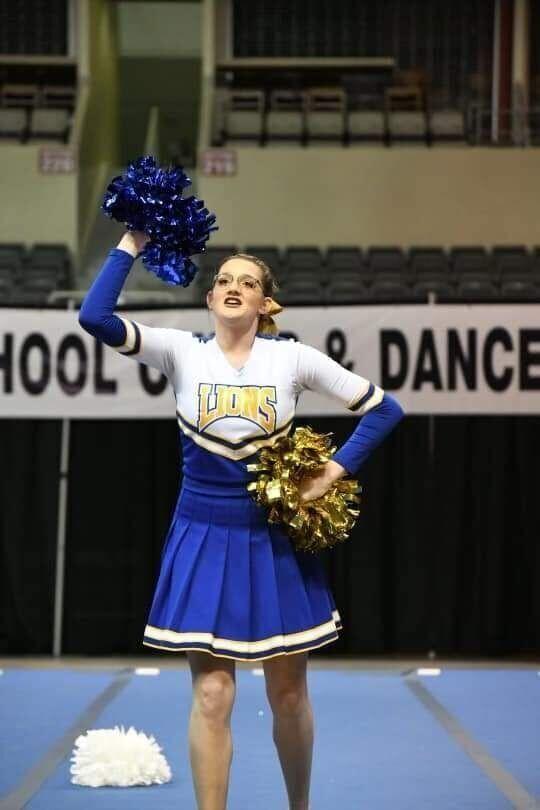 For the entire week of practice, Kohel hadn't felt nervous at all, as she was confident in the routine and her skills. She only started to worry on the day of her performance.
"I think just being in the arena it all just kinda hit me," said Kohel. "Like, this is real and this is happening."
Kohel recalls sitting in the waiting room before her performance, reassuring herself that she could do it. Though she didn't have a team this year, she had already done all of this before.
There were also many at the competition who were supporting Kohel. Individuals like Kohel's grandparents and the Bayard High School coach, an old friend of her dads, were rooting her on.
There were also other teams that rallied for Kohel. Members of the Minatare High School cheerleaders and the Mitchell High School cheerleaders were friends with Kohel.
Without the support, Kohel says she would have felt out of place performing. With the support, she was able to calm her nerves down.
"When I got out there and I heard everyone cheering, everything in my mind just cleared at that moment," said Kohel.
And so, Kohel was able to shine and perform her one-woman cheerleading routine for the entire arena. Kohel thought it was actually easier performing by herself than with a team.
"I only had to worry about myself," said Kohel. "I didn't have to worry about other people messing up, but only about if I was in line with the music."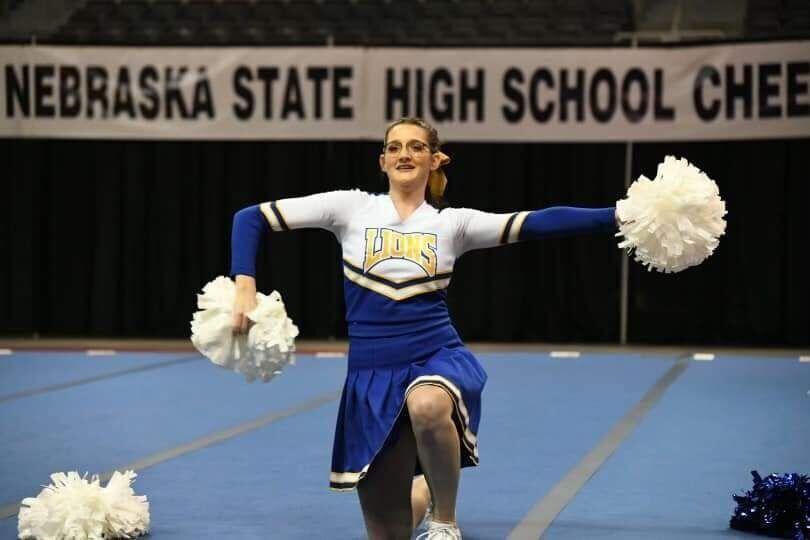 Performing in the Game Day Class D competition, Kohel managed to be placed eighth out of 12 teams, earning 77 points out of 100.
"It was the best performance," said Ott. "There was so much confidence and energy that she put into it and I could not be more proud of her."
Since the competition, Kohel has gained many online fans as people share her story. With over 850 shares, one of the most popular posts about Kohel was made by Dana Jelinek of Grand Island on Facebook. Media coverage has extended throughout Nebraska and beyond, with national and international outlets picking up the story.
Ott said the outpouring of support has been humbling, and was emotional when discussing her pride in Kohel.
When Kohel saw Jelinek's post for the first time, she felt a little weird about it. She didn't expect to get so much attention and was a little overwhelmed.
However, she is really appreciative of all the support she has recently received.
"It has been really amazing," said Kohel. "Just seeing how many people are still supporting and cheering me on even after the competition has been really heartwarming."