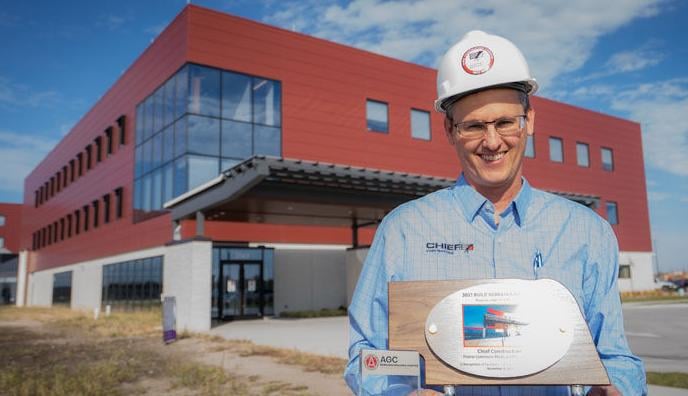 Chief Construction was honored with a 2021 Build Nebraska Award for its work on the Prairie Commons Medical Office Building in Grand Island
Chief was selected for Building of the Year for projects totaling less than $10 million. The recipients of this year's honors were announced Nov. 4 by the Nebraska Building Chapter of the Associated General Contractors of America.
Chief was honored for the building shell of the medical office building.
The 66,000-square-foot medical office building is a three-story building "overlooking Stuhr Museum to the east and beautiful rural farmland to the west," says a Chief news release. The structure houses medical clinics including Family Practice, Bryan Health's Prairie Center Internal Medicine & Nephrology, Mary Lanning Oncology, Grand Island Regional Medical Center Physical Therapy and Innovative Prosthetics.
"Each tenant worked directly with Chief Construction to make sure their space fit all of their required needs," the news release says. "This build was a huge economic benefit to the community. Utilizing many local contractors, providing jobs to hundreds of employees and being the flagship tenant at Prairie Commons. This new healthcare campus includes Grand Island Regional Medical Center and Prairie Commons Medical Office Building, giving the community an additional option for health care services, allowing for more cost-efficient options and services to patients."
Chief Construction President Roger Bullington said, "We are once again thankful for the opportunity to partner with and build award-winning projects across the state."
The AGC — Nebraska Building Chapter awards are given in recognition of excellence in the construction industry.
"These prestigious awards recognize projects selected by a panel of peer judges — construction professionals from across the United States," says the news release. "Judges evaluate projects based on innovation in methods and materials, project management, client services, challenge of a difficult job and sensitive treatment of the environment and surroundings." Projects of the Year and the Honorable Mention projects were announced in five categories.
Chief Construction, founded in 1954, is a design-build, general contracting and construction management company "focused on bringing ideas to reality," says the news release.
"Chief Construction specializes in Design-Build because it offers single-source responsibility that provides more flexibility and value-based solutions."