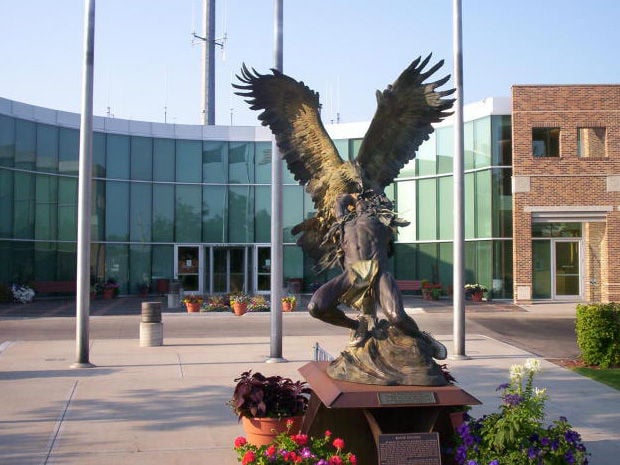 The Grand Island City Council is scheduled to vote during a meeting at 7 p.m. Tuesday on partnering with the Nebraska Department of Roads to reconfigure Stolley Park Road primarily to a three-lane road with curbside multiuse lanes.
Those multiuse lanes could be used for mail delivery, trash pickup or bicyclists, said John Collins, Grand Island public works director. The 5-foot-wide multiuse lanes could not be used for parking, driving or passing other vehicles.
Stolley Park Road is currently primarily a two-lane road between Highway 281 and South Locust Street.
By partnering with the state, the city qualifies for a Federal Aid Transportation Safety project, meaning that federal funds could be provided to cover as much as 90 percent of the $1.39 million project.
Grand Island would then need to provide about $169,000 in matching funds, of which nearly $36,000 of engineering costs have already been expended, Assistant Public Works Director Terry Brown said.
Brown and Collins said there have been numerous complaints about Stolley Park Road during the past three decades. It was widened to four lanes from South Locust Street to Blaine in 1978 and from Blaine to Highway 281 in 1983, but the outside lanes have never been open to traffic, even as traffic volume has increased from 7,300 a day in 1978 to more than 12,000 a day today.
Stolley Park Road has stayed primarily two lanes because of homeowners there objecting to the road carrying four lanes of traffic and becoming too busy, reducing property values and increasing risks.
But earlier this year, Collins made a presentation to the council asking to reconfigure Stolley Park Road because of the number of rear-end collisions due to turning traffic, vehicles using the outside lanes to pass, vehicles driving in the outside lanes as though they were travel lanes and the creation of vehicle/pedestrian hazards around Stolley Park Elementary School and Barr Middle School.
The Public Works Department recommended the city convert Stolley Park Road to what is called a "complete" street design. That would allow for the existing two travel lanes for east/west traffic, a center turn lane to reduce the number of rear-end accidents and two bike lanes — each 5 feet wide — on the outside.
"These (bike lanes) are not intended for kids," Collins said. "They are for getting from Point A to Point B. ... They are commuter lanes or professional bike lanes."
However, he said there was some pushback earlier this year from the city council about the bike lanes, so the department has decided to opt for "multiuse lanes" instead.
"The 5-foot lane is just a shoulder and can be used like any other," he said.
Although the space for the lanes will still be in place, they will not be striped as bicycle lanes, Collins said.
Final design on the reconfiguration of Stolley Park Road still has to be worked out with the Nebraska Department of Roads, he said. The main purpose for the vote on Tuesday is to be able to obtain federal funds for the city project.
In other action on Tuesday, the city council is to:
n Hold a public hearing and take action on a conditional use permit to allow three modular classroom buildings to be placed at Shoemaker Elementary School, 4160 W. Old Potash Highway, while existing classrooms are renovated.
n Extend the completion date for the South Blaine Street bridge replacement project to April 29, 2016. The project was first proposed to be done by Aug. 1, then was delayed to Nov. 30 and now has been delayed a second time due to weather and scheduling conflicts.
n Replace eight marked police cars with 2016 Police Interceptor utility vehicles from Anderson Auto Group for $225,640, plus replace a criminal investigation vehicle and an administration vehicle. Total cost of all vehicles is $264,623.
n Order a Braun Type III ambulance for $218,540. Delivery is expected in 250 days. The ambulance will replace an existing ambulance with 107,778 miles and 7,391 hours of operation.
n Appoint Derek Apfel and John Hoggatt and reappoint Dean Sears to the interjurisdictional planning commission to address zoning issues that affect Grand Island and Merrick County.
n Appoint Jerry Huismann to the Zoning Board of Adjustment.