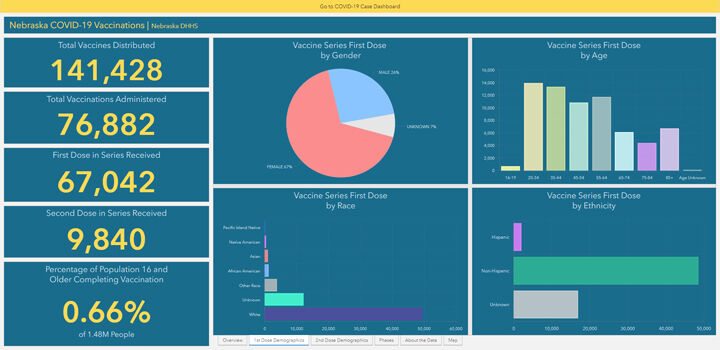 How much COVID-19 vaccine has been distributed in Nebraska, and to how many people?
Nebraska Department of Health and Human Services has launched an online COVID-19 vaccine tracker to provide those figures to the community.
The data comes from the state's immunization registry system, Ashley Newmyer, Nebraska DHHS chief data strategist, told the Independent.
The online dashboard only tracks COVID-19 vaccine distribution.
Since Dec. 15, 141,428 doses of the vaccine have been distributed across Nebraska.
"We don't have a central location necessarily that they're shipped to," Newmyer said.
"After they're allocated they're actually shipped from the product providers to those sites in Nebraska that will be doing the distribution and administration."
As of Monday, 76,882 total vaccinations have been administered.
That includes 67,042 first doses and 9,840 second doses.
As such, 0.66% of the state's 1.48 million population have completed the vaccine.
"We're expecting to see that continue to increase, and that's encouraging," Newmyer said.
The dashboard shows daily new vaccinations administered.
"We do have about a 24- or 36-hour lag before we post these numbers," Newmyer said. "That's slightly different from our COVID case dashboard, which does not have as much of a lag time as our vaccine dashboard does."
It also shows the total number of vaccine doses that have been administered since December.
Demographics for first dose recipients are on a separate tab of the dashboard.
Of those who have had the first dose, 67% are female, and the majority of recipients, nearly 50,000, have been white.
The majority of all vaccines have been given to ages 20-34 and 35-44.
The first wave of vaccine (Phase 1A) has been given to emergency personnel, medical staff and school nurses, among a few other groups.
There is a difference in the number of vaccine doses distributed and the number administered, Newmyer noted.
"We are just coming off the holidays, so we did have a holiday lull, but over the last couple of days it has picked up and we expect it to continue to pick up," she said.
Also, health care workforce vaccination is being staggered.
"It's common to run fevers and things like that, so it's important to stagger that distribution," Newmyer said.
A timeline for distribution is included on the dashboard.
Phase 1B, which includes ages 75-plus, and other essential and government workers, starts in mid-January.
Phase 1C, for ages 65-74 and those with high-risk medical conditions, starts in March.
Phase 2, for the general population, is scheduled to begin in May.
"Production is being done as quickly as it can be. It's being administered all across the country and to other countries, so we're only getting a certain amount in every week," Newmyer said. "For that reason, we have to roll this out as phases and have priority groups."
The same team that created the state's dashboard tracking COVID-19 cases created the vaccine tracker, she said.
"We learned a lot from deploying that first dashboard, so deploying this one was a little easier, just because we had that experience," she said.
Creating a tracker for the state and its communities allows the DHHS to show the daily progress being made in distributing the vaccine, Newmyer said.
It also helps the state to encourage people to take the vaccine.
"Please go out and seek the vaccine," she said, "because it's a very important way to help us end the COVID response."