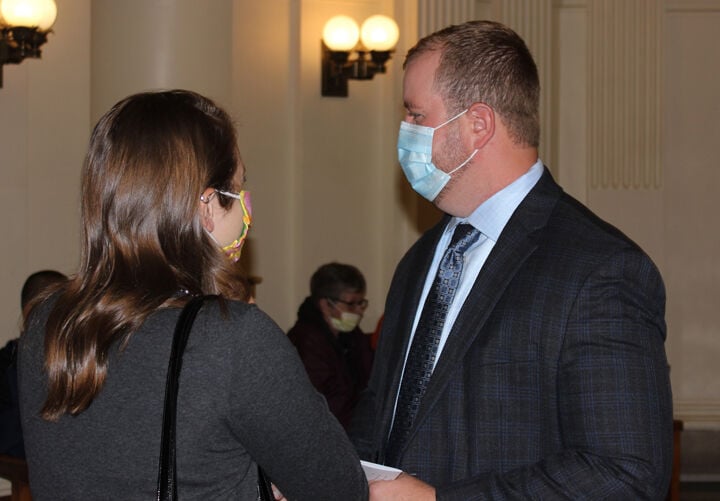 Former Nebraska State Fair Chief Financial Officer Patrick Kopke, accused of stealing money from the fair last year, was arraigned Wednesday afternoon in Hall County Court.
Kopke has been charged with three counts of theft by unlawful taking totaling $5,000 or more, which is a Class 2A felony that carries a possible punishment of as long as 20 years in prison.
Kopke is represented by Lincoln attorney Justin Kalemkiarian.
"At this point, these are mere charges. He has not been found guilty of any crime," Kalemkiarian said after the arraignment. "And we look forward to vigorously defending his rights in court, and make sure that justice is done here."
Kopke, 29, declined to comment outside the courtroom.
Prosecuting the case Wednesday were Zack Blackman and Gail VerMaas of the Nebraska attorney general's office.
The prosecutors asked Judge Alfred Corey that bond be set for Kopke. Blackman said that Kopke is attempting to sell his farm in Howard County and that he represents a flight risk.
Kalemkiarian asked that his client be released on a personal recognizance bond.
Kopke, he said, lives in Hastings and has a job. He has relatives in the area, significant ties to the community and has little to no criminal history.
Kopke, who is not in custody, promised law enforcement that he would appear at the arraignment and made good on his promise, Kalemkiarian said.
"If he were going to flee, it would have been a long time ago," he told Corey.
The judge released Kopke on recognizance, but directed the defendant to be fingerprinted at Hall County Jail and ordered him not to seek a passport.
Corey scheduled Kopke's preliminary hearing for 2:30 p.m. Oct. 29.
In July, the Nebraska state auditor detailed multiple "possible concerns" with State Fair finances in a letter sent to the Nebraska State Fair Board.
While stating that a preliminary review did not indicate a need for a separate audit, the state auditor's office noted "certain internal control issues."
Of particular concern, the letter said, were two State Fair checks totaling $149,415.60 made to RKBB Enterprises LLC in 2019 and several charges made with State Fair credit cards.
RKBB Enterprises was incorporated by Kopke in May 2019 shortly before the two checks were issued to the company.
The Nebraska Auditor of Public Accounts wrote in the letter to the fair board that they "requested support from the State Fair for these two checks; however, no invoices or other documentation was found for the amounts paid. Likewise, no explanation for the reason(s) of the payments could be provided."
Kopke resigned as CFO from the State Fair last November.
Sign up for our Crime & Courts newsletter
Get the latest in local public safety news with this weekly email.