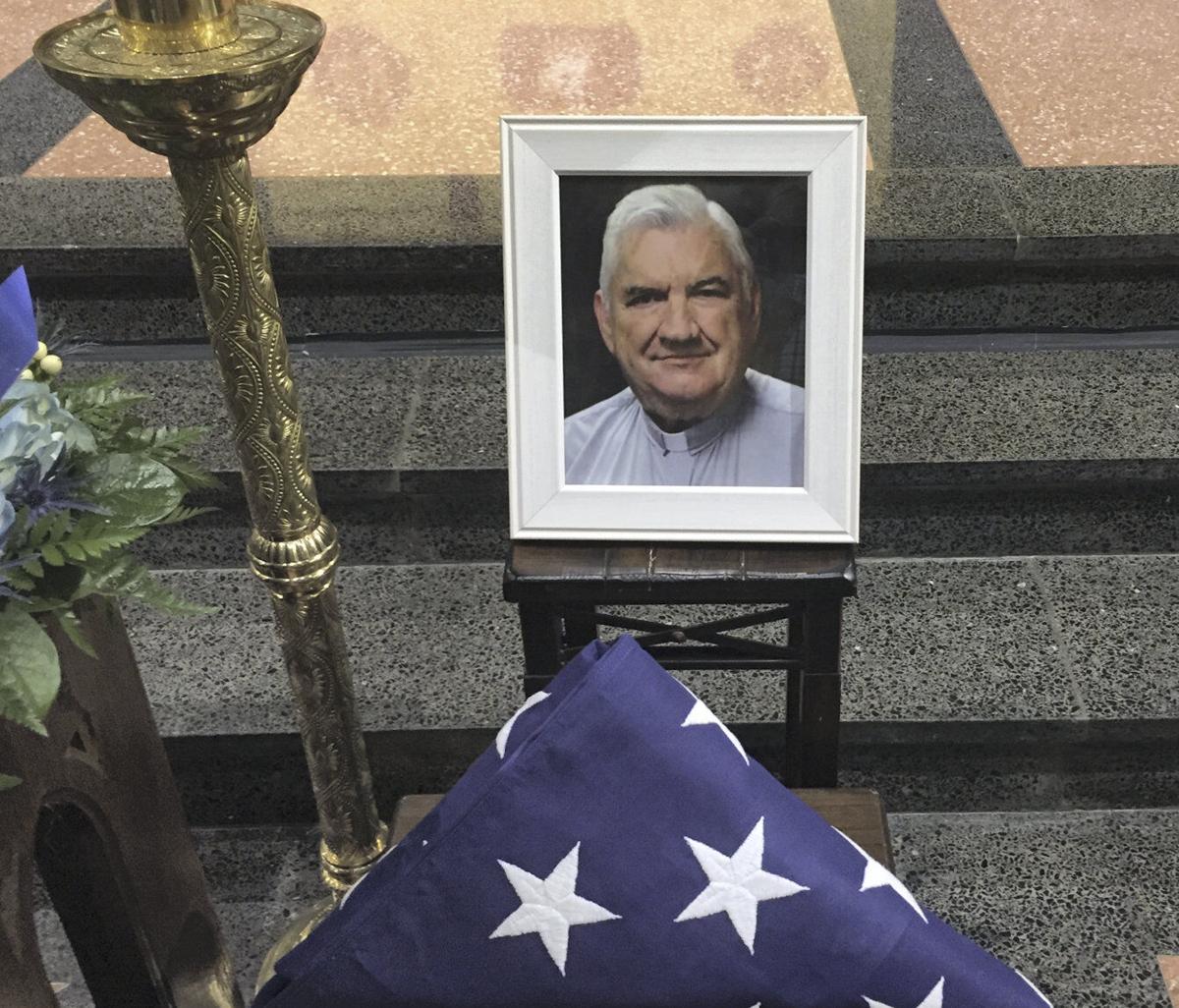 Robert Puhalla Sr., a permanent deacon at St. Mary's Cathedral who died Sept 29 of COVID-19, was a busy and popular man.
Puhalla, who was 73, was at the church seven days a week. He often delivered the homily at daily Mass, which begins at 7 a.m.
After Mass, he would have breakfast with his church friends at the Cow Palace. Later in the morning, he took his dog, Gracie, on a two-mile walk.
His daughters, Ann Marie Pedersen and Keisha Mudloff, say he was unpredictable and always on the go. He didn't like to sit still.
"We just didn't ever know what to expect from him next," Pedersen said.
Puhalla liked to do household projects. His latest job was rebuilding a gazebo that he'd built for his wife, Susan, in 1995. She died in 2016.
He liked helping couples prepare for baptism.
His upbringing on a dairy farm near Steinauer made Puhalla accustomed to getting up early.
When he was a young man, he enlisted in the U.S. Army, and served about a year in Vietnam.
Puhalla, his wife and their three children moved to Grand Island in 1981.
Puhalla was ordained a deacon in 2010, when he was 62.
In 2018, he retired from his job as a computer programmer for Cash-Wa Distributing in Kearney.
When the Rev. Jim Golka started at St. Mary's more than four years ago, he knew only a few things about Puhalla.
But as they worked together, the priest learned more about the deacon and became "fascinated by his life," Golka said at Puhalla's funeral Mass on Oct. 16.
Among other things, Puhalla volunteered for the Army "so that his brother would not have to be drafted," Golka said.
In the Army, "he became a trained LPN. He jumped out of helicopters in Vietnam battlefields to care for people," Golka said. "He's a trained and certified sniper (and) a very able pilot who flew his plane almost weekly."
At the Veterans Affairs Medical Center, he took Tai chi and chair yoga classes.
"He participated in a drumming circle for cardio strength," Golka said at the funeral.
Puhalla was a member of a clogging group for older adults, which met every Tuesday evening. "He was light on his feet," Golka said.
Puhalla regularly took a grandson to the shooting range.
In addition, "he was an experienced and experimental cook, especially with his Instapot," Golka said. "While working at computer programming, he also delivered newspapers to earn extra money so he could take his family on their annual vacation."
"He was a hard worker," Mudloff said. "He did everything he could to take care of us."
"After he retired, he contributed countless hours of service, and not just here at St. Mary's Cathedral but in our community," Golka said during the funeral.
He volunteered at CHI Health St. Francis as a chaplain.
After he retired, Puhalla began to open the church each morning before 6 a.m. He would walk around the inside of the church, looking to see if anything was amiss. Then he prepared everything for the morning Mass.
"I came to learn that this is no ordinary computer programmer turned permanent deacon. This is a unique man and a gift of God," Golka said at the funeral.
After Puhalla had everything prepared for daily Mass, he would sit in the deacon's chair "and pray his rosary for us every day," Golka said.
Puhalla and his wife were married July 12, 1969.
Since her death, at least a twice a month, "we were offering Mass for Susan Puhalla," Golka said. The deacon took flowers to her grave regularly. "And we pray that they're united forever," Golka said.
"He really loved my mom," Pedersen said.
In Greek, the word deacon refers to someone who moves about so thoroughly to help people that he raises dust behind him.
"I didn't see that in Deacon Robert all the time," Golka said. "I didn't see him moving quickly. But I saw him moving immediately to serve people wherever and whenever he could."
Puhalla loved being a deacon, his daughters said.
"He was a good man — loved his church and family," Mudloff said.
The oldest child, Mudloff lives in Grand Island. Pedersen lives in Shelton. Their brother, Robert Puhalla Jr., lives in Lincoln. The deacon left behind seven grandchildren.
Among other things, Puhalla liked to fish at Mormon Island State Recreation Area and Windmill State Park near Gibbon. He was involved in Toastmasters for many years.
"He was so smart. He knew something about everything," Pedersen said. He could handle electrical and plumbing work, and even knew something about surveying.
It was only in recent years that Puhalla talked about his time in Vietnam. "Before that, it was just a totally taboo subject in our home," Pedersen said.
On Sept. 13, after helping with three confirmations in one day, Puhalla's knees hurt. He figured he'd been standing too long that day.
His body aches continued. He became feverish and dehydrated.
On Sept. 15, the family called an ambulance. The next day, he was diagnosed with COVID-19.
On Sept. 20, "He was eating. I had taken him some food," Mudloff said. "And he started to fall asleep in his chair."
After going to the bathroom, he laid down. "And then he just crashed," Mudloff said.
He didn't fall down, but "he couldn't breathe. The alarms were going off. The nurses were flipping him" onto his stomach, she said.
Puhalla was taken to the ICU, "where they got him stabilized," Mudloff said. They put him on oxygen that day and started remdesivir and plasma treatments.
On Tuesday, Sept. 22, doctors put Puhalla on high-flow oxygen. "And it just got worse every day," Mudloff said.
The last time Mudloff talked to him was Friday, Sept. 25.
He went on a ventilator the next day. "And that was it. He just never got better," Mudloff said.
He struggled terribly in his final days.
"He didn't deserve this," said Mudloff, who was diagnosed with COVID-19 the day her father died.
Members of the Puhalla family are big believers in wearing facemasks.
"This was unexpected. This was not necessary," Mudloff said of her father's death. "Wear your mask."
Pedersen added wash your hands and avoid crowds.
Of the 60 parishioners who've died at St. Mary's this year, 12 were due to COVID-19.
"Pray for our nurses and doctors, because they need it," Mudloff said.
"COVID's not a joke. It needs to be taken seriously," Pedersen said.
It's not political, and it won't disappear after the election, she said.
"Everybody needs to keep their families from going through this heartbreak."