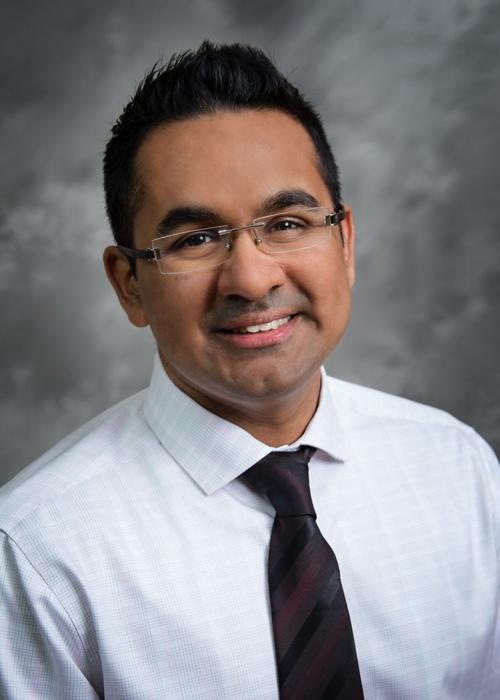 A CHI Health St. Francis pulmonologist recommends people get flu shots because it's possible to have both COVID-19 and influenza at the same time.
The flu can be difficult for people with underlying conditions and those who are predisposed toward getting ill, said Dr. Nikhil Jagan, who is part of the critical care team at the Grand Island hospital.
Underlying lung disease and heart disease tend to be exacerbated by the flu. Potential problems increase when tacking on a pandemic, Jagan said.
But he pointed out that measures such as masking and social distancing help people avoid the flu, as well as COVID-19. If people follow health guidelines, "hopefully we can have a milder flu season," he said.
Jagan is also a big believer in testing. If people are short of breath, have a fever, feel tired or have other flulike symptoms, "it's important to get tested," he said.
In a Zoom conversation Wednesday, he talked about the first surge of coronavirus in March and April, and the recent rebound in the number of cases.
Success in treating COVID-19 patients is due to a combination of factors rather than a specific game-changer, he said.
CHI Health continues to use remdesivir and steroids with people who need oxygen, as well as convalescent plasma. Doctors also recommend self-proning, a practice in which hospitalized patients lie on their stomachs.
"And a lot of them have found benefit from this," Jagan said.
Doctors also are using methods that prevent patients from having to go on ventilators.
Patients are coming in at earlier stages the disease than they were in the spring. Back then, many people waited before they came in, arriving very sick "with very low oxygen levels," Jagan said. That's why health care workers had to quickly put those people on ventilators.
When the virus arrived on the scene, there were "a lot of unknowns about what exactly we were doing and what exactly can be done," he said.
Although progress has been made, the medical world still doesn't know all there is to know about the virus, Jagan said.
During the initial surge, doctors weren't using remdesivir on all of the patients with oxygen needs. The use of remdesivir became more common as the wave progressed.
Doctors are also using Decadron, whose generic name is dexamethasone.
In addition to these medications, Jagan credits self-proning and different ways of delivering oxygen to the patients.
During the initial surge, the CHI Health Transfer Center in Omaha was also a "phenomenal resource" in moving patients among hospitals, he said. That facility transferred patients among all hospitals, not just CHI Health facilities.
Some people who had COVID-19 earlier in the year have recovered well. But Jagan also has a fair number of patients who have lingering symptoms of feeling short of breath, being fatigued and are "just not back to the baseline of where they were pre-COVID."
The symptoms are not as bad as when they were hospitalized. Nevertheless, many people are working hard trying to get back to where they were before COVID-19 hit.
Staying ahead of infections
Jagan agreed that the infection rate is going up for younger people. But he hasn't seen many of those people in the hospital as of yet.
He was asked whether he thought he would be battling COVID-19 six or seven months after the first wave.
Jagan said there was always talk about a second surge.
Fortunately, when he sits down with his colleagues, they are always planning and trying to stay ahead.
"Obviously, we all hoped that it wouldn't happen, but, yes, there was always talk and anticipation about that happening," he said, referring to a second wave.
Jagan doesn't know how long the virus will be a problem. But he is "cautiously optimistic" that an effective vaccine will be found.
Medical professionals know that "everybody is going through it — not just here, not just in other states. It's all around the world. So every single person is affected by COVID in some way or the other," he said.
Health care workers know "we've got the ability to make a difference and help people, and I think that's kind of what keeps all of us going."
The St. Francis staff is holding up well and is ready to take care of patients, Jagan said. Health care workers have demonstrated "tremendous teamwork" and a "caring ability to make sure that we do our best with every single patient that we see."
Get local news delivered to your inbox!
Subscribe to our Daily Headlines newsletter.