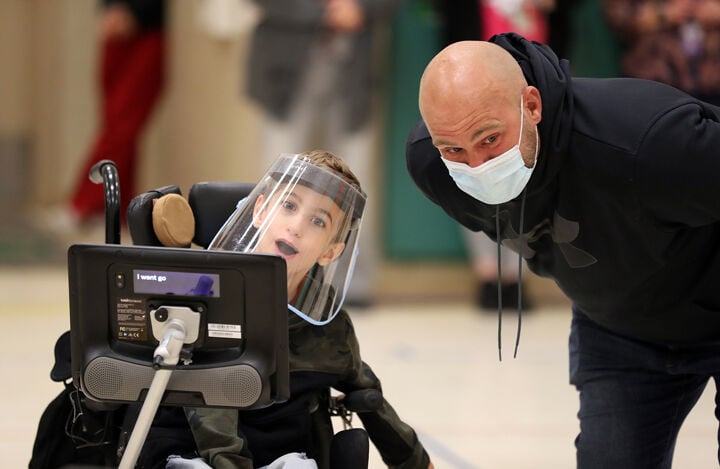 Ian Thompson, a second-grader at Dodge Elementary School, has sometimes had trouble getting around in his manual wheelchair.
He'll have much less difficulty now that he has a power wheelchair.
Ian, 8, was surprised with the new wheelchair Monday afternoon in the Dodge gymnasium. He was also presented with a new gait trainer.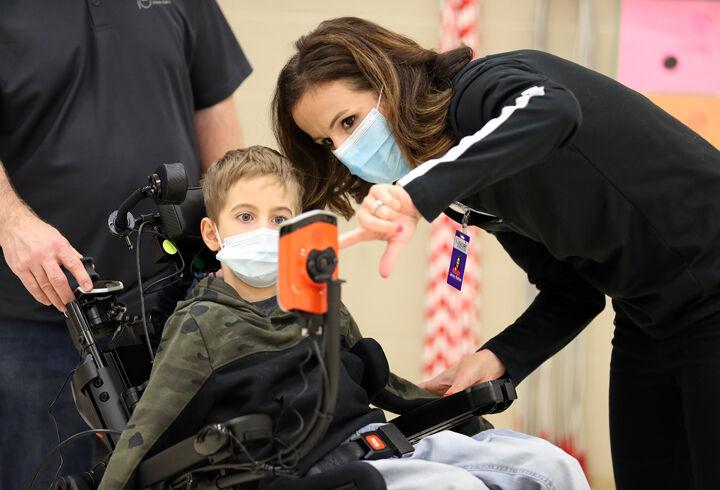 Nineteen people, including 14 of his classmates, held up letters that read "Congratulations Ian!" at the presentation. Some of the letters were held up by his siblings: Connor, 15, Kane, 13, and Mila, 11. The group also held up balloons in the Dodge school colors, purple and yellow.
Ian, who has cerebral palsy, has never been able to walk.
His mother, Cora Rush, said she was excited about the independence the wheelchair will give him.
Ian's father, Franklin Thompson, said the gift of the motorized wheelchair is "a really big step" for his son.
"Throughout his whole life, he's dependent on other people to get him to where he wants to go," Thompson said.
With the wheelchair, "I'm really hoping that he gains a sense of self-worth and independence — that he can do these things by himself," he said.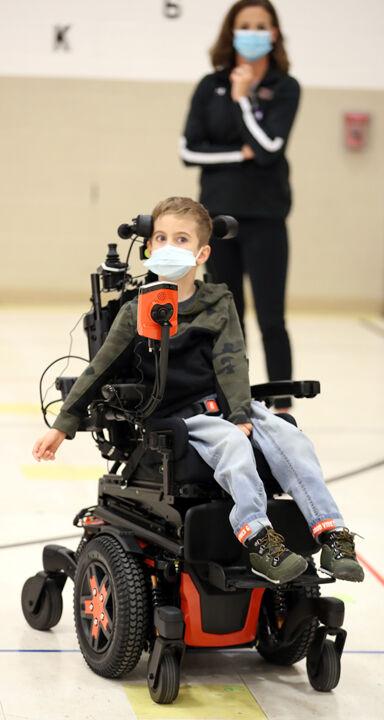 Instead of being worried about his son's inability to go places, "Maybe Dad can go outside for a minute and he'll be OK, because he can maneuver where he needs to go," Thompson said.
Jenny Rother, a physical therapist for Grand Island Public Schools, said the chair means "freedom" to Ian.
"It gives him the ability to go anywhere he wants and to be independent," Rother said.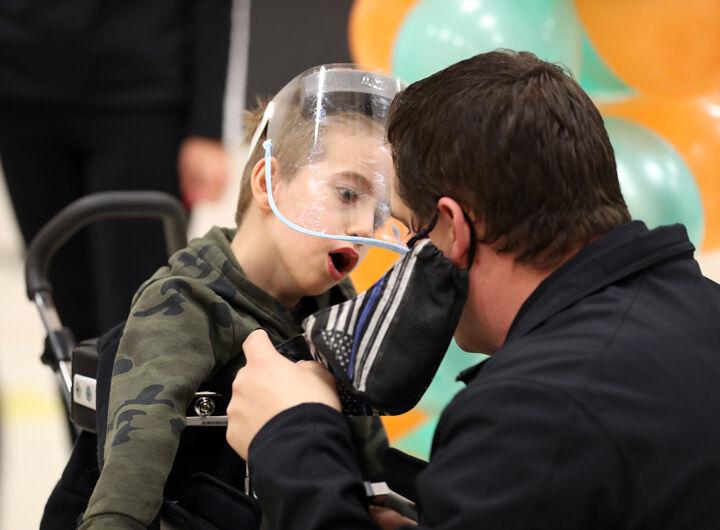 Ian can control the chair with a head switch. A lot of technology is built into the new chair, she said.
"He can raise himself up higher, and he can also tilt himself back. So it makes it more comfortable when he's in the chair throughout the day," Rother said.
The motorized wheelchair and gait trainer were provided at no cost to Ian's family.
The Quantum wheelchair has a retail cost of $30,000. The gait trainer has a normal cost of $6,500. Agreements between the insurance company and manufacturers lessened the cost of the devices.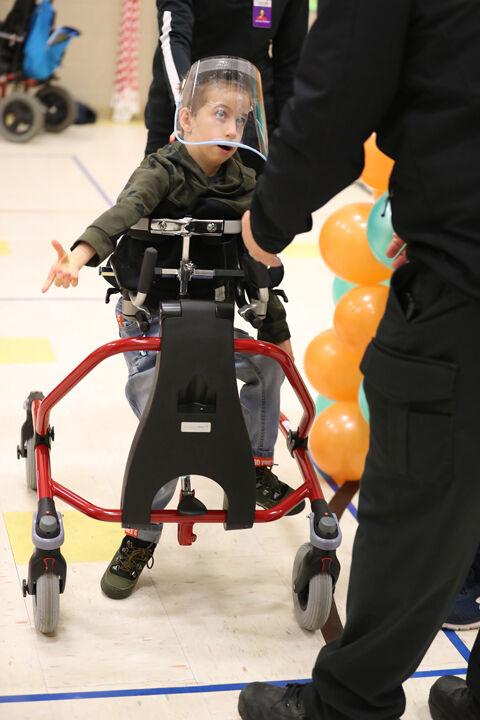 Rother was "a big help" in getting the wheelchair and gait trainer, Rush said.
For more than three years, "we've been fighting for this," she said. The family had been rejected three times by the insurance company. But Rother kept at it.
"Miss Rother has been amazing," Rush said.
Rother kept pushing and resubmitting the application, Thompson said.
"So, yeah, she was a major player in getting this," he said.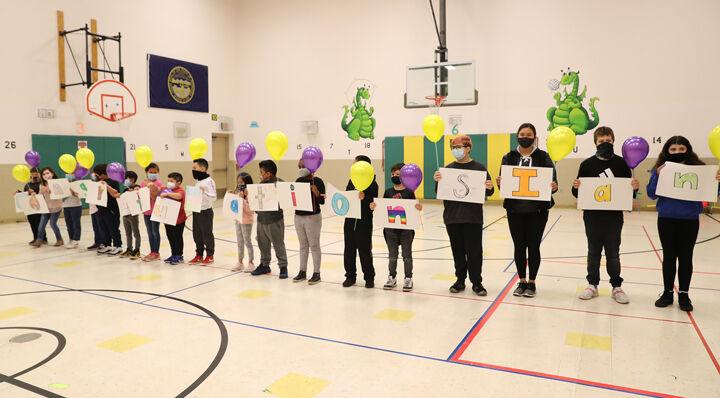 "Yeah, it was quite the process with the paperwork through the insurance. But I'm just so happy that it ended with a chair," Rother said.
The process took about two years.
"It usually doesn't take that long," Rother said.
Until Monday, Ian had been using a loaner manual wheelchair, which was donated by a Grand Island family, she said.
Thompson said he was grateful to "all the people that really worked really hard for this." He doesn't know the names of all of the people who helped.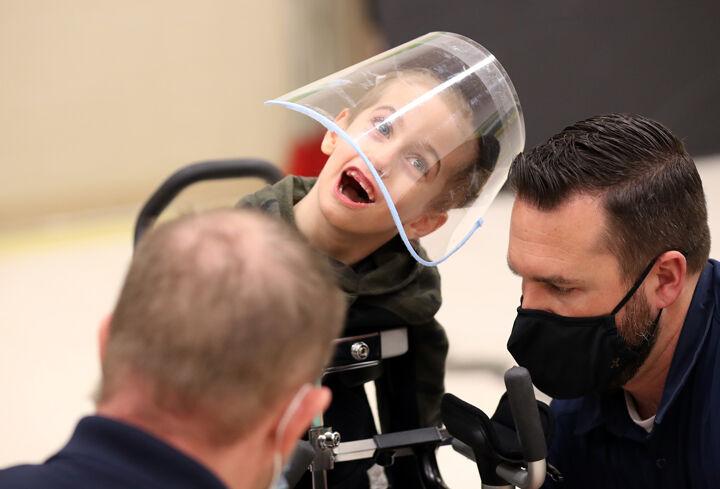 That assistance was "a little overwhelming," he said. "There's a lot of really good people in this town. It's really neat to see them all come together just for one boy."
Ian's uncle, Greg Thompson, said he is "super-excited for the little guy. He has challenges that most of us don't have to deal with."
Greg Thompson added that Ian is "such a fun-loving kid."
Rush said her son is happiest when he's "playing with the other kids."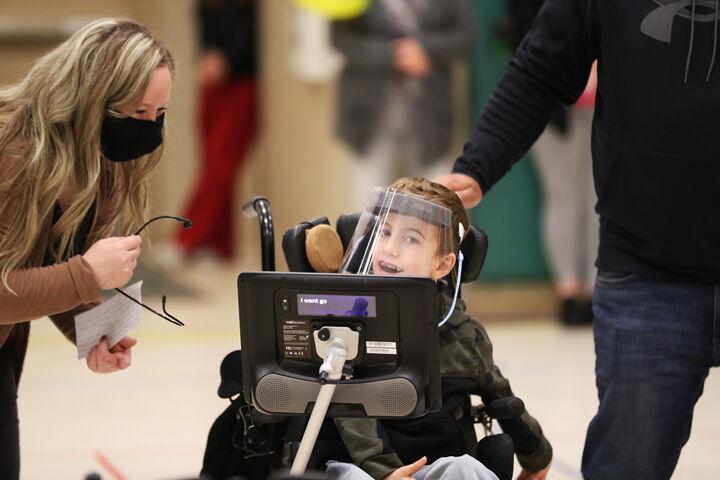 Ian, who is nonverbal, has attended Dodge since kindergarten.
One of his teachers, Chelesa Sonderup, read a statement at the start of the ceremony. She told Ian he has made a lot of progress this year, and the two gifts will hopefully lead to more progress.