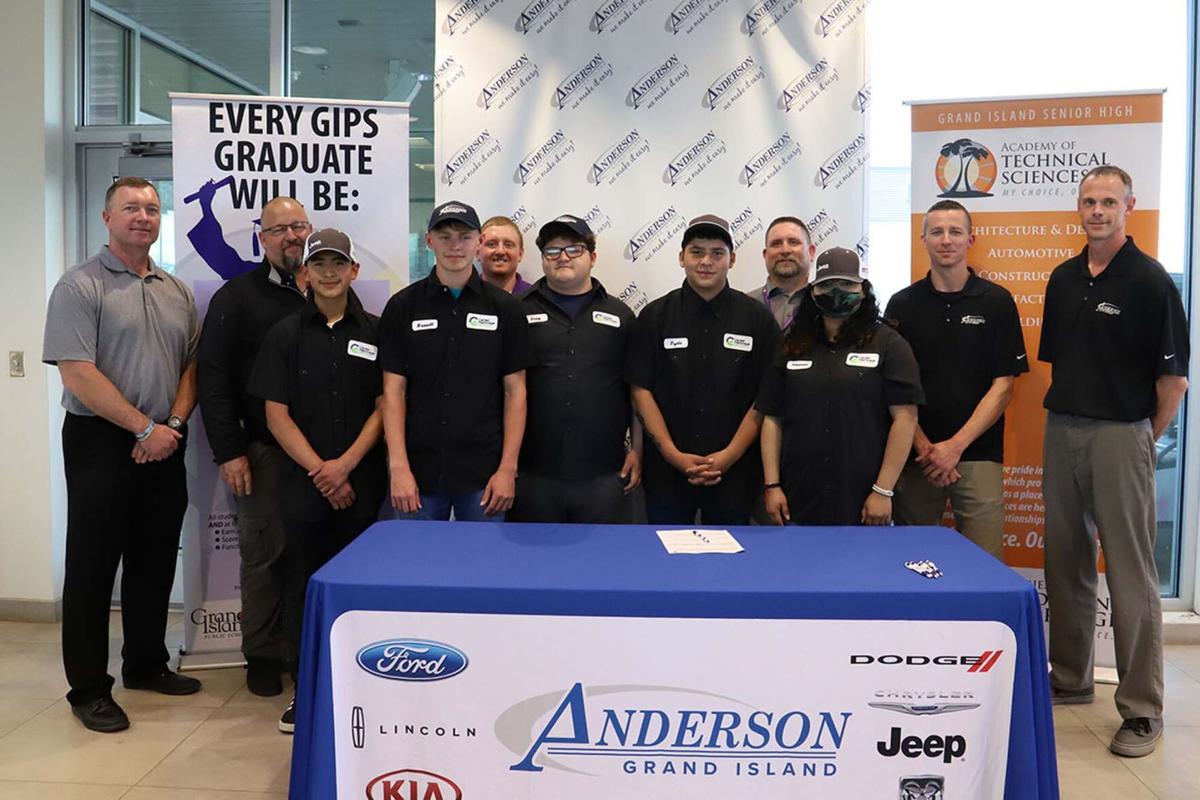 Thursday, a group of talented students signed their letters of intent in front of an audience snapping photos with their smartphones, cheering and offering handshakes of congratulations.
This was more than your average signing event, however: the letters of intent were signed by current students from Grand Island Senior High Academy of Technical Sciences securing spots for automotive technology apprenticeships at Anderson Auto Group's Ford and Chrysler Dodge Jeep Ram dealerships in Grand Island.
Participating in the registered apprenticeship program, now in its third year, are Ricardo Pablo Ramirez, Brodrick Brandt, Deny Gamboa, Ezale Cruz Endecott, Adamaris Pereza and Ramadan Ahmed. The students will be honing their already acquired skills and learning new ones in their upcoming roles.
The registered apprenticeships make students — even at the ages of 16 or 17 — eligible for hiring, said academy Principal D.W. Holley.
Holley said the process starts with sophomore foundation training — in this case, in the school's automotive pathway. By committing to the apprenticeships, this year's six Anderson additions will be taking their education to another level, Holley said.
"It's really real-world application. We take these students and set them free, somewhat," Holley said. "We're putting them in the trusting hands of Anderson."
Deb Hulinsky, people resource representative at Anderson, said the partnership is truly that.
"We've worked with CPI (internship program) … our general manager and they kind of got this started," Hulinsky said. "We organized and collaborated with the school."
The collaboration incorporates an application process not completely unlike a job interview.
Prospective interns from the academy sat down for interviews and also received presentations about the opportunities at Anderson.
Anderson employees also talked with teachers at the academy, looking for the perfect fit.
Ramirez, Brandt, Gamboa, Endecott, Pereza and Ahmed made the cut out of a competitive applicant pool.
"We had a lot of kids apply," Hulinsky said.
Holley said the students' signing is something to be proud of and an opportunity for the Anderson dealerships, too.
"It's a huge accomplishment for them, and big opportunity for Anderson as well because they kind of get to grow their own (employees)."
Hulinsky said the number of hired interns was carefully planned in ways besides the application process itself, taking into careful consideration the number of interns coordinated with Anderson's employees to ensure students get the training they need without overwhelming the dealerships' auto technicians.
Mike Anderson, who owns both of Grand Island's Anderson dealerships, told the students: "Being an auto technician is one of the most sought-after roles in our industry. We're really excited for you to come here and be a part of our organization and learn about how we do things here and get some real-world experience."
The apprenticeships' real-world experience lasts through the summer and beyond — 18 months, usually, Holley said.
Still, there's more school work on the horizon for these students as they embark on the automotive pathway. They still have advanced coursework to complete as they proceed through their senior year.
Following the internship, the students do not necessarily have to become automotive technicians, but the internship experience plays an important role in whether being an automotive technician is what they want to pursue.
Many past interns have found the career is right for them, including one of dealership's current technicians, Hulinsky said.
"We have one guy still here who started in this program," she said. "It's cool to watch."
Mike Anderson said the dealership recently celebrated an employee who at one time wasn't much different from the students putting their pens to paper Thursday.
"Two weeks ago we celebrated a gentleman who just retired with us," Anderson said. "He was here almost 46 years as a technician, starting out basically where you guys are right now."
Mike Anderson said the internships are far more than providing hands-on technical expertise — there are also life lessons to be learned.
Besides loyalty, elements of being a good employee beyond the technical are taught and experienced, he said. "One of our core values is this whole idea of that because people matter, we try to treat everyone the way they want to be treated."
After the forms were filled out, family members and dealership employees posed with students for a photo opportunity fit for a pro sports draft.
Ford and Jeep ball caps resting comfortably on the new commits' heads, the pens had been put to paper — now it's time to put the rubber to the road.
Jessica Votipka is the education reporter at the Grand Island Independent. She can be reached at 308-381-5420.