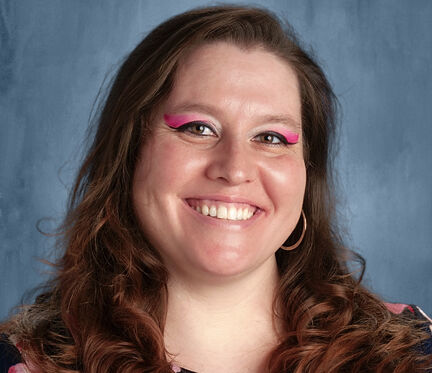 Two teachers from Grand Island Public Schools have been honored with 2020-21 Nebraska College Preparatory Teacher of the Year Awards.
Barr Middle School teacher Jessa Yager has been named the 2020-21 Nebraska College Preparatory Middle School Teacher of the Year.
Yager is a seventh-grade social studies teacher and school yearbook adviser. She joined the GIPS faculty in the 2014-15 school year — her first teaching job. Yager has an associate's degree in liberal arts, as well as a minor in psychology, and a minor in art from AIMS Community College at Greeley, Colo. She also has earned two bachelor's degrees from the University of Nebraska at Kearney — elementary education and middle school education with endorsements in social studies and language arts.
Yager is originally from Eaton, Colo. She moved to Nebraska in 2006.
"I'm incredibly humbled and honored that my past students think so highly of me," Yager said. "They know they are my 'kiddos for life' because each year I express how I am now their teacher for life and a person they can count on for years to come."
She has led students on the path to college via NCPA, which is a college access program for academically talented, first-generation, low-income students.
"I have written so many NCPA recommendation letters I've lost count, and seeing so many of them receive scholarships and guidance through the program is reward enough," Yager said.
She said working as a pandemic-era hybrid teacher makes the award mean even more.
"Being a hybrid teacher in this pandemic year has filled me full of doubt, frustration and exhaustion as I've attempted to reach my in-person and virtual students in the same effective ways as years past," Yager said. "I am blessed to have such thoughtful students — past and present — who care enough to recognize all my efforts for reaching their potential. This award has truly energized me to feel like 'me' again."
Volunteer work led her to a career in education.
"I hadn't planned on becoming a teacher but my continual volunteer work with children made me realize I had to go back to college and get my teaching certificate so that I could have my own classroom," Yager said.
Barr Middle School Principal Josué Covarrubias described Yager as "a phenomenal teacher who is a great advocate for our students and is extremely deserving of this award."
Grand Island Senior High teacher Tracy Jakubowski has been named the 2020-21 NCPA High School Teacher of the Year.
Jakubowski has taught American history at GISH since 2015, but her teaching career at GIPS goes back even further; Jakubowski student taught at Walnut Middle School (GIPS). Upon graduating from UNK, the district hired her as an English and social studies teacher. She taught in that capacity at Walnut for six years, then changed roles to become an integration specialist at West Lawn Elementary School. Still, she missed working with teenagers and eventually landed at GISH in 2015.
Jakubowski said being honored by NCPA has special meaning to her, as she has helped connect her students with the program.
"From writing nominations for eighth graders when I taught at Walnut Middle School to supporting NCPA students in my classroom at GISH, I have seen firsthand the opportunities the academy provides for our kids," she said. "Being nominated and chosen as NCPA's High School Teacher of the Year means so much because it comes from the students and they are the reason we do what we do."
Making connections with her students is essential to being a teacher, Jakubowski said.
"Throughout my career in education, I have learned that the foundation of teaching is forming solid relationships and for kids to feel like they have someone in their corner; this award reaffirms that they feel supported and that is what matters," she said.
Grand Island Senior High School Executive Principal Jeff Gilbertson said Jakubowski's recognition is "well-deserved."
"I am very proud of Mrs. Jakubowski and the impact she has had on so many of our students," Gilbertson said. "Mrs. Jakubowski is a tireless worker and a remarkable leader. We are honored to have her at GISH."
Nominations for the teaching awards are provided by NCPA scholars and submitted for review. According to the NCPA website: "The Nebraska College Preparatory Academy (NCPA) is an innovative college access program that prepares academically talented, first-generation, low-income students in grades 9-12 for college and their future careers. NCPA scholars who successfully complete NCPA high school requirements have access to the support of a community of peers, academic support and personal development opportunities throughout college. NCPA's college scholars also receive full financial assistance to pay the cost of college, including tuition, books, room and board, and fees."