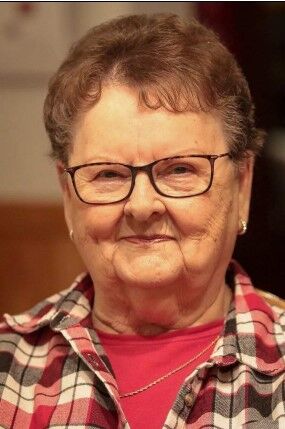 Larry Rauert said that his mother, Carroll Rauert, may not have been a household name to Grand Islanders, but her drawing is.
Carroll Rauert, 87, of Grand Island passed away Jan. 21 after a battle against COVID-19. Larry Rauert said his mother will be remembered for winning a Grand Island Senior High student art contest in 1951 where she drew the now iconic drawing of two palm trees on an island. The drawing has been the GISH logo since 1952.
"The logo is still used today. Over the years, the city of Grand Island used it, as well as several businesses," Larry Rauert said. "The old girl passed now, but she did something that has touched the lives of every student that went through the Grand Island Public Schools system."
Carroll Rauert told The Islander — GISH's student newspaper — in a Dec. 13, 2013, article that the contest was commissioned by GISH's coaches who were looking for a school logo. The article said Patricia Jelinek, the GISH art teacher at the time, explained the purpose of the contest to Carroll Rauert and her classmates, what the coaches were looking for in a logo and what was required for the symbol.
"The teacher told us what the coach wanted," Carroll Rauert told The Islander. "They didn't want something too involved and the idea sort of just evolved."
She said students were given three class periods to design a logo to enter in the contest and also were given instructions on how to revise it to better fit the criteria as needed. When the contest was over, then-coach Jerry Lee chose her design as the winner.
"The logo wasn't that big back then," Carroll Rauert said. "I would just sit around it sometimes, but now it is big around here."
Larry Rauert said his mother never told him what inspired her to draw the Islander logo the way she did.
"She told me that it took her just a matter of minutes to do the drawing," he said. "She just penciled it, sketched it, colorized it and submitted it. She did it all in one class period. It is a little like writing a poem or writing a song; you are sitting in a restaurant and all of a sudden you write a hit. It is funny how inspirations will catch you."
Larry Rauert said his mother told him she received a $50 check for winning the contest and that the logo was first used by the Islander track team in 1952.
"We were actually told by T-Shirt Engineers that they actively used that specific logo until 1983," he said. "Off and on, they used slightly different variations of it. At her request, we actually asked T-Shirt Engineers to put that logo on a nice sweatshirt and she was buried in it."
Carroll Rauert talked so little about the contest and her drawing over the years, her son said, that he never knew about it until he was a teenager at Northwest High School when he discovered a newspaper article about it in a scrapbook.
"I don't know why, but she just never talked about it," Larry Rauert said. "All of us kids went to Northwest. If we would have gone to Senior High, it probably would have been a different story."
He said that a few years ago, he and his wife, Donna, wanted to show his mother how influential her drawing was. He said they were given access to GISH and went around taking photos of all of the logos around the school.
"Some of them are on the floor and some of them are on the walls," Larry Rauert said. "Senior High then said, 'You mean the lady is still alive that designed it?' I said, 'Yeah, she still lives out north of town.' So they invited her down and she had her picture taken with the original drawing next to the Hall of Honor."
Over the years, Larry Rauert said, Carroll Rauert never gave up art, painting a number of oil paintings throughout the years. However, his mother was "very proud" of her Islander logo drawing.
"It is like having a building or a street named after your family," he said. "You are really proud of that legacy and our family is really proud of her legacy. Certainly, I am proud of it."